Irish Writing (M.Phil. / P.Grad.Dip.)
1 year full-time / 2 years part-time
Overview
This course offers an exploration of Irish writing in English from the late seventeenth century to the present. Trinity has educated many important writers, from Jonathan Swift to Samuel Beckett to Eavan Boland to Anne Enright. It has also long led the way in the teaching and researching of Ireland's literature. Amid a diverse and dynamic community of students and scholars, this course will allow you to gain a thorough grounding in the field of Irish writing, from canonical figures such as Maria Edgeworth and James Joyce to contemporary critical debates around gender, sexuality, class and race.
The centrepiece of the course is the core 'Perspectives in Irish Writing' module. Running across two semesters, it introduces students to the multiple contexts in which Irish writing in English has developed from the late seventeenth century through to the present. It also considers the literary history and reception of Irish writing, covering the main critical narratives and debates, as well as revisions of the Irish literary field as regards questions of gender, sexuality, class and race. A notable strength of Trinity's faculty is the historical range of its research interests. This is reflected in the coverage given to eighteenth and nineteenth-century Irish writing. The final portion of the course also decisively turns to the eclectic state of contemporary Irish literature.
Further exploration of the field of Irish Writing is offered through the core 'Conditions of Irish Writing' module. This focuses on the publishers, periodicals and institutions through which Irish writing has been produced and mediated, covering a wide range of historical periods, genres and writers. Further foundational grounding in issues of importance to studying and researching literature at postgraduate level is provided through the 'Research Skills for Postgraduate English' module.
Students also take two specialist option modules, reflecting our commitment to cutting-edge research-led teaching. Within the Irish Writing programme, these modules focus on examining the work of significant Irish writers in detail. In 2021/22, these will include Maria Edgeworth, James Joyce, Samuel Beckett, and Eavan Boland.
A wealth of option modules from our other M.Phil. programmes, including the chance to take a creative writing option, are also available to you. In the final phase of the course, you will complete a dissertation. This will allow you to pursue in-depth research on a subject of your choice under expert supervision and drawing on our fantastic library and archival holdings.
This course provides an excellent platform for moving on to doctoral research, as well as offering transferable skills for a variety of future careers, including in education, the arts, publishing and the media.
Career Opportunities
Graduates have gone into careers in education, the arts and culture sector, librarianship, publishing, journalism, broadcasting, public relations, social work, the civil service and management consultancy. Many alumni have also gone on to become successful writers.
Click Here for further information on modules/subject.
Study Irish Writing (M.Phil.) at Trinity
Trinity's School of English runs a world-leading master's programme in Irish Writing. Meet Christopher Morash, Seamus Heaney Professor of Irish Writing.
Learn More
Course Details
Number of Places
18 Places
Next Intake
September 2023
Course Director
Dr Sam Slote and Dr Julie Bates
Closing Date
31st May 2023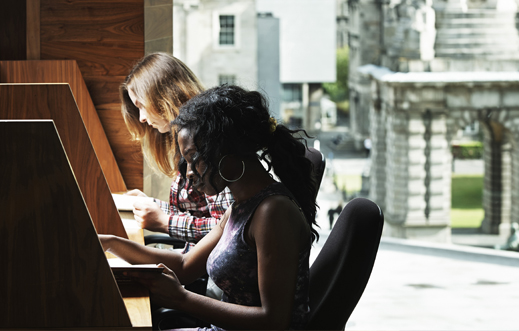 Admission Requirements
Applicants should have an Honours Bachelor degree (at least of upper-second class standard or GPA of 3.3) or equivalent qualification in a relevant subject (such as English, History, Art History, Irish Studies, Modern Languages).
Course Fees
Click here for a full list of postgraduate fees.
Apply
To apply, click on the relevant Apply Link below
Get in Touch
Telephone Number
+353-1-896 2885
Email
Website
https://www.tcd.ie/English/postgraduate/irish-writing/
Register Your Interest
Register your interest in postgraduate study at Trinity College Dublin, the University of Dublin.
As Ireland's leading university, we offer a wide range of postgraduate programmes at masters, diploma and certificate level.
Trinity is an international university steeped in history, with a reputation for excellence in education, research and innovation.
Testimonials
---
"The Irish Writing M.Phil. was a wonderful opportunity for me both to build a foundational understanding of the trends in Irish Studies and to continue to develop my own academic interests. The course is generally structured chronologically, which helps to contextualise the literature within broad cultural, social and political movements in Ireland and abroad. The Briena Staunton Practice of Writing Seminar is a great initiative that allows the Irish Writing students to continue to exercise their creative writing muscles by conversing with prominent Irish writers in the second semester. The staff are all very generous with their time and I am greatly appreciative of the independent support they provided during the coronavirus pandemic this year. The class sizes are small enough that you get to know everyone really well and enjoy time spent inside and outside the Oscar Wilde Centre. I feel privileged to have been a part of the programme. You'll have a fantastic year!"
Tom Monahan
"What struck me most about this course once it had begun was the international appeal of it. As a student from the UK, I very much expected to be the only member of the class that wasn't Irish – how wrong I was! The large-scale appeal of Irish Writing is testament to its intricacy and depth, and it was wonderful to get international perspectives on the course content. The course teaching staff are leaders in their field and present an exemplary programme of learning, with great scope to develop one's own areas of interest alongside the 'big hitters' of the Irish literary canon – the likes of Joyce, Beckett, Swift; and a great variety between poetry, drama, fiction, memoir, printed media and other forms of writing. I would recommend this fantastic graduate course to anyone and everyone with an interest in Irish history, literature and culture."
Emma Webb

"My year in the M.Phil. in Irish Writing was a fantastic experience that deepened my appreciation of Irish Studies and laid the foundations for my academic career. The course was rich and diverse, taking in figures such as James Joyce, Seamus Heaney, Samuel Beckett, and Elizabeth Bowen, while also introducing me to a host of fascinating writers that I had the pleasure of writing on for the first time such as Maria Edgeworth. The teaching staff always set a lively and engaging tone for each seminar, providing their invaluable expertise while at the same time encouraging each student to express themselves and to develop their ideas. Yet perhaps the most unique asset of the M.Phil. is the special atmosphere created within the confines of the Oscar Wilde Centre itself. It was there in the common room and at the seminar table long after classes had finished where I got to know my fellow students and struck friendships that have lasted to this day. The place felt like home after only a few weeks. It became a social and intellectual hub that I was sad to leave when the course eventually drew to a close. I could not recommend the M.Phil. in Irish Writing more highly to anyone looking to further their study of Irish literature. You will love it! "
Conor Linnie