Overview
This innovative and successful programme, run by the Trinity Centre for Global Health, aims to provide graduates with a greater appreciation of the global interconnectedness of health
problems and to equip them with a range of analytical and methodological skills to address the challenges of global health. Designed for individuals from a wide range of disciplines and professions, the programme adopts a multidisciplinary approach that integrates health and social science perspectives to analyse, design, implement and evaluate health programmes within a global context.
Global health is an attempt to address health problems and issues that transcend national boundaries, and are informed by the circumstances and experiences of countries in differing
contexts. The underlying assumption is that the world's health problems are shared and are best tackled by cooperative action and the sharing of innovative solutions.
The MSc in Global Health augments traditional approaches to public and international health by bringing together perspectives and insights from a range of health and social sciences
in understanding and resolving the challenges of global health. These problems may arise, for example, in relief and development programmes in developing countries; in conflict and post-conflict situations; with refugees, asylum seekers and economic migrants; with tourists and business travellers. All countries give rise to inequities in health, wealth, education and human rights, and the interconnectedness of these issues will be a major theme running throughout the course.
The course also lays emphasis on 'local' experiences that resonates globally in the case of Ireland. These include the influence of poverty and rapid social change on health and identity
in Ireland; migration and refugee welfare, the consequences of ethnic conflict, the peace process and the challenges of reconciliation for creating inclusive health services. The strongest emphasis within the course is on health equity both within and between countries.
Graduates pursued leadership positions in global health research, policy and practice, among a variety of other fields related to global health issues.
Click Here for further information on modules/subject.
Course Details
Number of Places
22 Places
Next Intake
September 2023
Course Director
Dr. Meg Ryan
Closing Date
30th June 2023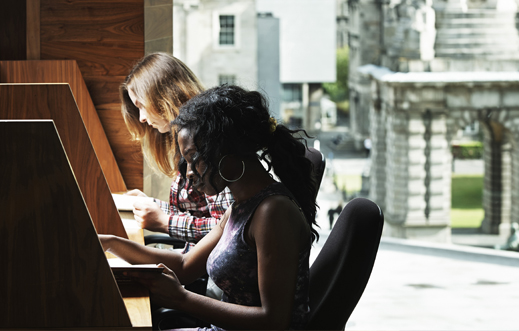 Get in Touch
Telephone Number
+3531 896 4394
Email
Website
https://www.tcd.ie/medicine/global-health/msc/
Register Your Interest
Register your interest in postgraduate study at Trinity College Dublin, the University of Dublin.
As Ireland's leading university, we offer a wide range of postgraduate programmes at masters, diploma and certificate level.
Trinity is an international university steeped in history, with a reputation for excellence in education, research and innovation.
Testimonials
"As a Global Health Masters student, I am always challenged every day during the lectures to think outside the box, especially since we come from diverse backgrounds. I have come to appreciate how culture shapes and influences our perceptions of how we view the world. Every moment is a brilliant learning opportunity"

Graduate