Applied Psychology (M.Sc.)
Overview
Introduction:
The course is designed to provide students with a thorough appreciation of issues in applied psychology, knowledge of the skills required to apply psychology effectively, and a detailed understanding of their chosen focus of application. The themes of analysis, intervention and evaluation are central to the structure and philosophy of the course, which establishes a firm basis for students to further professional training and development in psychology. The core modules provide training in research methods and professional issues. Optional modules enable further development of these competencies and knowledge while enabling students to consider their application in specified content areas.

Course Content:
The following two core modules are compulsory and will be offered every year:
• Philosophical and professional issues in applied psychology
• Research Methodology and Statistics
In general, optional modules will be offered every year (subject to staff availability, timetabling constraints and demand). The following is an example of the range of modules that have been offered:
• Theory of Psychotherapy
• Psychology Applied to Lifespan Behavioural and Emotional Problems
• Applied Forensic Psychology
• Counselling Skills
• Issues in Child and Adolescent Clinical Psychology
• Issues in Clinical Psychology and Intellectual Disability
In addition, all students will be required to submit a dissertation based on an empirical investigation of a topic in applied psychology.
Career Opportunities
This course will enable students to develop the knowledge, skills and attitudes necessary for further clinical training, or a career in clinical research or further academic research. Our programmes also deliver training that will enhance your opportunities to gain employment as a counsellor, developmental psychologist and educational psychologist, among many other psychology-related careers.
Click Here for further information on modules/subject.
Applied Psychology (M.Sc.)
Introduction to the M.Sc. in Applied Psychology programme by Prof. Tim Trimble of the School of Psychology at Trinity College Dublin
Course Details
Number of Places
30 Places
Next Intake
September 2023
Course Director
Dr. Tim Trimble
Closing Date
31st March 2023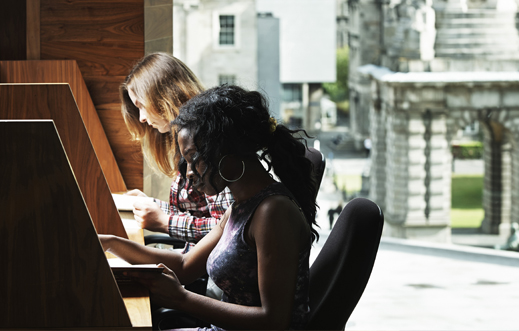 Admission Requirements
Applicants will be required to hold at least a minimum of an upper second-class honours degree (2.1) in psychology or its equivalent from a recognised university course, which confers eligibility for graduate registration with the Psychological Society of Ireland or equivalent professional body in the case of overseas applicants.
Course Fees
Click here for a full list of postgraduate fees.
Apply
To apply, click on the relevant Apply Link below
Get in Touch
Telephone Number
+353-1-896 2290
Email
Website
Register Your Interest
Register your interest in postgraduate study at Trinity College Dublin, the University of Dublin.
As Ireland's leading university, we offer a wide range of postgraduate programmes at masters, diploma and certificate level.
Trinity is an international university steeped in history, with a reputation for excellence in education, research and innovation.
Testimonials
"Something that I would have never got in any other course in the world is the opportunity to work with my mentor, Prof Byrne. Moreover, the course provided me with a holistic view of the applied psychology research in the real world and helped me to focus on a concise and rigorous academic path."

Graduate