Clinical Psychology (D.Clin.Psych.)
Overview
Within the three years, the course provides an intensive and systematic programme of training, equipping each student to meet the challenges facing clinical psychology and to make a unique contribution to the Irish Health Services.

The course is structured so that the academic teaching typically takes place in term time for one and a half days per week. In addition, each placement is preceded by a teaching block of approximately four weeks duration. Students complete six clinical placements during the course, each of approximately five months duration, providing knowledge, skills and experience to work with as wide a range of clients as possible. Research training is continuous across the programme.
Course requirements include continuous clinical assessment, examinations and a research portfolio combining reports of clinical activity, small and large scale research projects and demonstrating research competency across a range of methodologies. Progress on the course is assessed by an end-of-year review which each student must pass.

Research interests of staff include attachment theory, developmental psychopathology, health psychology, research methods, forensic psychology, risk perception, quality of life perception and applied behaviour analysis.
Students of the course are employed by an approved health care provider and graduates are required to complete an additional three-year contract of employment with their sponsoring service provider.
Click Here for further information on modules/subject.
Study Doctorate in Clinical Psychology at Trinity
Introduction to the D.Clin.Psych. in Clinical Psychology programme by Dr Kevin Tierney of the School of Psychology at Trinity College Dublin
Course Details
Number of Places
15/16 Places
Next Intake
September 2022
Course Director
Dr Kevin Tierney
Closing Date
12 December 2021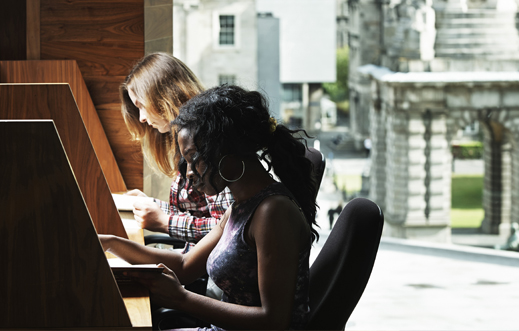 Admission Requirements
The course currently attracts a high number of applicants and competition for the limited number of places is intense. Requirements for selection include a primary honours degree in psychology with at least an upper second-class award or equivalent. Good research skills and relevant experience are essential. Candidates are required to hold graduate basis for registration with the Psychological Society of Ireland.
Students will be required to undergo Garda Vetting, see https://www.tcd.ie/students/orientation/undergraduates/garda-vetting.php for further details.
Please note the possession of a full and valid driving licence remains an essential requirement for programme selection. However, owing to the impact of Covid-19, on arrangements for undertaking driving tests, the verification of a full driving licence permit will be deferred until June 1st, 2021. All offers of employment will be subject to the candidate demonstrating that they fulfil this requirement on or before this date, subject to any reasonable adjustments in respect of any disability.
Course Fees
Click here for a full list of postgraduate fees.
Apply
To apply, click on the relevant Apply Link below
Get in Touch
Telephone Number
+353-1-896 2425/3915
Email
Website
www.psychology.tcd.ie/postgraduate/d-clin/
Register Your Interest
Register your interest in postgraduate study at Trinity College Dublin, the University of Dublin.
As Ireland's leading university, we offer a wide range of postgraduate programmes at masters, diploma and certificate level.
Trinity is an international university steeped in history, with a reputation for excellence in education, research and innovation.
Testimonials
---
Jessica Russell-Carroll, Graduate
I thoroughly enjoyed my three years on the D.Clin Psych programme in TCD. The course provides a progressive and modern academic environment focusing on combining academic theory and clinical practice. It is a well-structured and naturally intense programme as it aims to strike a balance of psychological theory-practice teaching, six clinical placements across the lifespan with different client groups in addition to coursework, research projects and on-going evaluation. This ensured that b both myself and my classmates were able to develop skills to think like academic professionals while working like clinicians. The course has a strong reflective scientist-practitioner ethos which provided me with a strong foundation in applied research skills and ensured that I was always drawn back to evidence based models of practice. I particularly enjoyed the fact that the course immerses trainees in a wide range of therapeutic modalities such as psychodynamic, systemic, and cognitive behavioural to name just a few. The teaching staff are very approachable, helpful and enthusiastic, actively encouraging personal and professional reflection and development. I would highly recommend this clinical programme to anyone interested in pursuing a career in clinical psychology.