Professional Masters in Education (P.M.E.)
Overview
The Professional Masters in Education (PME) is a required qualification for those wishing to work as post-primary school teachers in the Republic of Ireland and a recognised teaching qualification within the EU. The course aims to prepare new entrants for the teaching profession who are subject experts in their chosen discipline, are knowledgeable, creative and reflective about the aims and processes of education and who are professional in all aspects of their work. The 2 year full-time PME programme provides a holistic programme for the preparation of individuals for a career in the teaching profession through the development of critical and analytical skills, creative methods and strategies for teaching and a reflective professional approach to teaching and learning. Students undertake specialised pedagogical studies related to post-primary curriculum subjects from the following set (applicants select one at application as their major subject, where available):
Business Studies (including Accounting and Economics);
English;
Geography;
History;
An Ghaeilge;
Mathematics (including Applied Mathematics);
Modern Languages (including French, German, Italian, Spanish and other Curricular Languages);
Music;
Religious Education;
Science (including Biology, Chemistry and Physics).
In addition to this, the programme components include:
Foundation disciplines of education: assessment, inclusive education, history and policy of Irish education, philosophy, sociology, psychology and history of education.
School Placement modules in each year of the programme undertaken in a post-primary school within a radius of 85km (one way, 170km return) from Dublin city centre.
Research Dissertation completed in Year 2.
Career Opportunities
This course provides a holistic programme to prepare graduates for a career in the teaching profession through the development of critical and analytical skills, creative methods and strategies for teaching and a reflective professional approach to teaching and learning.
Click Here for further information on modules/subject.
Study Professional Masters Education (P.M.E.) at Trinity
Introduction to the Professional Master in Education (P.M.E.) at the School of Education, Trinity College Dublin.
Course Details
Number of Places
120 Places
Next Intake
September 2023
Course Coordinator
To be Confirmed
Closing Date
As per dates displayed on the apply links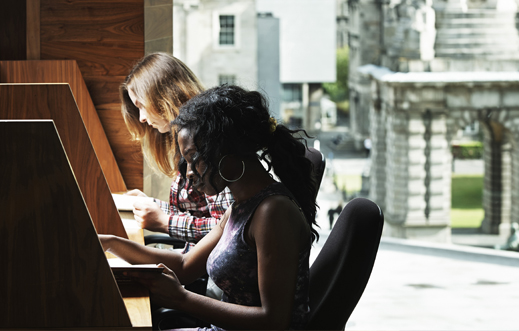 Admission Requirements
Applicants must be university graduates, with an honours Bachelor degree that includes, as a substantial component, at least one subject from the list of those taught at Leaving Certificate level in Ireland. Applicants should be aware of specific entry criteria to the teaching profession which are set and regulated by the Department of Education and Skills in association with the Teaching Council of Ireland, and which must be satisfied independently of the School of Education's entry requirements. (Full details here). The School of Education are committed to ensuring an inclusive approach to education with a broad and diverse teaching profession. We shortlist and interview candidates on the basis of their degree award and their professional and life experiences.
Please see the full PME course listing on the School of Education website for further details.
Students will be required to undergo Garda Vetting, see https://www.tcd.ie/students/orientation/undergraduates/garda-vetting.php for further details
Course Fees
Click here for a full list of postgraduate fees.
Get in Touch
Telephone Number
+353-1-896 1488
Email
Website
http://www.tcd.ie/Education/courses/pme/
Register Your Interest
Register your interest in postgraduate study at Trinity College Dublin, the University of Dublin.
As Ireland's leading university, we offer a wide range of postgraduate programmes at masters, diploma and certificate level.
Trinity is an international university steeped in history, with a reputation for excellence in education, research and innovation.
Testimonials
---
"I was always drawn to the field of education and enrolling in the P.M.E in Trinity gave me the perfect opportunity to do this. I studied TSM Mathematics and French in Trinity College - and so finishing the PME marked the end of a six-year relationship I had with the university. The PME is a whirlwind of an experience - a challenging two years without a doubt. I was so lucky to have some fantastic lecturers who worked with me closely throughout the programme. My peers on the course introduced me to new ways of thinking about teaching: the way the classroom should and could be. It was exciting to be given the chance to challenge and enhance my ideas of education. My fellow teachers-to-be and I learned from each other's experiences and from the differences and similarities in our educational values and ideals. We shared the highs and lows of teaching for the first time. For me, the solidarity of working alongside like-minded, passionate people was invaluable."
Iseult O'Rourke