Master in Education (M.Ed.)
1 year full-time / 2 or 3 years part-time
Overview
The M.Ed. programme is designed for learners who wish to develop and enrich their own knowledge and practice in their specific areas of education and who aspire to leadership positions.

M.Ed. students register on one of the twelve strands of the programme, giving them the opportunity to further their understanding of educational theory and research, contemporary issues, and practice and policy issues within their specialisms. All students also attend a common research module.

The M.Ed. programme is a modular programme and prospective applicants can choose to study on a full-time or part-time basis over two or three years. The full-time programme takes twelve months.
All full time students are required to submit a Description of their Area of Research Interest, and may be required to attend an interview, either online or in person
Who is the programme for?
The programme is suitable for educational professionals, including teachers, and for individuals in related fields. Graduates in fields such as history, philosophy, psychology, administration, language, mathematics or science who wish to relate their particular fields of competence to the practice of education, will also be considered.
What are the M.Ed. strands?
• Drama in Education
• Early Intervention
• Critical Perspective on Education
• Higher Education
• Language Education
• Leadership and Policy in Education
• Mathematics Education
• Music in Education
• Positive Behaviour Management
• Science Education
• Diversity and Inclusion
• Psychology of Education
Please note, not all specialisms may run in a given academic year and are subject to minimum student numbers
Programme Details
The Master in Education (M.Ed.) programme is a modular programme, and prospective applicants may choose one of the following study modes.
• Option 1: Full-time (see note 1)
5 taught modules and 20,000 word dissertation completed in one year.
Students intending to apply for the full-time route (option 1) must submit a description of their area of research interest when applying.
• Option 2: Part-time (see note 2)
5 taught modules and 20,000 word dissertation completed over two years
The taught component is completed in year 1, and the dissertation is completed in year 2.
• Option 3: Part-time (see note 3)
5 taught modules and 20,000 word dissertation completed over three years. 3 taught modules are completed in year 1, 2 taught modules are completed in year 2, and the dissertation is completed in year 3.
Career Opportunities
This course covers a wide range of academic disciplines and prepares graduates for a career in teaching. Our graduates have also pursued careers in both the public and private sectors, including school counseling, careers guidance, curriculum development, publishing, and HR.
Click Here for further information on modules/subject.
Study Master in Education (M.Ed.) at Trinity
Introduction to the programme Master in Education by Dr. Aibhín Bray of the School of Education at Trinity College Dublin.
Course Details
Number of Places
20 Places
Next Intake
September 2023
Course Coordinator
Dr Conor McGuckin
Closing Date
Closing date for all strands are outlined on the apply links below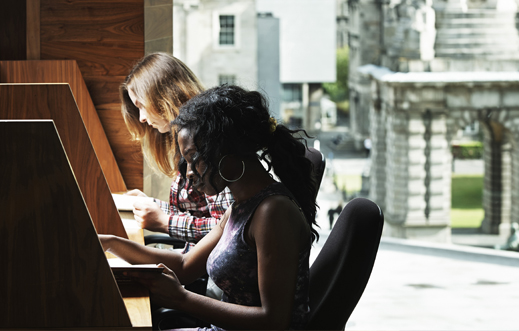 Admission Requirements
Applicants are normally expected to hold a good honours degree (2:1) and have at least two years' experience in the field of education (or similar). In order to complete the application, the applicant will require electronic copies of their undergraduate degree transcripts, the email addresses of two academic referees, and an up-to-date CV.
Course Fees
Click here for a full list of postgraduate fees.
Get in Touch
Telephone Number
+353-1-896 3568 / 1290
Email
Website
http://www.tcd.ie/Education/programmes/masters/
Register Your Interest
Register your interest in postgraduate study at Trinity College Dublin, the University of Dublin.
As Ireland's leading university, we offer a wide range of postgraduate programmes at masters, diploma and certificate level.
Trinity is an international university steeped in history, with a reputation for excellence in education, research and innovation.
Testimonials
---
"Earning my graduate degree at Trinity greatly informed my worldview, elevated my academic thinking, and prepared me to achieve my professional goals. Every aspect of the program was highly engaging and challenging. Attending the Summer School in Drama in Education offered an important and powerful opportunity to work with teachers and artists from across the globe. The expertise of the faculty provided me with a solid theoretical and practical foundation to facilitate meaningful arts-based lessons and shift the way the arts are integrated in classrooms in my own country. I thank Trinity College for truly preparing me to follow my vision, to be a global citizen, and to employ high quality methods both in terms of research and practice. My experiences at Trinity College, and specifically, the Drama in Education Summer School, have directly impacted the arch of my career. I am a proud graduate of Trinity College, and no matter where I travel or what I do, I will always consider Trinity to be my home away from home."
Linda Krakaur
Graduate. Adjunct Professor, Millersville University, USA.
"My time undertaking the Drama in Education programme at Trinity College was a memorable and stimulating experience. The instructors are incredible minds whose passion is inspiring and infectious. They are also prominent figures in the field and intently interested in the use of drama across a wide range of disciplines.
As a second level English and Music teacher, I did not have any prior theoretical foundation in drama. My background experience lay in performance and active methodologies in the classroom. In this regard, the summer school aspect of the course ensured to provide each student with both a practical and theoretical understanding of new concepts. This 'hands-on approach' allowed us ample opportunity for further study relating to our individual interest.
As a part-time student, I sometimes found studying away from the campus challenging. However, I must commend the School of Education for its wonderful support network. Our class were affirmed in their research though regular communication and online mentoring given by the course instructors. One of the highlights for me was getting the opportunity to meet and share ideas with like-minded individuals from all around the world who have now become life-long contacts and friends.
Completing the M.Ed. programme has also had a significant impact on my professional life and since graduating, I have taken a career break to establish my own school – "The Desmond School of Music and Theatre" in my hometown. This would not have been possible without the knowledge and skills that I acquired during my time at Trinity."
Jamie Herlihy
Graduate. The Desmond School of Music and Theatre.
"When it came time to select a graduate school, Trinity's M.Ed. (Drama in Education) program came highly recommended, and it did not disappoint. Throughout the program, we were able to learn from and work with leading experts in the field, collaborate with fellow students on projects and assignments, and develop lessons and activities that could be used in our classrooms.
In addition to the classes on campus, much of the coursework was done through distance education. This was extremely convenient as I was able to continue working fulltime while completing my coursework during the evenings and weekends. I was provided with a very supportive tutor, who guided me through my thesis and answered any questions I had.
As a classroom teacher, I use the knowledge and skills I acquired through the program on a daily basis. My students love the role-playing, improvising and process drama techniques I have incorporated into my lessons, as it creates a fun and engaging atmosphere for learning. As one of my former students mused, "I think it's fun to do drama work in class because we actually have to use our brains while we're learning"! I would highly recommend this program to any teacher looking to grow professionally. This Masters program provides teachers with many practical ideas and lessons, which can be immediately implemented in the classroom."
Andrew Slade
Graduate. Elementary Teacher – Winnipeg, MB.
"I found my time on the M.Ed. Drama in Education interesting, inspiring and challenging. The content covered during the summer school provided both theoretical understanding of concepts, as well as having the opportunity to participate in drama workshops and develop skills as a drama practitioner. The summer school format provided me with the opportunity to get to know fellow students and lecturers well, developing friendships and a support network which really helped when completing assignments and the dissertation.
As a primary school teacher, I found the M.Ed. equipped me not only to facilitate a range of drama methodologies with my class, but also to use drama across all subjects as a methodology. Completing the M.Ed. impacted greatly on my career. I am currently lecturing in Drama in Education in Marino Institute of Education, and completing doctoral research in the area of Drama in Education and Special Education. The M.Ed. developed my passion of drama in education and equipped me with subject knowledge, as well as the research skills, to progress my career."
Elaine Clotworthy
Graduate. PhD Candidate.