Overview
Our flagship LL.M programme also known as LL.M (General))* offers students the opportunity for postgraduate study where they can select modules from a substantial list of modules covering the disparate branches of law. Students can focus on public law or private law modules or may take a selection of both. This programme will enable students to develop the skills to use appropriate legal theories, doctrines and concepts to identify, formulate, analyse and solve legal problems within national and international contexts and identify, evaluate and synthesise jurisprudential theories and concepts at a level appropriate to masters graduates.

The LL.M degree is delivered over one academic year and seeks to promote critical analysis of, and reflection on, different aspects of national, European and international law. Students on this programme are examined in six modules and will also complete a research dissertation on a topic approved by the Dissertation Director and related to some aspect of law.

During their studies, students can choose from a vast array list of modules designed to deepen their knowledge of public and private law. Module offerings focus on all areas of law and may include modules on Commercial Arbitration, International Trade Law, Digital Technologies Law, Intellectual Property Law, EU Consumer Law, International Aviation Law, International and European Human Rights Law, Islamic Law and Refugee Law.

The Law School reserves the right to vary the above list and, in particular, the right to withdraw and add modules. Note that modules are offered in one semester only and timetabling considerations may also restrict choice. Further information on the precise modules available in a given year is available on the LL.M website.
*To apply for one our specialised LL.M degrees, please return to the a-z course list and locate the appropriate course page
Career Opportunities
This course broadens and deepens students' knowledge of the law, further developing their research skills and significantly enhancing their career prospects both within the legal profession and elsewhere.
Click Here for further information on modules/subject.
Study Law (LL.M) at Trinity
Overview of the School of Law and its LL.M Programmes.
Course Details
Next Intake
September 2023
Course Director
Closing Date
31st May 2023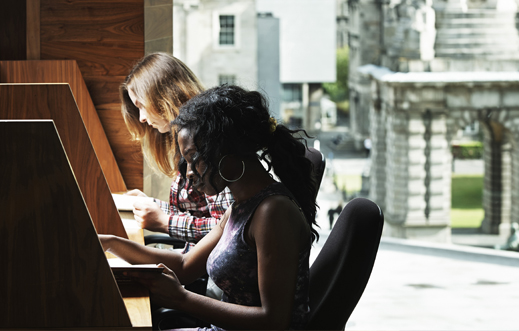 Admission Requirements
Applications are therefore invited from well-qualified graduates who hold a very good Honors Bachelor degree in law or in a law-based interdisciplinary programme.
Applications will also be considered from exceptional graduates in related disciplines in the Arts, Humanities, and Social Sciences who can convincingly demonstrate that their studies have fully prepared them for the LLM.
Assuming that this basic pre-requisite is in place, thereafter admission to the various LLM programmes is at the absolute discretion of the School of Law, which will decide on questions of admission having regard to a wide range of academic criteria, including the quality of the individual application and the objectives of ensuring a diverse LLM class of the highest possible academic calibre. Admission requirements may vary from programme to programme and from year to year.
IMPORTANT - We advise students to apply for this programme as early as possible as admission to the course will be very competitive. The programme is subject to early closure as a result.
Course Fees
Click here for a full list of postgraduate fees.
Get in Touch
Telephone Number
+ 353-1-896 8449
Email
Website
https://www.tcd.ie/law/programmes/postgraduate/
Register Your Interest
Register your interest in postgraduate study at Trinity College Dublin, the University of Dublin.
As Ireland's leading university, we offer a wide range of postgraduate programmes at masters, diploma and certificate level.
Trinity is an international university steeped in history, with a reputation for excellence in education, research and innovation.
Testimonials
---
"The eclectic range of modules offered coupled with the opportunity to advance my studies under the supervision of some of Ireland's leading minds within the most prestigious and established school of law in the country seemed to be the ideal setting for a budding interest in higher academia.
The mind-expanding nature of the LL.M. programme is not limited to the sphere of academic achievement. The diversity of cultures and viewpoints within the student body paired impeccably with course material and lecturers intent on challenging that which I believed I knew. With professional, industry, and academic leaders as lecturers and classmates, the TCD School of Law community naturally inspired and facilitated intellectual growth, increased social and political awareness, and a greater understanding of my own potential. The unceasing support and standard of education create an environment where academic excellence is always within grasp, unveiling a pathway to a more rounded form of personal excellence in the process."
Graduate