Intellectual Property and Information Technology Law (LL.M.)
Overview
Course Overview
The tensions between rewarding intellectual development, on the one hand, and incentivising further developments, on the other, are most acute in the context of technological advance. And such issues arise in the context of information technology law more generally, where the rapid emergence of new technologies raises questions of how, if at all, the law should respond to, regulate, and promote such developments.
Intellectual Property and Information Technology have become significant and growing areas of law at both a European and an international level. With this in mind, the Law School recently introduced a new LL.M. in Intellectual Property and Information Technology law. This Masters programme seeks to promote critical analysis of, and reflection on, different aspects of national, European and international intellectual property and information technology law.
Is This Course For Me?
Intellectual Property and Information Technology Law is an important field of law for anyone who works or is thinking of working with technology and software, such as software developers, information technology professionals, inventors, and entrepreneurs. On the LL.M in Intellectual Property and Information Technology Law, you will take modules in which you will study the inter-relationships between law, science and technology. These modules cover the substantive, policy, and practical elements of IP and IT law within European and International contexts. This programme provides graduates with the knowledge and tools to meet the demands of our sophisticated knowledge economy.
Career Opportunities
This Masters programme provides graduates with a knowledge base and the core tools to use in future research or in their practice as intellectual property and IT lawyers.
The School of Law at Trinity College Dublin is a strategic partner of the 'Pan-European Seal' Professional Traineeship Program. Students of the LL.M. can apply to take part in this paid traineeship with the European Intellectual Property Office (EUIPO) and the European Patent Office (EPO). To learn more about this incredible opportunity, click here.
Course Structure
The year is divided into two semesters during each of which students are required to take three modules. Each module is offered in one semester only and involves 22 hours of classwork. Various forms of assessment are utilised in the different modules. In addition, all students must complete a research dissertation over the academic year on an approved theme.
Course Content
The LL.M. in Intellectual Property and Information Technology Law is delivered over one academic year.
The modules offered on this programme cover both the substantive and practical elements of Intellectual Property and Information Technology law within a European and international context. Modules offerings may include Data Protection, Cyber Security Law, Copyright Law, Trademark and Design Law and more. Students may also choose up to two modules from the wide array offered on the LL.M. (General) courses ranging from Aviation Law to Human Rights Law and Islamic Law.
Click here for further information on modules/subject.
Study a postgraduate Law (LL.M.) programme at Trinity
Overview of the School of Law at Trinity College Dublin and its postgraduate LL.M. programmes.
Course Details
Awards
NFQ Level 9
Number of Places
45 Places
Next Intake
September 2024
Course Director
Professor Desmond Ryan
Closing Date
31st May 2024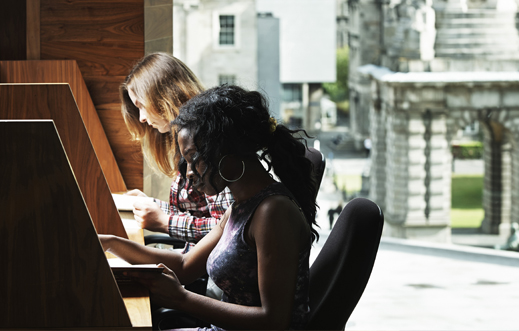 Admission Requirements
Applications are invited from graduates who hold a Bachelor's in Law or a law-based interdisciplinary programme. Applications will also be considered from exceptional graduates in related disciplines in the Arts, Humanities, and Social Sciences who can demonstrate their studies have fully prepared them for the LL.M.
Admission to Trinity's LL.M. programmes is at the absolute discretion of the School of Law, which will decide on admissions with regard to a range of academic criteria, including the quality of the individual application and the objectives of ensuring a diverse LL.M. class of the highest possible academic calibre.
We advise students to apply for the course as early as possible as admission is competitive. The programme is subject to early closure.
Course Fees
Click here for a full list of postgraduate fees.
Apply
To apply, click on the relevant Apply Link below
Testimonials
It was the best experience of my life when I learned Media, Trademark and Design, Data Protection, and Copyright law from the top professors in their respective fields. This course increased my competency of law; developed my advocacy and English language skills; I was able to attend conferences, workshops, seminars; and was awarded the top score within the Media Law module. I also had my essay published on the Broadcasting Authority of Ireland's website.

Graduate