Intellectual Property and Information Technology Law (LL.M.)
Overview
Intellectual Property and Information Technology have become significant and growing areas of law at both a European and an international level. With this in mind, the Law School recently introduced a new LL.M. in Intellectual Property and Information Technology law. This masters programme, popular with both EU and non-EU students, provides graduates with a knowledge base and a range of core tools to use in their future research or in their practice as intellectual property and information technology lawyers.

The LL.M. (Intellectual Property and Information Technology Law) is delivered over one academic year. It seeks to promote critical analysis of, and reflection on, different aspects of national, European and international intellectual property and information technology law. Students on this programme are examined in six modules and will also complete a research dissertation on a topic approved by the Dissertation Director and related to Intellectual Property and/or Information Technology law.

The modules offered on this programme cover both the substantive and practical elements of Intellectual Property and Information Technology law within a European and international context. Module offerings may include Data Protection, Cyber Security Law, Copyright Law, Trademark and Design Law, Patent Law and much more. Students may also choose up to two modules from the wide array offered on the LLM (General) ranging from Aviation Law, to Human Rights Law and Islamic Law.
Click Here for further information on modules/subject.

The Law School reserves the right to vary the above list and, in particular, the right to withdraw and add modules. Note that modules are offered in one semester only and timetabling considerations may also restrict choice. Further information on the precise modules available in a given year is available on the LL.M website.
Study Law (LL.M) at Trinity
Overview of the School of Law and its LL.M Programmes.
Course Details
Next Intake
September 2022
Course Director
Professor Desmond Ryan
Closing Date
31st May 2022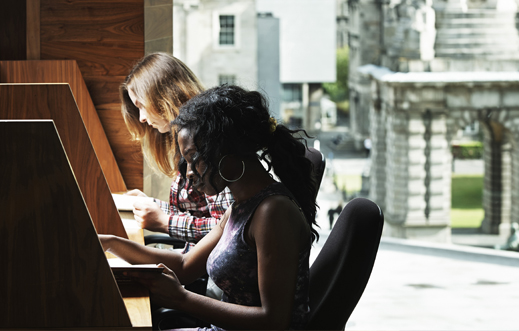 Admission Requirements
Applications are therefore invited from well-qualified graduates who hold a very good Honors Bachelor degree in law or in a law-based interdisciplinary programme.
Applications will also be considered from exceptional graduates in related disciplines in the Arts, Humanities, and Social Sciences who can convincingly demonstrate that their studies have fully prepared them for the LLM.
Assuming that this basic pre-requisite is in place, thereafter admission to the various LLM programmes is at the absolute discretion of the School of Law, which will decide on questions of admission having regard to a wide range of academic criteria, including the quality of the individual application and the objectives of ensuring a diverse LLM class of the highest possible academic calibre. Admission requirements may vary from programme to programme and from year to year.
IMPORTANT - We advise students to apply for this programme as early as possible as admission to the course will be very competitive. The programme is subject to early closure as a result.
Course Fees
Click here for a full list of postgraduate fees.
Apply
To apply, click on the relevant Apply Link below
Get in Touch
Telephone Number
+ 353-1-896 8449
Email
Website
https://www.tcd.ie/law/programmes/postgraduate/
Register Your Interest
Register your interest in postgraduate study at Trinity College Dublin, the University of Dublin.
As Ireland's leading university, we offer a wide range of postgraduate programmes at masters, diploma and certificate level.
Trinity is an international university steeped in history, with a reputation for excellence in education, research and innovation.
Testimonials
---
"It was a long-awaited dream for me to study at one of the oldest and most prestigious universities in the World, learning Intellectual Property & Information Technology Law from pioneer academics, passing beneath the campanile (of course not before the graduation), walking inside the astonishing Long Room of the Old Library, witnessing the history through the Book of Kells, experiencing the breathtaking Dublin and living in the Emerald Isle.
The dream became reality when I was awarded the Jean Monnet Scholarship, the longest and most prestigious scholarship programme in Turkey, in 2019 and arrived in Ireland to study LL.M. in IP & IT Law at Trinity College Dublin. It is not exaggeration to say that it was the best experience of my life when I learned Media, Trademark and Design, Data Protection, Copyright law from the top professors in their respective fields; increased my competency of law; developed my advocacy and English language skills; attended various conferences, workshops, seminars and was awarded the top score within the Media Law module as well as the associated prize and my essay, entitled "A Critical Analysis of the Existing Rules and Initiatives Fostering Media Pluralism in the European Union" was published on the Broadcasting Authority of Ireland's website. Apart from the studies, I was part of a welcoming international community, attended numerous events of College societies from hiking trips at the green hills of Ireland to heated debates of the Phil at the Graduates Memorial Building (it looks as magical as Hogwarts); made friends and colleagues for a lifetime in the House 39; partied during the rainy nights at Baile Átha Cliath; learned how to say cheers in Irish (Sláinte!) and travelled across spectacular Éire.
Trinity College Dublin is not just a College where I obtained an LL.M. degree but a milestone in my life. As our College motto reads, 'Perpetuis futuris temporibus duraturam', it will last into endless future times to inspire generations and to create new milestones in their lives."