Overview
Course Overview
Launched in academic year 2019/20, the M.Sc. in Law and Finance has been ranked 1st (Ireland) and 6th (Western Europe) International Business law programme by Eduniversal Best Masters Rankings 2022. It is the top ranked Irish business law programme to feature in the rankings, available here.
The M.Sc. in Law and Finance will develop the students' skills to apply theory to practice, solve business problems and help organisations to continuously grow and improve their performance across these disciplines. The programme is structured to include the foundational and advanced material needed to build students' knowledge and understanding of law and finance, provide students with the capacity to embrace current and future changes such as financial regulation, EU law and financial innovation, and develop both students' technical skills in understanding financial and legal concepts and analytic skills to apply these skills.
Is This Course For Me?
Anyone who is interested in learning more about the legal and financial aspects of business and organizations would benefit from studying the M.Sc. in Law and Finance. This course is also for those who are interested in becoming legal and financial advisors, advisors to businesses, or entrepreneurs. We aim to produce graduates who will become future change-makers and who seek to shape and transform business for good.
Career Opportunities
Our dedicated Careers & Community team is dedicated to supporting our students and alumni in exploring career options, preparing effectively for their next career move, and making informed career decisions that will develop and shape their futures through workshops and tailored individual career sessions.
Specialised in career development, the team can help you to identify suitable career paths and provide tailored advice on how best to achieve your career goals through workshops, one-to-one coaching, and psychometric assessments. They deliver a wide range of career sessions with defined learning outcomes and arrange company and recruitment consultancy presentations, job fairs, and networking events.
Course Content
Students take five core modules, which include: Business Ethics; Corporate Finance; Corporate Finance and Corporate Governance; EU Financial Services Law; Investment & Sustainability.
Students can choose from a range of elective modules in both Law and Finance. Law Electives offered in recent years include: EU Aviation Law; International Aviation Law; International Business Tax Law; International Economic Law; International Trade Law; Law and Risk; Legal Issues in Sustainable Finance; Mergers and Acquisitions.
Finance Electives offered in recent years include: Advanced International Financial Statement Analysis; Derivatives; Econometrics & Data Science; Financial Markets and Institutions; International Finance; Private Equity; Treasury Management; Venture Capital.
The research dissertation is designed to enable students to undertake individual research and undertake an in-depth individual research study of a particular issue within the field of Law or Finance. Students will write a 12,000-word dissertation under the guidance of academic leaders at the School of Law or School of Business
Click Here for further information on modules/subject.
Course Structure
This M.Sc. course is 90 ECTS delivered over one academic year. There are 5 mandatory modules worth 30 ECTS, elective modules worth 30 ECTS and a research project worth 30 ECTS. Students will be assessed through a mixture of written exams and continuous assessment. The research project is supervised either by the Law School or by Trinity Business School
Study Law and Finance (M.Sc.) at Trinity
Introduction to the Law and Finance Master's programme by Professor Alexandros Seretakis at Trinity College Dublin.
Course Details
Awards
NFQ Level 9
Number of Places
50 Places
Next Intake
September 2024
Course Director
Jenny Berril
Closing Date
31st May 2024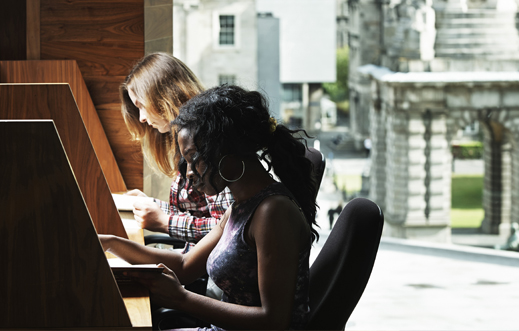 Admission Requirements
An undergraduate honours Bachelor's degree of 2.1 grade or higher in Business, Economics or Law. Applicants must also provide two academic references, a professional CV, a recognised certificate of English Language Competency if English is not your first language (in line with the School of Law's requirements), as well as degree transcripts.
We strongly advise students to apply for this programme as early as possible as admission to the course will be very competitive. The programme is subject to early closure as a result.
Course Fees
Click here for a full list of postgraduate fees.
Get in Touch
Telephone Number
+353 (0)1 8968449
Email
Website
www.tcd.ie/law/programmes/postgraduate/ taught/law-and-finance/index.php
Register Your Interest
Register your interest in postgraduate study at Trinity College Dublin, the University of Dublin.
As Ireland's leading university, we offer a wide range of postgraduate programmes at masters, diploma and certificate level.
Trinity is an international university steeped in history, with a reputation for excellence in education, research and innovation.