Overview
Further information on the Masters in Law & Finance programme can be found on the Trinity Business School Website

Programme Overview
This interdisciplinary masters is jointly offered by the Law School and Trinity Business School. The programme is structured to include foundational and advanced material to build students' knowledge and understanding of law and finance. It will provide you with the capacity to embrace current and future changes in respect of financial regulation, EU law and financial innovation.

Course Structure
This MSc. course is 90 credits delivered over one academic year. There are 5 mandatory modules worth 30 credits, elective modules worth 30 credits and a research project worth 30 credits. Students will be assessed through a mixture of written exams and continuous assessment. A research project is required, supervised either by the Law School or by Trinity Business School

The full list of modules offered on the programme can be found here.

Trinity Business School - More than a degree
We are a globally-renowned, triple-accredited business school delivering an ultra-modern educational experience and innovative research from the heart of Dublin's thriving capital city. At Trinity Business School, we offer programmes that will push you to reach your full potential. Immerse yourself in the latest business theory and practice, unlock powerful alumni and career networks, and accelerate your career prospects and success.
We aim to produce graduates who will become future change-makers and who seek to shape and transform business for good.

Career Opportunities
Our dedicated career support team will help you to identify your ideal career path and provide tailored advice on how to achieve your career goals. Through workshops, one-to-one coaching, career psychometric tests, and visits from top global employers, students are introduced to our vast portfolio of company recruiters.
Graduates can gain employment in a range of roles within the financial services industry as well as the legal sector and will be well placed to tackle business challenges with an understanding of both the legal and financial aspects; which is crucially important to organisations operating in an increasingly dynamic and complex world.
Study Law and Finance (M.Sc.) at Trinity
Introduction to the Law and Finance MSc Programme by Professor Alexandros Seretakis at Trinity College Dublin.
Course Details
Next Intake
September 2023
Course Director
Dr Felix Mezzanotte
Closing Date
31st May 2023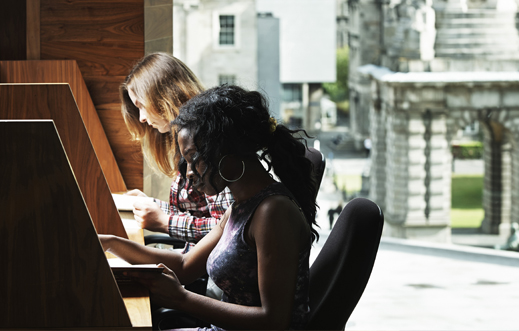 Admission Requirements
An undergraduate honours bachelor degree of 2.1 grade or higher in Business, Economics or Law. This is the starting point for admissions and does not guarantee entry.
We strongly advise students to apply for this programme as early as possible as admission to the course will be very competitive. The programme is subject to early closure as a result.
Course Fees
Click here for a full list of postgraduate fees.
Get in Touch
Telephone Number
+ 353-1-896 8449
Email
Website
https://www.tcd.ie/business/programmes/masters-programmes/msc-in-law-and-finance/
Register Your Interest
Register your interest in postgraduate study at Trinity College Dublin, the University of Dublin.
As Ireland's leading university, we offer a wide range of postgraduate programmes at masters, diploma and certificate level.
Trinity is an international university steeped in history, with a reputation for excellence in education, research and innovation.
Testimonials
---
"I completed my Chartered Company Secretary qualification in India in 2017 and worked in one of the Top 500 Listed Companies and in a Systemically Important Financial Institution in India as their Company Secretary. While I was working as the Company Secretary, I had hands-on experience in managing various restructuring projects and equity raise transactions involving PE investors from multiple jurisdictions. During this process, I realized that legal knowledge coupled with strong commercial acumen was extremely important to create a niche in the corporate space. I started to explore courses offered by leading universities and came to know about the interdisciplinary course in Law and Finance offered by the School of Law, TCD in collaboration with Trinity Business School.
This program was a perfect choice for my professional interest for two reasons. Firstly, the program allowed me to study a range of modules such as Corporate Finance, Corporate Governance, EU Financial Services Laws, Regulation of Alternative Investment Funds, Mergers & Acquisitions and Venture Capital, which in turn helped me comprehend the regulatory regime in Ireland and the EU as a whole while enabling me to understand the commercial sense behind a corporate transaction. Secondly, the program had candidates from different walks of life and from different ethnic groups, which in turn enhanced the quality of learning by providing a wider spectrum of opinions and expertise. Furthermore, the lecture sessions were highly interactive and the lecturers provided us with thought-provoking and invaluable insights into financial and regulatory matters.
Overall, I would like to conclude by saying that Trinity is fantastic in terms of diversity and academic standards and I am extremely honored and elated to have been a part of the maiden batch of the MSc Law and Finance program. With this kind of impact and outreach, I am sure the course would benefit the students enrolling and the market that's waiting to absorb them, rendering a win-win situation. It is needless to again emphasis that I would certainly recommend this course to those who like to excel."
Adithya Sivaraman
MSc Law and Finance Graduate