Radiation Therapy
B.Sc. (Ther. Rad.) Honours Bachelor Degree (NFQ Level 8) ; 4 years full-time ; 30 places ; CAO points: 566 (2021) ; CAO code: TR055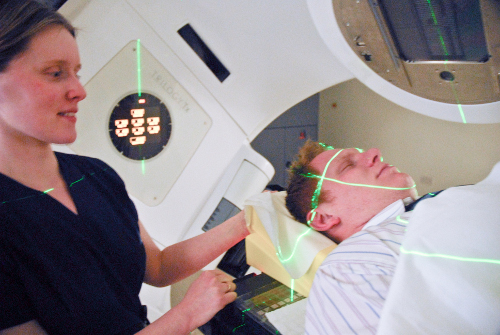 What is Radiation Therapy?
Radiation therapy uses targeted high energy x-rays to treat patients with cancer and is one of the main treatments for cancer. This course qualifies you to work as a radiation therapist – the health care professional who, together with the other multidisciplinary team members, is responsible for the preparation and delivery of a course of radiation therapy. This degree provides you with the required scientific understanding and the critical clinical and research skills to adapt to the ever-changing medical environment.
Radiation Therapy: The course for you?
The radiation therapist requires very specialist skills and the role can be physically and emotionally demanding. The development of your clinical skills requires you to be interested in patient care. You will also need to have a keen interest in the field of science. Working as a radiation therapist will also require you to have good interpersonal and technical skills.
Radiation Therapy at Trinity
Radiation Therapy is an innovative profession, with constant technological and patient care advancements. This programme will provide you with the necessary academic and practical skills to work in this patient-centred healthcare environment. The programme is delivered by experienced and enthusiastic academic staff, whose focus is on providing you with a research-led, student-centred, quality learning experience. The small class sizes in this programme facilitate a close working relationship between students and staff.
Graduate skills and career opportunities
As a graduate radiation therapist you will be the main point of contact for the cancer patient during the course of their radiation therapy treatment and you will be involved in many aspects of their care during this time. As radiation therapy is expanding in Ireland and internationally so too is the opportunity for career development, making this an exciting time to be entering the profession. Graduates from this programme work in radiation therapy departments in Ireland; UK; Australia; New Zealand; Qatar and Saudi Arabia, to name but a few. The broad scientific and clinical content of this degree, in combination with the graduate attributes of competent reflective practitioners; lifelong learners; critical thinkers and problem solvers has facilitated graduates to work nationally and internationally in research and development, medical industry technology and marketing and academia.
Do you enjoy:
Caring for people?
Working in a team?
Your degree and what you'll study
This four-year honours degree gives you a broad academic base on which to develop the clinical skills of radiation therapy. You will be able to analyse, evaluate and make clinical decisions and to initiate, participate in and encourage research in oncology and radiation therapy. There are both theoretical and clinical components to this degree. The contact hours are high in this course and the subjects are taught through lectures, laboratory-based practical sessions, workshops, tutorials and clinical placement in the hospital setting.
A significant clinical component is integral to this course. The clinical sites can be found at www.tcd.ie/medicine/radiation-therapy/undergraduate/clinical-education.php. Part of the clinical placement takes place during the vacation periods and clinical placement consists of 35 hours per week. Students are placed in radiation therapy departments across the country. The costs of placement outside Dublin (including accommodation and travel expenses) must be borne by the student.
First and second years
In the first and second years, the course covers the basic sciences. You will also study the structure and function of the human body and will be introduced to topics that relate to cancer and patient care. There are approximately 20-30 hours per week in class in these years. The clinical practice component (clinical placement) will introduce you to radiation therapy and will develop your understanding of the complexities of the cancer patient pathway. The content covered in first and second year includes: From Molecule to Cell; Chemistry for Life Sciences; Physics; Principles and Practices of Cancer Care; Psychology and Communication; Clinical Practice (4 weeks in first year and 5 weeks in second year) Biochemistry; Physiology and Research and Statistics.
Third and fourth years
In these years, you will study more specialist subjects that are specifically related to cancer and patient care, and complete a research project in this area. The content covered in these years include: Principles and Practices of Cancer Care; Physics; Radiobiology; Radiation Therapy Treatment Planning; Treatment Localisation and Verification; Research and Statistics and completion of a research project; Radiation Therapy in Practice and Clinical Practice (approximately 13 weeks in third year and 15 weeks in fourth year).
Click here for further information on modules/subject.
Assessment
This programme uses a variety of assessment methods, including written end-of-year examinations, continuous assessment, individual and group project work, oral examinations, reflective journals and workbooks. A clinical portfolio and research dissertation are substantial components of the assessment processes in your final year.
Study abroad
Students have the option to undertake a clinical placement in a European radiation therapy department in the summer vacation of the third year.
Study Radiation Therapy at Trinity College Dublin
In this video, Dr. Michelle Leech, Associate Professor and Head of the Discipline of Radiation Therapy describes the BSc. (Hons.) Radiation Therapy here at Trinity College Dublin.
What our graduates say
Graham Kelly
"I now work as a Radiation Therapist in an Irish Hospital. My position requires me to work as part of a four-person unit delivering safe and accurate radiation treatment to patients suffering from cancer. No two days are the same when working as a radiation therapist. Each day is varied and presents new tasks and challenges. This makes for a varied and highly rewarding career."
Olivia Kelada
Research Fellow, Harvard Medical School
"I initially chose the course as I was interested in the use of Physics in Medicine and particularly in the context of Radiation Oncology. However, as I progressed though the degree I realised I also had a keen interest in both research and a career in academiaIt is clear that the B.Sc. in Radiation Therapy provided the basis for a future career in academia and a particular interest in clinically relevant research."
What our current students say
Tara Gillen
"I knew that Radiation Therapy was for me after shadowing a Radiation Therapist for a day, the critical role they paid in patient care and the team rapport drew me to this course. So far I have learned so much about the world of Radiation Therapy and developed my interpersonal skills, the time spent on clinical placement has been the highlight for me, although it is at times emotionally demanding I cannot wait for the day I am a qualified Radiation Therapist!"