Radiation Therapy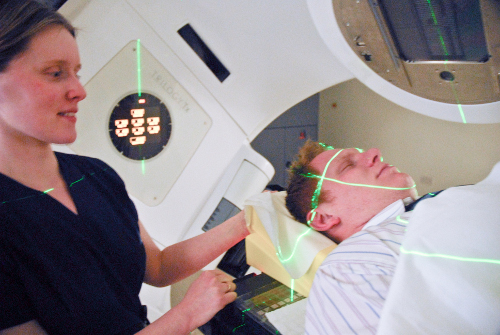 What is Radiation therapy?
Radiation therapy is one of the main methods used to treat patients with cancer. This course qualifies you to work as a radiation therapist – the health care professional who, together with the other multidisciplinary team members, is responsible for the preparation and delivery of a course of radiation therapy
Radiation Therapy: The course for you?
The radiation therapist requires very specialist skills and the role can be physically and emotionally demanding. The development of your clinical skills requires you to be interested in patient care. You will also need to have a keen interest in the field of science. Working as a radiation therapist will also require you to have good interpersonal and technical skills.
Radiation Therapy @ Trinity
Radiation Therapy is an innovative profession, with constant technological and patient care advancements. The four-year programme will provide you with the necessary academic and practical skills to work in this patient-centred healthcare environment. The programme is delivered by experienced and enthusiastic academic staff, whose focus is on providing you with a research-led, quality learning experience.
Graduate skills and career opportunities
As a graduate radiation therapist you will be the main point of contact for the cancer patient during the course of their treatment and you will be involved in many aspects of their care during their radiation therapy treatment. As radiation therapy is expanding in Ireland and internationally so too is the opportunity for role development, making this an exciting time to be entering the profession. Graduates from this programme work in radiation therapy departments in Ireland; UK; Australia; New Zealand; Qatar and Saudi Arab, to name but a few. The broad scientific and clinical content of this degree, in combination with the graduate attributes of competent reflective practitioners; lifelong learners; critical thinkers and problem solvers has facilitated some graduates to work in research and development, medical technology, medical marketing and academia.
Your degree and what you'll study
This four-year honours degree gives you a broad academic base on which to develop the clinical skills of radiation therapy. You will be able to analyse, evaluate and make clinical decisions and to initiate, participate in and encourage research in oncology and radiation therapy. There are both theoretical and clinical components to this degree, the emphasis being more on the theoretical component in the first two years and more on the clinical and research component in the last two years. The contact hours are high in this course and the subjects are taught through lectures, laboratory-based practical sessions, workshops, tutorials and clinical placement in the hospital setting.
A significant clinical component is integral to this course. The clinical sites are the radiation therapy departments attached to the St. Luke's Radiation Oncology Network at St Luke's, St. James's and Beaumont Hospitals in Dublin; Cork University Hospital, University Hospital Galway; the Mater Private Hospital Dublin, St. Vincent's Private Hospital Dublin, the Galway Clinic; the Mater Private at Midwestern Regional Hospital Limerick, the Beacon Hospital Dublin, UPMC Whitfield Clinic, Waterford, and the Hermitage Medical Clinic, Dublin.
The duration of the clinical placement is 4 weeks in Junior Freshman (first) year, 9 weeks in Senior Freshman (second) year, 13 weeks in Junior Sophister (third) year and 15 weeks in Senior Sophister (fourth) year. Part of the clinical placement takes place during the vacation periods and clinical placement consists of 35 hours per week. Students are placed in radiation therapy departments across the country. The costs of placement outside Dublin (including accommodation and travel expenses) must be borne by the student.
THE FRESHMAN YEARS
In the Freshman (first and second) years, the course covers the basic sciences. You will also study the structure and function of the human body and will be introduced to topics that related to cancer and patient care. There are approximately 20-30 hours per week in class in the freshman years.
The clinical component (clinical placement) will introduce you to radiation therapy and will develop your understanding of the complexities of the cancer patient pathway.
FIRST (JUNIOR FRESHMAN) YEAR
Biological Principles and Practices
Chemical Principles and Properties
Anatomy 1
Physics for Radiation Therapy 1
Principles and Practices of Cancer Care 1
Psychology and Communication 1
Clinical Practice 1
SECOND (SENIOR FRESHMAN) YEAR
Biochemistry
Physiology
Anatomy 2
Physics for Radiation Therapy 2
Principles and Practices of Cancer Care 2
Psychology and Communication 2
Research Methodology and Statistics
Clinical Practice 2
THE SOPHISTER YEARS
In the Sophister (third and fourth) years, you will study more specialist subjects that are specifically related to cancer and patient care, and complete a research project in this area.
THIRD (JUNIOR SOPHISTER) YEAR
Principles and Practices of Cancer Care 3
Physics for Radiation Therapy 3
Radiobiology
Radiation Therapy Treatment Planning
Treatment Localisation and Verification
Research Methodology and Statistics
Clinical Practice 3
FOURTH (SENIOR SOPHISTER) YEAR:
Radiotherapy in Practice
Research Project
Clinical Practice
ASSESSMENT
This programme use a variety of assessment methods, including written end-of-year examinations, continuous assessment, individual and group project work, oral examinations, reflective journals and workbooks. A clinical portfolio and research dissertation are substantial components of the assessment processes in your final year.
Study abroad
Students have the option to undertake two weeks of clinical placement in the radiotherapy department of Gemelli Hospital, Sacred Heart University, Rome, Italy in the summer vacation of the third year.
GET IN TOUCH!
https://www.tcd.ie/medicine/radiation-therapy/
Tel: +353 1 896 3234
Email: TCDRT@tcd.ie
Information days are held during the year for students interested in finding out more about radiation therapy. For details, please contact Daléne Dougall on: +353 1 896 3234; TCDRT@tcd.ie
---
What our current students say
Lisa McGrane
"I am enjoying Radiation Therapy as it is varied and there is always a new challenge. In the Freshman years, I studied broader science subjects, such as biology, chemistry and physics. In third year we now focus on subjects more specific to radiation therapy, for example treatment planning. Clinical placement integrates the academic learning with the practical work. You get the opportunity to go to different hospitals across the country so there is always something new to see. My class is quite small, which made it easy to make friends and get to know everyone. Societies are a great way to get to know people in other courses."
What our graduates say
Graham Kelly
"After graduation from radiation therapy in Trinity College Dublin, I now work as a Radiation Therapist in an Irish Hospital. My position requires me to work as part of a four-person unit delivering safe and accurate radiation treatment to patients suffering from cancer.
Our primary tool in treating our patients' cancer is the medical linear accelerator or linac. This is a complex machine that allows us to deliver a radiation dose to a tumour in any part of the body. This is done via a series of beams in conjunction with shielding to spare as much healthy surrounding tissue as possible.
A minimum of 2 radiation therapists must treat a patient. We position the patient on the machine's couch in the treatment position with the aid of an appropriate immobilisation device. Permanent dots on the patients skin are aligned using a series of fixed laser lights to ensure the patient is in the correct position. We then leave the room and move to the control room to deliver the patient's treatment. To verify a patient's treatment position, x-ray images may be taken using the linac.
In addition to delivering a patients treatment we also monitor and advise patients on the management of any side effects or concerns that may arise during treatment. We liaise with and work along side other health professionals so to ensure that patient's side effects and needs are addressed promptly and the impact limited.
No two days are the same when working as a radiation therapist. Each day is varied and presents new tasks and challenges. This makes for a varied and highly rewarding career."
Course Options
Options
Award
B.Sc. (Ther. Rad.)
Number of Places
30
CAO code (Central Applications Office code) is
TR055
---
Admission Requirements
For general admission requirements please click here
For general admission requirements please click here
Leaving Certificate H4 In one of physics, chemistry, biology, physics/chemistry Advanced GCE (A-Level) Grade C In one of physics, chemistry or biology
Other EU examination systems See www.tcd.ie/Admissions/undergraduate/requirements/matriculation/other/
Students will be required to undergo Garda vetting, see https://www.tcd.ie/Admissions/undergraduate/requirements/garda/ for further details.
---
Apply
To apply to this course, click on the relevant Apply Link below
EU Applicants
Read the information about how to apply, then apply directly to CAO.
Non-EU Applicants
Options
Award
B.Sc. (Ther. Rad.)
Number of Places
30
CAO code (Central Applications Office code) is
TR055