Workplace Wellness (P. Grad. Cert.)
18 weeks, 1-2 evenings per week
Overview
On this practical Postgraduate Certificate (Level 9) in Workplace Wellness, participants will learn everything that they need to develop and coordinate effective programmes that align an organisation's values to employee wellness, ensuring engagement and buy in from senior management and staff alike. This course offers the opportunity to up-skill in the area of workplace wellbeing and take up a variety of roles related to employee wellness. It may also be an excellent addition to a primary degree in HR or Business for those wishing to reorient their careers or re-enter the workforce.
Fundamentals of Workplace Wellness
This module sets the context for the programme by exploring the role of health promotion within the workplace and nature of wellbeing. We will explore the business case for wellness programmes and the fundamental characteristics of successful wellness programmes based on research and case study examples from leading organisations.
Organisational Culture
This module explores what a culture of health looks like and how to establish and build one, or engage in a change process towards one. Students will examine the critical role of leadership support, strategic communication, the social and physical environment, and policies and practices in building a culture of health. These critical factors will be explored using evidence from benchmarking research and case studies from award-winning organisations in the area of employee wellness internationally and within Ireland.
Project and Policy Implementation
In this module students will visit up to four different organisations to gain an understanding of the wellness programmes in operation at their workplaces and to meet with those implementing the programmes. Individually they will craft a workplace wellness operating plan and in project teams they will develop solutions for a real-world challenge being faced by a host organisation.
Course Fees
€286 for eligible applicants in employment. Free to eligible unemployed applicants. See eligibility criteria
Fees
Springboard+ covers 100% of course fees for eligible, unemployed applicants who are successful in their application. Springboard+ covers 90% of course fees for eligible, employed applicants who are successful in their application. The remaining 10% course fee is €286.
Career Opportunities
This course offers the opportunity to up-skill in the area of workplace wellbeing and take up a variety of roles related to employee wellness, including Workplace Safety and Wellbeing Coordinator, Employee Health and Wellbeing Advisor, Workplace Wellbeing Manager, and Corporate Wellness Consultant.
Click Here for further information on modules/subject.
Course Details
Next Intake
Course Begins 26th September 2023 (Evening); 28th September 2023 (Daytime)
Course ends 19th April 2024
Classes will take place in-person in Dublin at Tangent, Trinity's Ideas Workspace, and online. Please note there are two timetable options for this course: daytime and evening.
Closing Date
Applications Close: 31st July 2023
Course Begins: 26th September 2023 (Evening); 28th September 2023 (Daytime)
Course Ends: 19th April 2024
RECRUITING NOW: Places are offered on a rolling basis, and the course may close in advance of the listed closing date, 16th August 2023.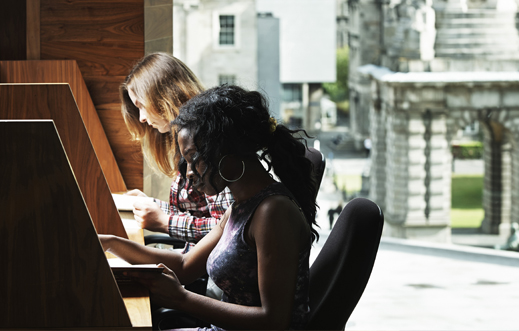 Admission Requirements
Funding eligibility is as outlined the Springboard+ website.
The postgraduate certificate course will be open to graduates with a level 8 honours degree (or equivalent) in any discipline from a recognised third level institution. Those with demonstrated entrepreneurship aspirations will be prioritised. As part of the entrance criteria, all applicants will be required to submit a 1-page personal statement outlining their motivation to undertake the course.
Applicants who do not meet the entry requirements may still be considered if they can demonstrate their suitability for the course based on recognition of prior learning (RPL) under Trinity's RPL policy and procedures.
All applicants whose first language is not English and who have not been educated through the medium of English must present qualifications in the English language that pass the grades set by IELTS or TOEFL (or equivalent).
All students are required to have a laptop or a PC, a webcam and stable Internet connection.
Course Fees
Click here for a full list of postgraduate fees
Apply
To apply, click on the relevant Apply Link below
Get in Touch
Telephone Number
(086) 0 320 487
Email
Register Your Interest
Register your interest in postgraduate study at Trinity College Dublin, the University of Dublin.
As Ireland's leading university, we offer a wide range of postgraduate programmes at masters, diploma and certificate level.
Trinity is an international university steeped in history, with a reputation for excellence in education, research and innovation.