Sustainable Energy and the Environment (P.Grad. Dip)
Overview
Introduction
This is a one-year postgraduate course designed to develop a student's understanding of current and emerging sustainable energy technologies and to consider their impact on the environment. The programme will give candidates with the knowledge to make informed decisions around energy security through effective management of energy systems and identifying the best fit for different energy technologies across different sectors. In parallel, students will develop the critical skills to interpret environmental data, make informed decisions based on risk and impact assessments, and have the capacity to develop mitigation solutions to support environmental protection. The course will address both theory and practice, introducing technical aspects of energy and environmental systems, whilst addressing the economic, social and governance considerations.
The course will be of particular interest to those already in employment as part of ongoing professional training, as well as leading to the widening of new job opportunities for its graduates in both the private and public sectors.
The Diploma award is based on a combination of the results of two examination papers and an individual project. Students must pass each paper and the project and neither of these can be deferred.
Course Content
The course consists of 3 taught modules each carrying 20 ECTS credits.
• Module 1: Sustainable Energy: Efficiency, Management and Generation will introduce topics such as sector energy demand (buildings; transport, industry and agriculture). There will be a focus on measures for energy reduction and energy efficiency along with assessment procedures. Sustainable energy generation will introduce energy generation and conversion. It will concentrate on renewable energy generation technologies (and include lectures on wind, wave, tidal, biomass, biofuels, geothermal, hydro, solar, waste to energy) and low carbon technologies (nuclear energy, hydrogen, fuel cells). Grid integration and energy storage will be addressed.
• Module 2: Engineering and the Environment addresses the broad range of environmental considerations governing engineering practice. It will enhance your knowledge of scientific processes occurring within the natural environmental, and position environmental protection in light of governing National and European policy and legislation. Soil, water, air, noise, and waste represent the topic areas addressed of the module, with environmental impact assessments representing the common thread in this module. The content will improve your understanding of their connectivity and support a just transition whilst providing the technical knowledge to apply effective management and design balanced solutions to support mitigation of pollution in the natural and built environments.
• Module 3: Individual project is a key element of the course where the theoretical and technical aspects of Sustainable Energy and the Environment which have been presented, analysed and discussed in the other two modules are brought into practical and innovative focus. Each student will be expected to engage in a piece of original study to reveal a novel aspect of sustainable energy and/or the environment.
Lectures will be held on Friday evenings and Saturday mornings each week throughout the two semesters (September to April), with laboratories with occasional site visits scheduled in the second semester.
The course will be delivered in a blended learning format, allowing students to participate in a mix of online and in-person sessions.
In addition to lectures, students are required to prepare and submit individual original pieces of coursework relating to the subject matter of each of the modules. Assessment is by examination and coursework.
Career Opportunities
Designed to provide engineers and other suitably qualified professionals with advanced knowledge in efficiency and management techniques, and technologies choices for energy systems, and expertise of environmental systems to mitigate the impact of engineering systems on the environment. The course widens job opportunities for its graduates and allows them to access such positions as Energy or Environmental Engineer, and Sustainability Consultant for public bodies or private organisations.
Click Here for further information on modules/subject.
Course Details
Number of Places
30 - Minimum 8 Places
Next Intake
September 2023
Course Director
Dr Sarah McCormack
Closing Date
31st July 2023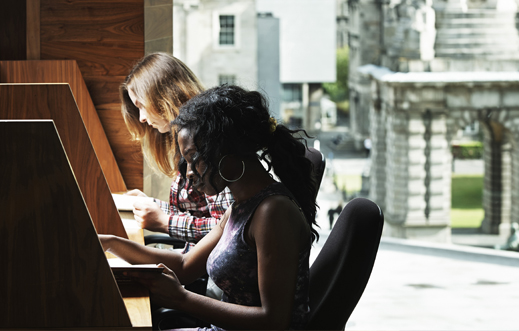 Admission Requirements
A minimum Lower Second Class (2.2) award in an Honours Bachelor of Engineering or Science Degrees or equivalent professional qualification.
Apply
To apply, click on the relevant Apply Link below