Quantum Science and Technology (M.Sc. / P.Grad.Dip)
Overview
The MSc in Quantum Science and Technology offers advanced training in quantum science with a specific orientation towards the quantum tech industry. It is designed to draw on the research excellence in quantum information science and material science that is currently conducted in the School of Physics.
The aim of the programme is to give students an opportunity to learn the state of the art developments in quantum information theory and quantum software development as well as gaining knowledge of the physics of modern quantum hardware. It will have input from key industry collaborators so that students can be informed of the latest trends in the rapidly growing area and understand how the programme is designed to meet these challenges and opportunities. In addition, a tailored internship or project will be offered in industry or academia. Each of the modules will draw on the pre-existing strengths of the quantum research excellence in the School of Physics. An academic or industrial placement will be offered as part of the programme. Graduates of this programme will not only be attractive to the expanding quantum tech industry but also will have built a strong knowledge base for pursing PhD research in quantum physics.
This is one of the first programmes of its kind internationally and is unique in its combination of quantum information science and material science.
Career Opportunities
Graduates of this programme will be uniquely placed to work across the quantum science and technology sector as well as related areas of industry. For those interested in pursuing academic research, the School hosts many internationally recognised academics in quantum research. Graduates will also be eligible to pursue further study in other universities who are currently working in this and related research fields.
Click Here for further information on modules/subject.
Course Details
Number of Places
30 Places
Next Intake
September 2023
Course Coordinator
Professor John Goold
Course Director
Professor John Goold
Closing Date
31st July 2023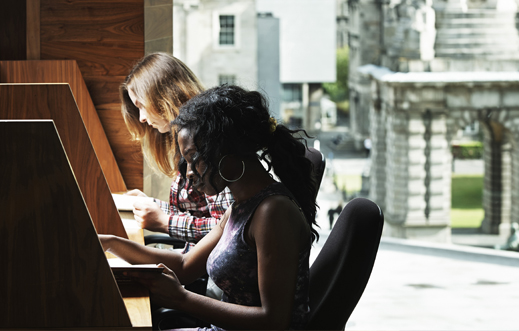 Admission Requirements
Admission to the course is competitive. Applicants will be expected to have an Honours Bachelor degree at 2.1 or above in a physics, mathematics, computer science or engineering degree (or equivalent). Applicants with lower than a 2.1 will be considered on a case by case basis by the Dean of Graduate Studies. In case of heavy competition for places or concerns regarding a particular applicant's suitability, applicants may be interviewed online.
Course Fees
Click here for a full list of postgraduate fees
Apply
To apply, click on the relevant Apply Link below
Get in Touch
Email
Website
https://www.tcd.ie/Physics/quantumtech/
Register Your Interest
Register your interest in postgraduate study at Trinity College Dublin, the University of Dublin.
As Ireland's leading university, we offer a wide range of postgraduate programmes at masters, diploma and certificate level.
Trinity is an international university steeped in history, with a reputation for excellence in education, research and innovation.