Pharmaceutical Sciences (M.Sc. / P.Grad. Dip.)
Overview
The M.Sc. in Pharmaceutical Sciences is an integrated multidisciplinary course addressing fundamental and applied aspects of drug and drug product discovery, development, production and analysis. The programme will prepare candidates for research careers in academia and industry in pharmaceutical R&D as well as will create an awareness of issues and approaches relevant to the key pharmaceutical manufacturing sector in Ireland.
The course is available for full-time study over one calendar year or part-time over two years and consists of lectures, workshops, presentations and laboratory work. Formal classes run from September to April and are normally held two days every week with the remaining time available to students for self-directed studies, writing tutor marked assignments, preparing laboratory reports and presentations. Students proceeding to a M.Sc. degree will be required to undertake a research project and present a detailed scientific report at the end of the course.
The course consists of eight basic modules: regulatory aspects and industrial pharmacy, chromatographic and other separative methods of analysis, spectroscopic methods for drug analysis, molecular pharmaceutics and advanced drug delivery, biopharmaceutical sciences, pharmaceutical and medical nanotechnology, pharmacological and related methods, biotechnology, formulation development and evaluation and professional skills in pharmaceutical sciences.
The taught modules are supported by lectures and workshops on presentation, research and other transferrable skills. The course is taught mainly by College staff, although there is a contribution from specialist visiting lecturers. The research project may be conducted either in the School of Pharmacy or at the student's place of employment but in either case supervision is exercised by a member of the School of Pharmacy academic staff.
Overall assessment of candidates is based on tutor marked assignments during the course work, written examinations, presentations and laboratory reports. Candidates must successfully complete the taught components of the course, before proceeding to the M.Sc. project. Provision is available for a supplemental examination in September each year if required. A reasonable attempt is required in all aspects of the examination process. A pass mark of 40% is normally required.
Career Opportunities
This course will prepare candidates for careers in pharmaceutical research relevant to academic and manufacturing sectors, as well as create an awareness of issues and approaches relevant to the key pharmaceutical manufacturing sector in Ireland. Graduates have enjoyed successful careers in manufacturing, in R&D and in regulatory affairs.
Click Here for further information on modules/subject.
Postgraduate Study at the School of Pharmaceutical Sciences at Trinity
An overview of the opportunities for Postgraduate study at the School of Pharmacy and Pharmaceutical Sciences.
Course Details
Number of Places
18 Places
Next Intake
September 2023
Course Coordinator
Dr Maria Jose Santos-Martinez
Dr Eduardo Ruiz-Hernandez
Course Director
Closing Date
30th June 2023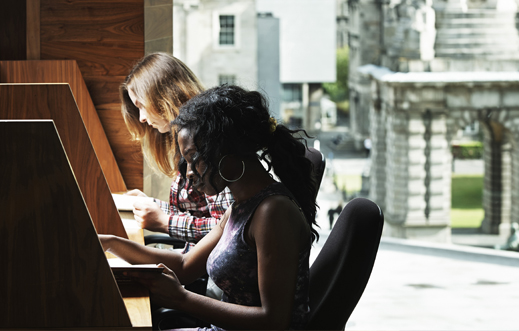 Admission Requirements
Applicants are accepted, subject to the availability of places, from holders of honors degrees in a relevant Science discipline (e.g. Pharmacy, Chemistry, Analytical Chemistry, Microbiology, Biochemistry, Pharmacology and other appropriate primary honors degrees e.g. I.T., Medicine or Veterinary). Equivalent primary and/or postgraduate qualifications are considered, particularly with relevant professional experience. Applications will be evaluated by the Course Director in consultation with the Course Committee and Dean of Graduate Studies as appropriate.
Course Fees
Click here for a full list of postgraduate fees
Apply
To apply, click on the relevant Apply Link below
Get in Touch
Telephone Number
353-1-896-2811
Email
Register Your Interest
Register your interest in postgraduate study at Trinity College Dublin, the University of Dublin.
As Ireland's leading university, we offer a wide range of postgraduate programmes at masters, diploma and certificate level.
Trinity is an international university steeped in history, with a reputation for excellence in education, research and innovation.