Hospital Pharmacy (M.Sc.)
Overview
The M.Sc. in Hospital Pharmacy consists of a practice-based teaching programme complemented by lectures, tutorials and workshops. The course provides students with the knowledge and skills necessary to undertake all aspects of hospital pharmacy. Subjects covered include medical and surgical therapeutics, medicines information, pharmacoeconomics, purchasing skills, good manufacturing practice and aseptics, immunology and biotechnology. Management issues as they relate to hospital pharmacy and the broader context of healthcare systems are also addressed. Coursework is underpinned by a comprehensive practice-based element where students rotate through a variety of specialist areas to ensure that broad, practical experience is obtained in such areas as medicines information, dispensary, aseptic compounding and clinical specialities. Assessment is on a continual basis through formal examinations, written assignments, oral presentations and competency-based assessments. Students are required to undertake a research project and must demonstrate research competency. Research and methodological skills are addressed in a dedicated module that also covers an introduction to statistical evaluation. This is a two-year, part-time course with lectures and tutorials taking place on one half day per week in central locations. Courses are conducted on a biennial basis.
Career Opportunities
The course provides students with the knowledge and skills necessary to undertake all aspects of hospital pharmacy.
Click Here
for further information on modules/subject.
Postgraduate Study at the School of Pharmaceutical Sciences at Trinity
An overview of the opportunities for Postgraduate study at the School of Pharmacy and Pharmaceutical Sciences.
Course Details
Number of Places
15 Places
Next Intake
January 2024
Course Coordinator
Ms Niamh McMahon
Closing Date
30th June 2023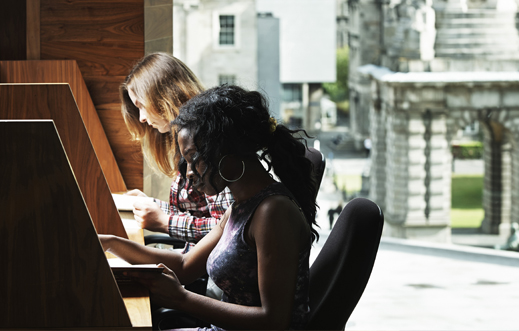 Admission Requirements
Eligible candidates must hold a first or second-class honors (upper division) degree in pharmacy, have experience working in hospital pharmacy practice and be registered (or eligible to be registered) with the Pharmaceutical Society of Ireland prior to the January start date. Please note that for applications to this course two references are required; one academic and one non-academic. Please note that some students will have to attend interviews in order to compete for clinical placements.
Course Fees
Click here for a full list of postgraduate fees
Apply
To apply, click on the relevant Apply Link below
Get in Touch
Telephone Number
01-8963181
Email
Website
www.pharmacy.tcd.ie/postgraduate/msc_hospital.php
Register Your Interest
Register your interest in postgraduate study at Trinity College Dublin, the University of Dublin.
As Ireland's leading university, we offer a wide range of postgraduate programmes at masters, diploma and certificate level.
Trinity is an international university steeped in history, with a reputation for excellence in education, research and innovation.
Testimonials
---
"I have found that the Trinity Masters in Hospital Pharmacy has provided me with an extensive education in all areas of hospital pharmacy. I feel that the course is unique in that it provides face-to-face interaction with lecturers. I particularly appreciated the confidence I gained in my daily work, as I put into practice the up-to-date knowledge base that was delivered to the highest standard from experienced lecturers. The structure of the course allows for the development of a comprehensive set of skills both academic and practical, which have definitely stood to me in my career today."
Course Graduate