Music and Media Technologies (M.Phil.)
1 year full-time / 2 years part-time
Overview
In recognition of a shared interest in Information Technology and a growing awareness of its relevance for music, Electronic and Electrical Engineering and Music initiated a Master programme in Music and Media Technologies in Trinity in 1996.
A particular feature of this programme is a balanced approach to musical and technological topics. Musically, a strong emphasis is placed on the development of adaptable compositional skills, while technological topics are addressed from both a hands-on workstation/studio exposure and a fundamental mathematical and scientific basis, which focuses on musically relevant issues.
The first two semesters form a self-contained Postgraduate Diploma course which provides the necessary musical and technological skills to allow creative individuals to engage in computer-assisted composition and production, apply software tools for the music and New Media industries and/or enter the arena of music-on-screen; production for New Media products.
The third (summer) semester of study, leading to the M.Phil. degree, is an option open to those achieving a sufficient standard in their first & second semester module assignments and exams. Students are required to complete a thesis which can be of a musical or technological nature.
The programme covers a wide range of subjects within the general field of music technology, and provide students with a fully professional qualification. The programme can be taken full-time over a 12 month period or part-time over a 24 month period.
Career Opportunities
Graduates have pursued careers in the arts as composers, musicians and performers in an extremely wide and diverse range of styles and genres, as well as careers in education and academic research; digital signal processing; software and hardware development; audio engineering; sound design for gaming, film, theatre, and virtual reality; acoustics; video editing; TV and film production; and web design.
Click Here for further information on modules/subject.
Study Music and Media Technologies (M.Phil.) at Trinity
This video is presented by Dr. Enda Bates, the deputy course director of M.Phil. in Music & Media Technologies (MMT), and describes the course structure, location, modules, and how to apply.
Course Details
Number of Places
25 Places
Next Intake
September 2023
Course Director
Dr Dermot Furlong
Closing Date
31st July 2023
Run Jointly With
School of Drama, Film and Music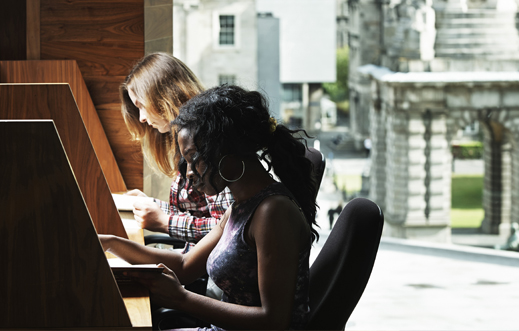 Admission Requirements
Acceptance for the course is based on an overall assessment, which takes into account:
Musical/compositional/artistic and/or technological ability as evidenced by a portfolio submission
Formal musical knowledge - ideally level 5/6
References
Interview
Course Fees
Click here for a full list of postgraduate fees
Apply
To apply, click on the relevant Apply Link below
Get in Touch
Telephone Number
+353 1 896 1864
Email
Website
www.mee.tcd.ie/mmt/index.php
Register Your Interest
Register your interest in postgraduate study at Trinity College Dublin, the University of Dublin.
As Ireland's leading university, we offer a wide range of postgraduate programmes at masters, diploma and certificate level.
Trinity is an international university steeped in history, with a reputation for excellence in education, research and innovation.
Testimonials
---
"MMT is a one of a kind course. I joined the course with an interest to learn more about music and production technology but left with a much wider understanding of the field than I expected. It gives the students a wide range of creative and technology-oriented subjects to dive into, each has its own specific intricacies, but they are all connected by an underlying thread, which is audiovisual music and the more universal representation of it as a perception of the same. This aspect makes the course, in my opinion, an intense and challenging but also a highly rewarding experience for anyone interested in the beauty of music, sound, and audition. "
Tanay Chowdhury
"My year in Trinity College Dublin studying for the M.Phil. in 'Media and Music Technology' was one of the most productive and challenging year of my musical education and it definitely helped my personal growth."
Serena Conese