Overview
This course is taught by the School of Nursing and Midwifery, Trinity College Dublin in partnership with The Rotunda Hospital, Dublin and The Coombe Women & Infants Hospital, Dublin. The course is designed to develop midwives with the knowledge, skills and attitudes necessary to become competent, analytical and reflective practitioners, thus enabling them to provide care in a manner that benefits women and their families.
For information on this course please visit the School of Nursing & Midwifery website
https://nursing-midwifery.tcd.ie/postgraduate/higher-diploma/midwifery/
Study Midwifery (H.Dip.) at Trinity
The School of Nursing & Midwifery, Trinity College Dublin is ranked 1st in Ireland 48th in the World in the QS World University Subject Rankings 2020. This video outlines many of the postgraduate programmes available within the School.
Course Details
Next Intake
September 2022
Course Coordinator
Dr Vivienne Brady
Course Director
Dr Deirdre O'Malley
Closing Date
Closing date to be updated in line with usual application deadlines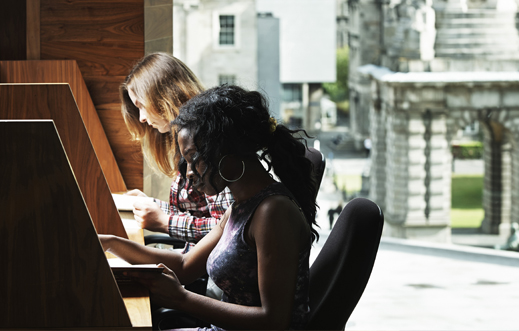 Admission Requirements
All applicants to the School of Nursing and Midwifery whose first language is not English or who have not been educated through the medium of English must present one of the following qualifications in the English language:
· IELTS: Grade 6.5 overall with a minimum of grade of 6 in each category
· TOEFL: 88 internet-based, 570 paper-based, 230 computer-based. The test taken here should be TOEFL IBT
· University of Cambridge:
Proficiency Certificate, Grade C or better (CEFR Level C1 or C2)
Advanced Certificate, Grade C or better (CEFR Level C1 or C2)
· Pearson Test of English (Academic) - PTE Academic: a minimum score of 63 to be eligible (wih no section score below 59)
· An award certificate with a minimum II.1 overall score from Trinity's Centre for English Language Learning and Teaching's Pre-sessional Pathway Programme
· Duolingo English Test: minimum overall score of 110/160, dated since January 2020
The Pre-Master's Pathway Programme is an academic English course for international students with conditional offers for postgraduate study at Trinity. Passing the programme means you meet Trinity's English language requirement and can progress to your postgraduate course without retaking IELTS or any other exam. Click here for Pre-Master's
Pathway Programme.
Please also note that existing IELTS, TOEFL, Cambridge and PET scores up to three years old (rather than two)will be accepted for 2020/21 applications in light of test centre closures.
For further details on these English Language Proficiency Tests, please contact the appropriate organisation directly.
Students will be required to undergo Garda Vetting, see https://www.tcd.ie/students/orientation/undergraduates/garda-vetting.php for further details.
ONLY THOSE WHO HAVE ATTENDED INTERVIEW AND ARE APPROVED TO APPLY FOR THE COURSE MAY DO SO.APPLICANTS WHO APPLY AND HAVE NOT BEEN PRE- INTERVIEWED BY OUR HOSPITAL PARTNERS WILL NOT BE ELIGIBLE FOR A REFUND OF THEIR APPLICATION FEE
Course Fees
Click here for a full list of postgraduate fees
Apply
To apply, click on the relevant Apply Link below
Get in Touch
Telephone Number
Email
bradyvi@tcd.ie
Website
www.nursing-midwifery.tcd.ie/postgraduate/higher-diploma/midwifery/index.php
Register Your Interest
Register your interest in postgraduate study at Trinity College Dublin, the University of Dublin.
As Ireland's leading university, we offer a wide range of postgraduate programmes at masters, diploma and certificate level.
Trinity is an international university steeped in history, with a reputation for excellence in education, research and innovation.