Middle East in a Global Context (M.Phil.)
M.Phil./P.Grad.Dip: 1 year full-time / P.Grad.Cert: 1 year part-time
Overview
In the unlikely event that the minimum number of students is not reached for the course to run, applicants' fees will be refunded
This course is designed for students who hold a degree in any discipline and are interested in studying the region of the Middle East, its histories, cultures, politics and (optionally) language.
It provides a foundation in the methods and disciplines relevant to the study of the Middle East. It provides intensive training in several fields of knowledge through a combination of online lectures, seminars, tutorials and essay writing, allowing you to develop research and writing skills with training in theoretical and methodological approaches. You also complete a research project (dissertation) on a subject chosen by you in consultation with your supervisor.

Course Structure
The programme can be accessed via three different entry routes, each of which offers distinct advantages.
Subject to satisfactory progress, it is possible to transition from the Certificate to the Diploma and then to the MPhil, which effectively spreads the MPhil as a part-time degree.
On the Postgraduate Certificate (total: 30 credits), students complete three core modules (M1-M3) to develop a basic understanding of and fluency with the methods and contexts of the field of Middle Eastern Studies.
On the Postgraduate Diploma (total: 60 credits), students four core modules (M1-M4) plus 2 optional modules, gaining a thorough grounding in both the theory and the practice underpinning current research in Middle Eastern studies.
On the MPhil (total: 90 credits), students complete four core modules (M1-M4) plus 2 optional modules, and build on the knowledge and skills gained through the modules by applying them to the research project (which is worth 30 credits).
• Data sharing – information provided in the application may be shared with the Al-Maktoum College of Higher Education. It is also possible to apply via the Al-Maktoum College.
Career Opportunities
The course prepares graduates for careers in cultural outreach and research.
Click Here for further information on modules/subject.
Course Details
Number of Places
20 Places
Next Intake
September 2023
Course Director
Prof. Anne Fitzpatrick
Closing Date
30th June 2023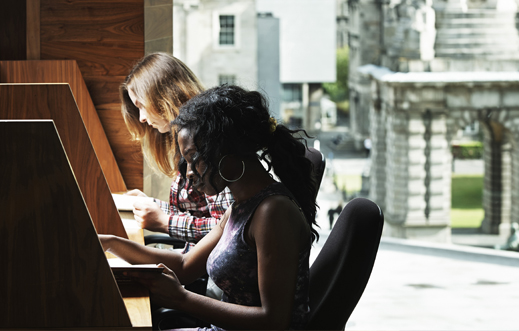 Admission Requirements
No prior knowledge of the area is required, and Arabic can be studied ab initio. Applicants should normally have a second class (2.1) honours Bachelor degree or equivalent. Applicants are asked to submit a writing sample for assessment, and may be invited for online interview. For candidates who are not native English speakers and have not completed a degree through the medium of English, see the Trinity foreign language requirement.
Course Fees
Click here for a full list of postgraduate fees
Apply
To apply, click on the relevant Apply Link below
Get in Touch
Telephone Number
+353-1-8963397
Email
Website
https://www.tcd.ie/langs-lits-cultures/postgraduate/middle-east-global-context/
Register Your Interest
Register your interest in postgraduate study at Trinity College Dublin, the University of Dublin.
As Ireland's leading university, we offer a wide range of postgraduate programmes at masters, diploma and certificate level.
Trinity is an international university steeped in history, with a reputation for excellence in education, research and innovation.