Identities and Cultures of Europe (M.Phil.)
M.Phil./P.Grad.Dip: 1 year full-time / P.Grad.Cert: 1 year part-time
Overview
About the programme
Identities structure our reality, our desires and our ideas. As such, they assume many shapes and forms: the self and the nation, language and gender, migration and trauma, myth and ideology, class and religion, capitalism and populism, ecology and technology. Above all, identities are crystallised in their representation: in the media and popular culture, in literature and film, but also in imagined communities and destinies, contested histories, and collective memory. Exploring and analysing questions of identity as they have unfolded and continue to unfold in Europe, this intensive course will equip students with the critical tools and real-life experience to understand the complex and varied challenges posed by shifting notions of identity and their very real consequences.

Master's Degree
Students on the MPhil enrol in two core modules (one in each semester) on Questions of Identity in Europe. Consisting of a selection of key identity topics, the core modules approach the issue of identity from a range of disciplinary perspectives through theories of identity and case studies. Students will also take four optional modules (two per semester), selected from a wide range of options offered by the programme as well as by other Masters courses at Trinity. Finally, students will complete a research dissertation on a topic of their choice, receiving guidance from researchers who are experts in their respective fields. During the first semester, students will also take part in a three-day field trip to Belgium, where they will have an opportunity to network and create links with key cultural institutions, organisations and NGOs on the continent. (Please note that Non-EU students are responsible for their own visa arrangements and must ensure that they can travel to Belgium and re-enter Ireland.) During the second semester, students will have the option to do an internship at an approved NGO or cultural institution in Dublin. (Please note that securing a placement may depend on availability in any given year and on the outcome of a selection process conducted jointly with partner institutions.) At the end of the second semester, students will participate in an identity workshop given by a high-profile external speaker from academia or civil society.

Postgraduate Diploma
Students on the Postgraduate Diploma enrol in two core modules (one in each semester) on Questions of Identity in Europe. Consisting of a selection of key identity topics, the core modules approach the issue of identity from a range of disciplinary perspectives through theories of identity and case studies. Students will also take four optional modules (two per semester), selected from a wide range of options offered by the programme as well as by other Masters courses at Trinity. (Please note that the internship option is only available to students on the MPhil.) During the first semester, students will also take part in a three-day field trip to Belgium, where they will have an opportunity to network and create links with key cultural institutions, organisations and NGOs on the continent. (Please note that Non-EU students are responsible for their own visa arrangements and must ensure that they can travel to Belgium and re-enter Ireland.) At the end of the second semester, students will participate in an identity workshop given by a high-profile external speaker from academia or civil society.

Postgraduate Certificate
Students on the Postgraduate Certificate in Identities and Cultures of Europe enrol in two core modules (one in each term) on Questions of Identity in Europe. Consisting of a selection of key identity topics, the core modules approach the issue of identity from a range of disciplinary perspectives through theories of identity and case studies. Students will also take one optional module, selected from a wide range of options offered by the programme as well as by other Master's courses at Trinity. (Please note that the internship option is only available to students on the MPhil.) During the first semester, students will also take part in a three-day field trip to Belgium, where they will have an opportunity to network and create links with key cultural institutions, organisations and NGOs on the continent. (Please note that Non-EU students are responsible for their own visa arrangements and must ensure that they can travel to Belgium and re-enter Ireland.) At the end of the second semester, students will participate in an identity workshop given by a high-profile external speaker from academia or civil society.
Career Opportunities
Our graduates have pursued a wide range of careers in Cultural Outreach, Cultural Policy, Diplomacy, Journalism, Project Management, Editing, Arts and Creative Writing.
Click Here for further information on modules/subject.
Study Identities and Cultures of Europe (M.Phil.) at Trinity
This is official programme video
Course Details
Number of Places
15 Places
Next Intake
September 2023
Course Coordinator
Dr Justin Doherty
Course Director
Dr Hannes Opelz
Closing Date
30th June 2023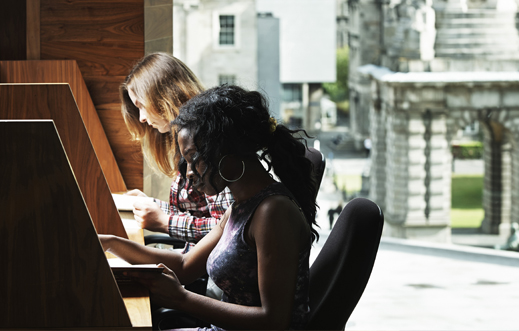 Admission Requirements
Entry Requirements
• A minimum 2.1 (upper-second class) Honours Bachelors degree from an Irish university or its international equivalent in a relevant subject. Relevant subjects include but are not limited to the following: Anthropology, Languages, Literature, History, Cultural Studies, Comparative Literature, Human Geography, Sociology, Religious Studies, Gender Studies, Textual and Visual Studies, Visual Arts, Art History, Economics, Political Science. We also welcome students from non-Humanities backgrounds with a keen interest in questions of identity.
• Proficiency in English. For candidates who are not native English speakers and have not completed a degree through the medium of English, a minimum IELTS score of 6.5 in each category or its equivalent. While there is no formal requirement to be proficient in a language other than English, students with a reading proficiency in a language taught in the School of Languages, Literatures and Cultural Studies (French, German, Italian, Spanish, Irish, Polish, Russian) are particularly welcome.
For further information on the course structure and the modules we offer/(bearing in mind that modules vary from year to year), please visit our Course Details page.
Applications are open from November until June and you may apply at any point. Places are offered to the best applicants on a first-come first-served basis. Places are limited, and for that reason, it is recommended that you apply as early as possible. The deadline for applications is June 30th.
Required Materials
For this course, you will need to submit the following materials to apply:
• Personal Statement Form
The Personal Statement Form is an important part of our assessment process. It is your opportunity to state your reasons for applying to this programme and how they match what the programme delivers. Please complete this form to submit your Personal Statement.
• Sample of Academic Writing
As part of your application, you also need to submit a sample of no more than 2,500 words of your best academic writing in English. When we assess your application, we will pay particular attention to:
• your ability to build and present a logical, cohesive argument
• your ability to analyse and evaluate the arguments of others
• your ability to adhere to the norms of academic writing (referencing, quotation, and bibliography)
• your command of academic English
• English Language Qualifications
Unless you have completed a degree through the medium of English or are a native speaker, you are required to prove your proficiency with the language. Trinity prefers IELTS, but will accept alternative tests run by international organisations, such as TOEFL. A minimum of 6.5 in each IELTS category or its equivalent is required.
• Degree Certificate(s)
You will need to provide degree certificates (in PDF format) that prove you have completed all of the degrees you mention in your application. If you haven't yet completed your degree, you can still apply and supply these documents when you have them.
• Degree Transcripts
You will need to provide official transcripts (in PDF format) showing all of the components you have completed as part of your degree(s).
• Two Reference Letters
You will need to provide reference letters from two referees who can provide references written in English, explaining why you would be a strong candidate for the course. It is the responsibility of the applicant to contact their referees and inform them of their intention of applying for this programme. Referees listed by the applicant on Trinity's online application system will automatically receive an electronic reference request, providing them with a Trinity reference template and a link to upload their references.
• Online Application Form
Once you have all of these materials, click "Apply" below and fill out the online application form in full, not forgetting to upload all the requested materials as attachments.
IMPORTANT: please note that you must specify the category of each attachment you upload (for example, when uploading an official transcript, you need to specify that the attachment is an "Official Transcript"). Otherwise your application may be deemed incomplete
Please note that the bulk of field trip costs (train/coach transfers in Belgium, accommodation, programme visits & activities, speaker fees, staff presence & support in situ, and administrative costs) are included in the fees. However, the fees do not include the following: coach/taxi transfers to/from Dublin airport, flights to/from Brussels, visa fees, travel insurance and subsistence.
Course Fees
Click here for a full list of postgraduate fees.
Apply
To apply, click on the relevant Apply Link below
Get in Touch
Telephone Number
01 896 1706
Email
Website
www.tcd.ie/langs-lits-cultures/postgraduate/identites
Register Your Interest
Register your interest in postgraduate study at Trinity College Dublin, the University of Dublin.
As Ireland's leading university, we offer a wide range of postgraduate programmes at masters, diploma and certificate level.
Trinity is an international university steeped in history, with a reputation for excellence in education, research and innovation.