Overview
Course Overview
This one-year Masters course in Immunology provides academic, laboratory and research training in cellular and molecular immunology, with emphasis on the interface between basic, clinical and therapeutic immunology. A major focus is on understanding how inflammatory regulation is lost in disease processes including viral, bacterial and parasitic infection, as well as cancer, autoimmune and allergic disease.
The M.Sc. in Immunology aims to provide students with a well-balanced and integrated theoretical and practical knowledge of Immunology, and to highlight the progress and intellectual challenges in this discipline. This course includes the study of immunological processes and mechanisms, how they contribute to disease and how they might be manipulated therapeutically. By focusing on the molecules, cells, organs and genes of the immune system, their interaction and how they are activated and regulated, students will develop a deep understanding of the pathological processes underpinning immune mediated disease and how they might be controlled. From a practical perspective, the course involves in-depth instruction in modern methodologies used in immunology/biomedical research, including the fundamentals of molecular and cellular biology. Students will also be trained in experimental design, data handling and basic research skills.
The course is underpinned by modules in basic immunological principles and technologies. A key component is the research project to be undertaken by each student under the supervision of an academic staff member.
Is This Course For Me?
The course is open to scientific, medical, dentistry and veterinary graduates and will accommodate students from several backgrounds who wish to progress from introductory level Immunology to advanced clinical and applied Immunology. The rate of progress and depth of the advanced modules will also suit students who may have graduated with an Immunology degree, but who wish to explore the subject in more breadth and detail before committing to a Ph.D.
Career Opportunities
Graduates of this course have pursued careers in academic research, medicine and the pharmaceutical industry for which a thorough grounding in immunology, immune-mediated pathogenic mechanisms and immunotherapy is required.
Course Content
The following modules are mandatory and make up the taught components of the course:
- Basic Immunology
- Immunological Technologies
- Communicating Science and Critical Analysis
- Immunogenetics
- Microbe Detection and Evasion
- Clinical Immunology
- Parasite Immunology
- Tumour Immunology
- Global Infectious Diseases
- Immunotherapeutics and Product Development
In addition, students will undertake a 12-week research project under the direction of leading immunology researchers. Projects will explore novel immunological hypotheses related to work ongoing in host labs. The theoretical and technical aspects of immunology covered in the taught modules will be fundamental to carrying out practical, innovative and cutting-edge research. A thesis will be prepared and submitted for assessment.
Click Here for further information on the course content.
Course Structure
Students take modules totalling 90 ECTS. Taught core modules of 60 ECTS and Research Project/Dissertation Module of 30 ECTS are all obligatory. Each Masters student is also required to undertake a twelve-week research project and submit a dissertation based on the outputs from this research project.
M.Sc in Immunology at Trinity College Dublin
Professor Cliona O'Farrelly, Professor Luke O Neill and Dr Michael Carty, School of Biochemistry & Immunology give an overview of the M.Sc in Immunology.
Course Details
Number of Places
20 Places
Next Intake
September 2023
Course Director
Professor Cliona O'Farrelly and Dr Nigel Stevenson
Closing Date
31st July 2023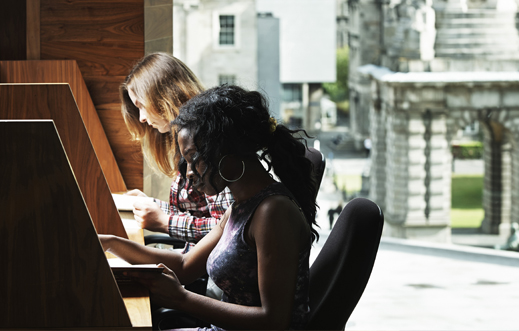 Admission Requirements
Successful applicants will hold a third level, minimum Upper Second Class Honours degree (2.1) in Medicine, Veterinary Science, Dentistry, Molecular Biology, Genetics, Immunology, or Biochemistry. Medical graduates must have a M.B., B.Ch., B.A.O., or equivalent from a recognised medical school. Veterinary graduates must have B. Vet. Sci. from a recognised veterinary school.
Course Fees
Click here for a full list of postgraduate fees
Get in Touch
Telephone Number
+353 1 896 2450
Email
Website
https://www.tcd.ie/courses/postgraduate/courses/immunology-msc/
Register Your Interest
Register your interest in postgraduate study at Trinity College Dublin, the University of Dublin.
As Ireland's leading university, we offer a wide range of postgraduate programmes at masters, diploma and certificate level.
Trinity is an international university steeped in history, with a reputation for excellence in education, research and innovation.
Testimonials
---
Testimonials to be sourced and added to the course page.