Overview
This M.Sc. in Immunology includes study of immunological processes and mechanism, how they contribute to disease and how they might be manipulated therapeutically. By focusing on the molecules, cells, organs and genes of the immune system, their interaction and how they are activated and regulated, students will develop a deep understanding of the pathological processes underpinning immune mediated disease and how they might be controlled. From a practical perspective the course involves in-depth instruction in modern methodologies used in immunology/biomedical research, including the fundamentals of molecular and cellular biology. Students will also be trained in experimental design, data handling and basic research skills.The masters course aims to provide students with a well-balanced and integrated theoretical and practical knowledge of Immunology, and to highlight the progress and intellectual challenges in this discipline.

The following modules are mandatory, and make up the taught components of the course: Basic Immunology; Immunological Technologies; Communicating Science and Critical Analysis; Immunogenetics; Microbe Detection and Evasion; Clinical Immunology; Parasite Immunology; Tumour Immunology; Global Infectious Diseases; Immunotherapeutics and Product Development. In addition, students will undertake a research project, conducted in one of the Immunology groups located within or affiliated to The School of Biochemistry and Immunology and will be required to submit a dissertation.
Information on course fees can be found at the following site: https://www.tcd.ie/academicregistry/fees-payments/course-fees/
Career Opportunities
Graduates of this course have pursued careers in academic research, medicine and the pharmaceutical industry for which a thorough grounding in immunology, immune-mediated pathogenic mechanisms and immunotherapy is required.
Click Here for further information on modules/subject.
Postgraduate Study at the School of Biochemistry & Immunology
Overview of postgraduate taught courses at the School of Biochemistry & Immunology
Course Details
Number of Places
20 Places
Next Intake
September 2023
Course Director
Prof. Cliona O'Farrelly and Dr. Michael Carty
Closing Date
31st July 2023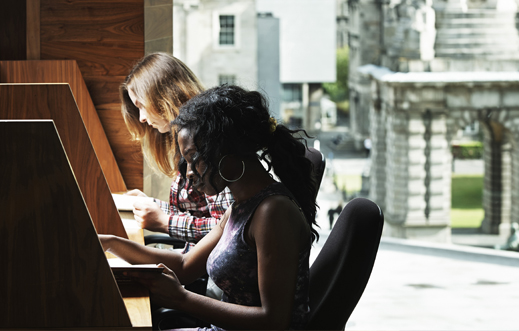 Admission Requirements
Applicants will normally be required to hold at least Upper Second Class Honours degree (2.1) or higher in Medicine, Veterinary Science, Molecular Biology, Genetics, Immunology, Biochemistry or a related subject.
Course Fees
Click here for a full list of postgraduate fees
Get in Touch
Telephone Number
+353 1 896 2450
Email
Website
https://www.tcd.ie/Biochemistry/postgraduate/masters_immunology/
Register Your Interest
Register your interest in postgraduate study at Trinity College Dublin, the University of Dublin.
As Ireland's leading university, we offer a wide range of postgraduate programmes at masters, diploma and certificate level.
Trinity is an international university steeped in history, with a reputation for excellence in education, research and innovation.