Immunotherapeutics (M.Sc)
Overview
The School of Biochemistry & Immunology is at the forefront of immunological research worldwide where Clarivate analytics describe three Trinity immunologists in the top 1% of researchers worldwide based on number of citations. The M.Sc. in ImmunoTherapeutics is an innovative and multidisciplinary postgraduate degree for scientists wishing to pursue careers in the therapeutics industry and related fields.
Course content
• Students will learn about the immune system in cancer, autoimmunity, infection and neurodegeneration and how cutting-edge immunotherapies are revolutionising the treatment of life-threatening and debilitating diseases.
• The exciting technologies of DNA/RNA vaccines, antibody, stem cell and, CAR T-cell therapies, and immune-checkpoint blockade will be studied.
• Skills in business development, innovation, entrepreneurship and communication will be taught in the Trinity Business School and bioprocessing in the National Institute for Bioprocessing, Research and Training (NIBRT) at their state-of-the-art facility.
Is this course for me?
The course is for scientists who wish to work in high-level jobs in the biopharma industry or continue further biomedical related research in academia.. The programme is aimed at science, medical, veterinary and engineering graduates as well as employees in the pharmaceutical/ biotech sector.
Course Structure
90 credits taught masters 60 credits taught modules 30 credits project placement
Modules:
– Fundamental Immunology – Bioprocessing
– Advanced ImmunoTechnologies – Entrepreneurial Action
– ImmunoTherapeutics – Computational Immunology
– Research in Action – Innovation and Drug Development
Key fact
This MSc programme provides a six-month placement with industry.
Career Opportunities
Graduates of the M.Sc. in ImmunoTherapeutics have pursued careers in the therapeutics and biopharma industries and have gained employment nationally and internationally, including at Avectas Ltd, Pfizer, Janssen Pharmaceutica, Fountain Healthcare, and Biotech.
Click Here for further information on modules/subject.
Postgraduate Study at the School of Biochemistry & Immunology
Overview of postgraduate taught courses at the School of Biochemistry & Immunology
Course Details
Number of Places
10 Places
Next Intake
September 2023
Course Coordinator
Assistant Professor Jerrard Hayes
Course Director
Professor Cliona O'Farrelly
Closing Date
31st July 2023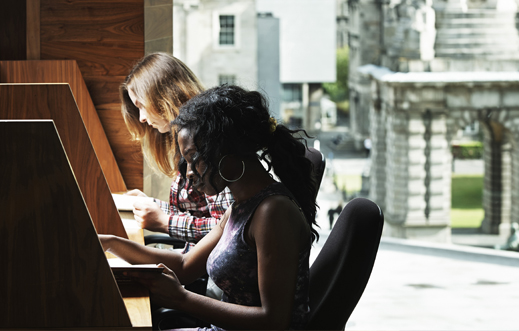 Apply
To apply, click on the relevant Apply Link below
Get in Touch
Email
Website
https://www.tcd.ie/Biochemistry/postgraduate/masters_immunotherapeutics/
Register Your Interest
Register your interest in postgraduate study at Trinity College Dublin, the University of Dublin.
As Ireland's leading university, we offer a wide range of postgraduate programmes at masters, diploma and certificate level.
Trinity is an international university steeped in history, with a reputation for excellence in education, research and innovation.
Testimonials
---
"Increased understanding of the immune system has led to breakthrough immunotherapies that promise to be game changers for the way many diseases are treated. At such an exciting time for these new approaches, this M.Sc. in ImmunoTherapeutics will provide an excellent opportunity for students to learn about the development, manufacturing and ultimately the full potential of these new therapeutics.''
Shirley O'Dea
Co-founder and Chief Scientific Officer, Avectas Ltd.