Healthcare Innovation (P.Grad.Dip)
Overview
Healthcare is entering a period of accelerated, disruptive innovation with rapid discovery and adoption of new approaches to improve patient outcomes. This contemporary programme has been designed for graduates from healthcare and health-related backgrounds who are interested in developing skills to help lead and shape innovation within their organisations.
Through research-lead teaching and experiential learning, students will build a detailed, critical and practical understanding of issues in innovation and, in particular, the adoption of innovation within organisations and across the ecosystem. The programme will hold interest for all with an interest in healthcare and the health ecosystem globally whether front-line management within the health system or providing services and products for healthcare, such as pharmaceutical and medical devices, health technology, start-ups and entrepreneurs, informational technologists and engineers.
The Postgraduate Diploma in Healthcare Innovation is taught full-time, over one year and comprises of eight taught modules – six foundation modules, and two practical modules including workshops and a project. The programme will offer a fundamental grounding in key subjects such as design thinking and embedding a culture of innovation, process innovation, lean thinking and social innovation, innovation & health economics, healthcare, innovation and leadership. The Project modules will identify and plan, with a view to implementation, an innovative solution applicable to each participant's workplace.
Click Here for further information on modules/subject.
Career Opportunities
Building a detailed, critical and practical understanding of innovation and how to embed new approaches within the health ecosystem globally, this course advances graduates' career prospects both in terms of promotion eligibility and post-graduate training.
This course aims to:
Develop you as a strategic leader to engage, shape and enable a culture of innovation across your organisation.
Advance your ability to ideate, design and implement innovative and novel solutions for organisations or as entrepreneurs.
Develop you as a skilled practitioner, adept at harnessing innovation to thrive in the opportunity of tomorrows healthcare world.
Equip you with practical frameworks and the best in international innovation practices in innovation.
This short video introduces the Postgraduate Diploma in Healthcare Innovation at Trinity College Dublin. This contemporary programme has been designed for graduates working within the health ecosystem. It provides them with an in-depth knowledge of the dynamics of embedding an innovation culture within teams and insights into the latest thinking on creative and practical implementation of new ventures in healthcare.
Course Details
Number of Places
30 (Max) Places
Next Intake
September 2023
Course Coordinator
Dr. Michelle Armstrong
Course Director
Prof. Seamas Donnelly
Closing Date
31st July 2023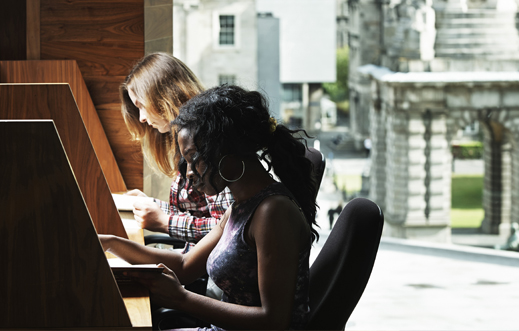 Admission Requirements
An undergraduate Bachelor Degree of 2.1 grade or higher. Experience of working in healthcare or health ecosystem environment. Applicants whose first language is not English must meet the University's English Language Proficiency requirements.
Course Fees
Click here for a full list of postgraduate fees
Apply
To apply, click on the relevant Apply Link below
Get in Touch
Email
Dr. Michelle Armstrong (Course Co-Ordinator) or Dr. Alison Keogh (Academic Co-ordinator) at pgdip.healthcareinnovation@tcd.ie
Website
https://www.tcd.ie/medicine/clinical-medicine/postgraduate/healthcare-innovation/
Register Your Interest
Register your interest in postgraduate study at Trinity College Dublin, the University of Dublin.
As Ireland's leading university, we offer a wide range of postgraduate programmes at masters, diploma and certificate level.
Trinity is an international university steeped in history, with a reputation for excellence in education, research and innovation.
Testimonials
---
"The course has armed me with the necessary tools to innovate; to intertwine novel & existing technologies with the internal workings of the hospital ecosystem in order to ensure the most effective & efficient delivery of care to our patients."
Eleanor Campbell
Graduate
"The Postgraduate Diploma supports the transformation of healthcare delivery to facilitate an efficient and safe environment. It has provided me with the guidance and skill set needed to recognise improvement opportunities and to champion change."
Anna Marie Kiernan
Graduate
"The course gives you the building blocks and knowledge to move an idea from a thought in your mind to something tangible that you can deliver. From design, to raising capital, or selling it to your leadership team, it gives you the tools you need to move it along each stage in that journey."
Keith Lyne
Graduate