Energy Science (M.Sc. / P.Grad.Dip)
Overview
The MSc in Energy Science is a one-year taught masters' programme, taught jointly by the Schools of Chemistry, Natural Sciences, Physics and Engineering.
The aim is to provide students with a broad knowledge and experience of both the science and application of conventional and sustainable energy technologies.
Determining how energy is utilised and the environmental consequences of its use can determine many government policies across the globe. Therefore, those interested in pursuing a career in the energy sector require a deep understanding of the scientific and engineering theory and challenges relevant to the area. This knowledge is particularly important for those interested in communicating or managing the environment's impact of the world's energy use e.g. through climate change.
The MSc in Energy Science syllabus covers many topics including:
Energy economics and policy

Natural resource management

Fossil and nuclear energy

Conventional energy conversion devices

Sustainable energy technologies

Power systems, power electronics and electrical systems

The environmental impact of energy usage
From the fundamental scientific principles to the challenges of application, each topic is presented using the combined expertise of our multidisciplinary teaching staff.
The course will be delivered through 6 taught modules (each worth 10 ECTS) and followed by a research project (worth 30 ECTS). The research project is either completed under the supervision of one of our academic research staff or as a relevant industry-based project.
Topics covered in each taught module are as follows:
Module 1: Introduction to Energy Science: Energy economics and policy, environmental impact, and foundation courses on thermodynamics, electromagnetism and materials for energy.
Module 2: Conventional Energy Sources and Technologies: Fossil fuels, combustion, engines and emissions, and nuclear reactions, materials and reactor technology.
Module 3: Power Systems, Power Electronics and Electrical Systems: electrical machines, power electronics, power systems analysis and smart grids.
Module 4: Sustainable Energy Sources and Technologies I: Electrochemical cell technology, photovoltaics, carbon dioxide capture and storage.
Module 5: Sustainable Energy Sources and Technologies II: Biomass, biofuels and hydrogen production, and wind energy generation and storage.
Module 6: Managing the Impact of Energy Utilisation: Raw materials and natural resource management, techniques for quantitative analysis and characterisation of energy critical raw materials, nuclear safety and environmental impact.
Click Here for further information on modules/subject.
Teaching
Lectures will be held on a full-time basis on weekdays during semester 1 and semester 2 according to the Trinity academic calendar.
The MSc in Energy Science research project can be carried out in academia or industry and will take place from June to August. The programme is completed in early September.
Postgrad. Dip in Energy Science
Students who do not progress to the MSc research project may opt to exit the programme with a Postgraduate Diploma in Energy Science award. This is subject to the student's performance throughout the first two semesters of the programme.
Part-Time Option
The programme is also available to EU applicants on a part-time basis over two years. For more information, contact energyscience@tcd.ie.
Career Opportunities
Graduates of the MSc in Energy Science have knowledge and skills directly applicable to a host of energy orientated industries, including, power generation and distribution, electronics, automotive, aviation, construction and oil & gas. For graduates interested in academic research, the societal pursuit of clean and secure energy is at the heart of the research agenda of every major country.
Click Here for further information on modules/subject.
Study Energy Science (M.Sc. / P.Grad.Dip) at Trinity
Dr. Juan Diego Rodriguez-Blanco presents on overview on the M.Sc. In Energy Science at Trinity College Dublin.
Course Details
Number of Places
35 Places
Next Intake
September 2023
Course Director
Prof. Stephen Dooley
 
Closing Date
31st July 2023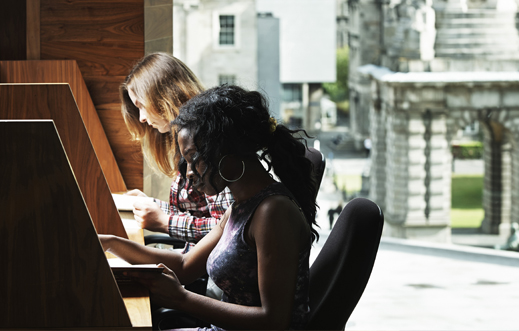 Admission Requirements
The MSc is suitable for graduates who have achieved an upper second class honours degree or the international equivalent in either Chemistry, Physics or Engineering. However, applications from similarly qualified candidates from other disciplines are welcome if they can demonstrate a sufficient level of knowledge and interest in Energy Science.

Applications will be accepted until June 30th (non-EU applicants) and July 31st 2022 (EU applicants). Final decisions on all applications will be made by July 31st 2022. However, as entry to the MSc in Energy Science is highly competitive, early application is advised and opens on October 1st 2022.
Course Fees
Click here for a full list of postgraduate fees
Apply
To apply, click on the relevant Apply Link below
Get in Touch
Telephone Number
+353-1-896-1675
Email
Website
https://www.tcd.ie/courses/energyscience/
Register Your Interest
Register your interest in postgraduate study at Trinity College Dublin, the University of Dublin.
As Ireland's leading university, we offer a wide range of postgraduate programmes at masters, diploma and certificate level.
Trinity is an international university steeped in history, with a reputation for excellence in education, research and innovation.
Testimonials
---
"One of the elements of the course I really liked were the well-informed and approachable professors, who made the interesting and challenging course material fun."
Vishnu Nair
Graduate