Development Practice (M.Sc./P.Grad.Dip.)
1 year full-time / 2 years part-time
Overview
The Master in Development Practice (MDP) is a world leading and uniquely innovative programme that blends science and social science to further international development. It is part of a global network with a Secretariat at the United Nations Sustainable Development Solutions Network with offices at Columbia University in New York (and was the only programme to receive seed funding in Europe in the first round). In the programme, students are exposed to leading edge scientific and social science techniques and researchers in order to develop international development solutions. The MDP is part of the only global educational network of its kind, involving more than 30 universities across all continents. Students receive leading edge transdisciplinary training in four "pillars"- health, natural, social, management sciences.
The MDP is led by the Trinity College Dublin (TCD) School of Natural Science in collaboration with leading scientific researchers, and national and international organisations with specialist skills. The goal is to produce rounded development practitioners with a deep understanding of scientific methods and techniques to reduce global poverty, in addition to extensive on-the-ground training in developing country contexts, and/or international organizations.
The MDP has innovative elements that distinguish it from other M.Sc. programmes in Ireland as it utilises a modular structure to develop student capabilities to understand theories, practices, and languages of different specialities. Students develop deep analytical and practical skills across the four core pillars of the programme.
Specialist skills are formed across a range of areas including research design and methods (with training in cutting edge scientific quantitative, qualitative, and digital tools and techniques, sustainable agriculture and land use; development economics; health; gender; climate change and climate justice; civil engineering for sustainable development; impact measurement;; globalisation and African development and smart cities and sustainable urbanism. Students also produce a dissertation drawing upon research conducted during fieldwork. These have attracted attention from policy-makers, such as the Minister of Education in Rwanda and are sometimes revised for publication in international journals.
It combines a range of teaching and learning approaches both in the seminar room and in the field. Students engage in a minimum of twelve class-room based modules and a work-based or research placement to gain hands-on practical experience during the programme. In this they are encouraged to spend up to three months completing cross-disciplinary fieldwork in a developing location. To date, students have undertaken fieldwork in Rwanda, Tanzania, Uganda, Sierra Leone, Senegal, Brazil., Malawi, India, USA, Vietnam and Madagascar.
Placements have included those with UN Women, World Health organization,, Food and Agriculture organization of the UN, OECD, World Bank, UNESCAP, and a multitude of other international organisations. Students also have the opportunity to collaborate in a global community through their participation in the Global Classroom, a web-based capability, managed by the Global Association, to bring students and world-leading development experts together to engage in collective classes and educational innovation.
Students also engage with leading experts, practitioners, and academics both in the classroom and in the field. The MDP is delivered by TCD in collaboration with a wide number of national and international organisations with specialist skills in development practice.
The Admissions Committee strongly recommend early applications, especially from international students, as we review applications on a continuous basis.
Career Opportunities
Graduates of this course are in high demand from international organisations such as the United Nations Development Programme (UNDP), World Food Program and various government departments and non-government organisations.
Click Here for further information on modules/subject.
Trinity MSc in Development Practice (MDP)
Course Details
Number of Places
20 Places
Next Intake
September 2023
Course Director
Prof Pádraig Carmody
Closing Date
31st July 2023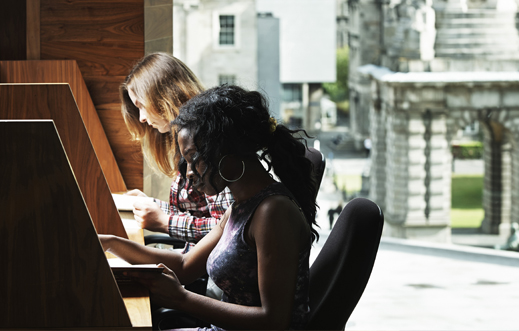 Admission Requirements
• holders of first or upper-second class honors degrees (grade point average 3.5 equivalent) awarded by recognised universities and institutions, and recognised degree awarding bodies (e.g. NCEA, CNAA)
• holders of other degrees from recognised universities or degree granting institutions who have experienced at least three years of appropriate employment
• holders of recognised professional qualifications obtained through examinations who have spent at least four years in study and who, in addition, have been employed for at least two years in the work of their profession

Course Fees
Click here for a full list of postgraduate fees.
Apply
To apply, click on the relevant Apply Link below
Get in Touch
Telephone Number
+353 1 8962414
Email
Website
http://naturalscience.tcd.ie/postgraduate/mdp/
Register Your Interest
Register your interest in postgraduate study at Trinity College Dublin, the University of Dublin.
As Ireland's leading university, we offer a wide range of postgraduate programmes at masters, diploma and certificate level.
Trinity is an international university steeped in history, with a reputation for excellence in education, research and innovation.
Testimonials
---
"Choosing the Dublin MDP program was the best decision of my life. From the first day, you are thrown into a fast-paced and dynamic learning environment with classmates who have diverse backgrounds and bring a wide variety of life experience to the table. The classes you take are very engaging and there is never a shortage of passionate debate with professors and classmates. The small class size also allows you to interact closely with your lecturers and classmates. I found it is easy to make friends very quickly in this environment. There are plenty of opportunities to network and to engage in development projects with the local Irish NGO sector and abroad in the Global South. There are also plenty of travel opportunities as mainland Europe is very accessible and students can engage in research projects worldwide over the summer. Going to school in Dublin has been nothing short of spectacular. In addition to the prestigious reputation, this program offers a great learning environment."
Bryan Lee
Graduate
"It took me five years to find a Masters course that was perfect to what I had in mind for my career development. The classroom experience was one of a kind, from the lecture delivery to the weekly challenges that provide a platform for skill building and knowledge sharing. The lecturers are experienced and have worked in different parts of the world, so it's always interesting when they share their knowledge (and stories) with us! Overall this course is well coordinated and I am appreciative of how it has the perfect balance between theoretical and practical learning content. I highly recommend it for those who have a passion in pursuing a career in international development!"
Safarani Seushi
Graduate
"My time with the MDP program was both enlightening and inspiring. The program is a great combination of sciences, human rights, policy studies, and more. The faculty are experienced in the field and quite worldly. I also found myself surrounded with some of the most generous and caring classmates I've ever had. Everyone in this program, in Dublin, and in Ireland as a whole, were unbelievably helpful."
Rachel Brittenham
Graduate