Development Practice (M.Sc./P.Grad.Dip.)
NFQ Level 9
1 year full-time / 2 years part-time
Overview
Course Overview
The one-year Development Practice programme encompasses an integrated theoretical and practical approach with multidisciplinary training in four 'pillars' – health, natural, social, and management sciences. Thirteen core academic modules provide rigorous training across the core pillars, complemented by Masters-level training in research design, methodology, and methods including training in leading edge quantitative, qualitative, and digital tools and techniques. The programme includes a work-based or research placement which provide hands-on practical experience for students, often in international Development NGOs and international intergovernmental organisations. This programme trains a new generation of development practitioners with the skills to implement and manage comprehensive approaches to sustainable international development.
The degree is led by the Trinity College Dublin School of Natural Sciences and delivered by staff from all faculties across the university, in collaboration with leading scientific researchers, and national and international organisations with specialist skills.
Is This Course For Me?
As a multidisciplinary programme, our students have a wide range of background profiles (engineering, international relations, computer sciences, natural sciences, law and political sciences). Recent graduates, as well as early and mid-career development professionals are pursuing the degree and are drawn from around the world.
Career Opportunities
The course enables students to pursue their career interests in an array of areas in international development. Graduates of this course are in high demand from international organisations such as the Global Business Initiative on Human Rights, Economics and Social Research Institute, World Food Programme (UN), US Environmental Protection Agency (EPA), Washington DC, Oxfam, United Nations Global Impact, PwC Ireland, Trócaire, New York League of Conservation Voters, KPMG, Board Bia, and the Department of the Environment, Climate and Communications and Twitter, and various other government departments and non-government organisations.
Course Structure
Students are required to accumulate 90 ECTS. Coursework accounts for 60 ECTS; fieldwork preparation and the dissertation accounts for 30 ECTS.
Semester 1 will run from September to December, while Semester 2 runs from January to April.
Students studying part-time must complete all modules over the course of two years, taking a half load in each year. The summer placement may be spread out over two summers in the case of those taking the part-time option, if appropriate.
Course Content
Students take modules and develop specialist skills in: Globalisation and African Development; Smart and Sustainable Eco-Cities; Impact Measurement; Gender and Development; Climate Change: Science, Development and Justice; Civil Engineering for Sustainable Development; Development Economics; Global Health; Sustainable Agriculture and Land Use; Geographic Information Systems; Qualitative Research Methods; Theories of Development; Dissertation (including fieldwork preparation); and Global Classroom: Foundations for Sustainable Development Practice (Option).
Students are supported and encouraged to undertake a research or practice-based placement (between April and August) with a development, research, government or non-government organisation, either in Ireland or internationally, leading to the writing and submission of a dissertation. Students will be encouraged to apply to partner organisations across multiple locations to study a pressing research challenge and gather data for their dissertation.
Assessment of the research project will be by submission of a dissertation of a maximum of 10,000 words. Students may instead choose to undertake a systematic review for their dissertation.
Click here for further information on modules/subjects.
Study Development Practice (M.Sc. / P.Grad.Dip.) at Trinity
Introduction to the postgraduate programme in Development Practice at Trinity College Dublin.
Course Details
Awards
NFQ Level 9
Number of Places
30 Places
Next Intake
September 2024
Course Coordinator
Ms. Elaine Elders
Course Director
Professor Pádraig Carmody
Closing Date
31st July 2024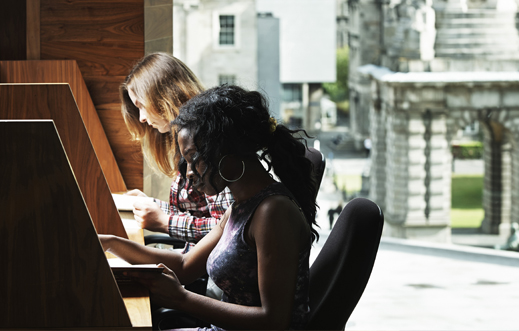 Admission Requirements
Applicants must have:
Achieved a first or upper second-class Honours degree (3.5 GPA equivalent) awarded by a reputable university or third-level institution, or a recognised awarding body (such as the NCEA).
At least three years of appropriate employment, if degree requirements aren't met.
A recognised professional qualification obtained through examinations (having spent at least four years in study) and, in addition, have been employed for at least two years in the work of their profession, if the first two requirements aren't met.
Course Fees
Click here for a full list of postgraduate fees.
Apply
To apply, click on the relevant Apply Link below
Get in Touch
Email
Professor Padraig Carmody (course director): carmodyp@tcd.ie
Ms. Elaine Elders (course coordinator): elderse@tcd.ie
Website
www.naturalscience.tcd.ie/postgraduate/mdp
Register Your Interest
Register your interest in postgraduate study at Trinity College Dublin, the University of Dublin.
As Ireland's leading university, we offer a wide range of postgraduate programmes at masters, diploma and certificate level.
Trinity is an international university steeped in history, with a reputation for excellence in education, research and innovation.
Testimonials
My time at Trinity was both enlightening and inspiring. The programme is a great combination of sciences, human rights, policy studies, and more. The faculty are experienced in the field and quite worldly. I also found myself surrounded with some of the most generous and caring classmates I've ever had. Everyone in this programme, in Dublin, and in Ireland as a whole, were unbelievably helpful.

Graduate
Testimonials
Choosing this programme was the best decision of my life. From the first day, you are thrown into a fast-paced and dynamic learning environment with classmates who have diverse backgrounds and bring a wide variety of life experience to the table. The classes you take are engaging and there is never a shortage of passionate debate with professors and classmates. The small class size also allows you to interact closely with your lecturers and classmates. I found it is easy to make friends quickly in this environment. There are plenty of opportunities to network and engage in development projects with the local Irish NGO sector and abroad. There are also plenty of travel opportunities as mainland Europe is very accessible and students can engage in research projects worldwide over the summer. Going to school in Dublin has been nothing short of spectacular. In addition to the prestigious reputation, this program offers a great learning environment.

Graduate
Testimonials
It took me five years to find a Master's course that was perfect for what I had in mind for my career development. The classroom experience was one of a kind, from the lecture delivery to the weekly challenges that provide a platform for skill building and knowledge sharing. The lecturers are experienced and have worked in different parts of the world, so it's always interesting when they share their knowledge (and stories) with us! Overall this course is well coordinated and I am appreciative of how it has the perfect balance between theoretical and practical learning content. I highly recommend it for those who have a passion in pursuing a career in global development!

Graduate
Testimonials
The fields of global development and humanitarian response are very competitive, but this Trinity programme provides a great combination of skills, education and experience to succeed. I am now working with International Medical Corps responding to the ongoing Syrian crisis, and I am often able to draw upon my studies in Trinity on global health, statistics, project management, development in post-conflict scenarios and many others.

Graduate