Biodiversity and Conservation (M.Sc. / P.Grad.Dip.)
Overview
This programme has been designed to provide students with a sound theoretical and practical grounding in the science of biological diversity and its conservation. The programme is taught in modules, and these are grouped into theoretical components, practical research skills, and modules dealing with individual desk-based and experimental research projects. The course is taught through a variety of methods - lectures, practical classes, field-based learning, guided reading and discussion groups and web-based methods. A variety of assessment procedures are used - essay writing, oral presentations, web-based tests, examinations and dissertations. The approach is to develop, progressively, a high degree of independent thinking and academic excellence in students completing the course.
Following successful completion of the taught part of the course, students embark on a closely supervised research project of approximately three months duration, intended to expand the skills and knowledge base acquired in earlier modules.
This is a full-time, intensive programme that will run over a twelve-month period. All modules are compulsory for M.Sc. candidates while P.Grad.Dip. candidates are required to take all modules except the Research Project.
Career Opportunities
The programme provides in-depth training and experience for those looking to further their career in biodiversity and its conservation, including in a range of international non-governmental organisations (NGOs), Government departments and environmental consultancies. Graduates can also pursue further post-graduate research in this area.
Click Here for further information on modules/subject.
Course Details
Number of Places
16 Places
Next Intake
September 2023
Course Director
Dr Stephen Waldren
Closing Date
30 June 2023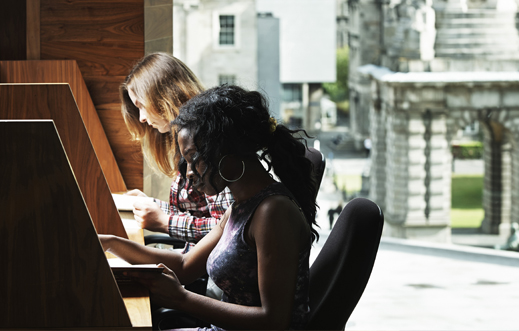 Admission Requirements
Applicants should hold at least an upper second class honours degree in a science subject that includes significant components of botany, zoology or a relevant life science. Non-EU applicants will be required to hold an equivalent qualification. Candidates with relevant, and significant, experience as professional practitioners in biodiversity management or policy may be accepted with lower qualifications.
Course Fees
Click here for a full list of postgraduate fees
Apply
To apply, click on the relevant Apply Link below
Get in Touch
Telephone Number
+353-1-4972070
Email
Website
http://naturalscience.tcd.ie/postgraduate/msc-biodiversity/
Register Your Interest
Register your interest in postgraduate study at Trinity College Dublin, the University of Dublin.
As Ireland's leading university, we offer a wide range of postgraduate programmes at masters, diploma and certificate level.
Trinity is an international university steeped in history, with a reputation for excellence in education, research and innovation.
Testimonials
"I learned so much not only from the highly knowledgeable professors, but also from my fellow students. During the two week module in South Africa, we were exposed to various management teams and regimes for wildlife reserves. After that, two of my peers and I completed our theses at Gorongosa National Park in Mozambique. Due to the guidance and support from the faculty at Trinity College, I am now pursuing a PhD at Harvard University where I am studying the effects of anthropogenic climate change on temperate forest communities. This program opened so many doors for me into the world of conservation and ecology. It was one of the best career choices I have made."

Graduate