Clinical Exercise (Online Diploma FT)
1 year full-time / 2 years part-time
Overview
Become confident prescribing exercise to clinical populations.
The aim of this postgraduate diploma course is to enable clinicians to prescribe exercise as a disease preventative and treatment modality in a safe, effective and scientific manner. Students will achieve this through a tiered process starting with a thorough understanding of the physiology of the cardiovascular and respiratory system and the body's reactions to different types of physical activity and exercise (module 1). The second module will concentrate on physical activity and exercise at the populations' level as well as detailing the importance of and various methods used to assess physical activity, body composition, strength and aerobic fitness. The third and fourth modules will be clinically focused and will use case scenarios and current literature to demonstrate how the application of exercise and physical activity can be an effective and safe treatment modality for patients with common chronic morbidities. As this course will be evidence-based, students will become critical consumers of literature in the area of exercise in the prevention and treatment of chronic disease. Module 5 will develop a students' ability to critically evaluate the latest research in order to keep up to date with the latest clinical advances in the discipline. Module 6 will provide students with a thorough understanding of the relationship between exercise and metabolism. Finally, in module 7 students will gain valuable practical experience on critical techniques used by clinicians in the assessment of cardiorespiratory and musculoskeletal fitness.
This Postgraduate Diploma can be completed in one or two academic years and will be made up of 60 ECTS. With the exception of the final blended module (Module 7) all other course material will be online with some material presented in real time (synchronous live webinars) and some material recorded/prepared for students to complete in their own time. All students will be required to have a computer with good internet access a microphone and a webcam.
The one year postgraduate diploma delivery format will be made up of seven modules totalling 60 ECTS. The first six modules will be delivered fully online, with the final module (Module 7) on Practical Applications of Clinical Exercise delivered in a blended format which will combine both online and on-campus learning components. The integration of an on-campus learning component to Module 7 on Practical Applications of Clinical Exercise is a crucial requirement of this programme. This module will take the form of a concentrated 3-day laboratory-based seminar to be attended in Trinity College Dublin, which will develop practical skills essential to the safe and effective delivery of exercise in the clinical environment.
The two year postgraduate diploma delivery format will cover year 1 where students will complete modules 1 to 4, and year 2, where students will complete modules 5 to 7. Students who have successfully passed all the required modules in year 1 to the value of 30 ECTS but who do not wish to progress to year 2 will be considered for an exit award of Postgraduate Certificate in Clinical Exercise. Students who have already completed the Online Certificate in Clinical Exercise and wish to complete the Diploma can apply to complete Modules 5, 6 and 7 in one academic year.
Course Structure:
Module Title ECTS
The cardiovascular and respiratory system 10
Physical activity and exercise 5
Exercise in the prevention and treatment of disease 10
Exercise prescription for clinical populations 5
Advancements in Clinical Exercise 10
Exercise and Metabolism 10
Practical Applications in Clinical Exercise * 10
*3 days physical attendance at the exercise laboratory in Trinity College Dublin required
Click Here for further information on modules/subject.
Career Opportunities
Graduates of this course have gone on to work in the health sector, in a public or private hospital setting, community health, occupational rehabilitation, private clinic, sport and further education or research.
Study Clinical Exercise (Online Diploma FT/ Online Certificate) at Trinity
In this video Dr. Cuisle Forde speaks about the online postgraduate certificate and diploma in clinical exercise. She details the origins of these courses, the differences between them and how you can find out more.
Course Details
Number of Places
20 Places
Next Intake
September 2023
Course Coordinator
Dr Cuisle Forde
Course Director
Professor John Gormley
Closing Date
31 July 2023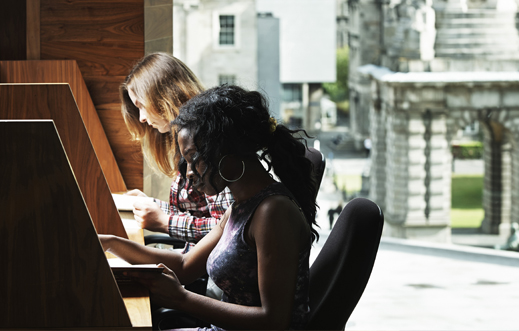 Admission Requirements
The programme is open to graduates from medicine, nursing, dietetics and nutrition, medicine, physiotherapy, occupational therapy, sports science and physiology. Graduates from other degree courses will be assessed on an individual basis. Those with clinical experience will be prioritised. Successful applicants will hold a level 8 degree or equivalent professional degree at 2.1 level or equivalent. Applicants who do not fit these criteria, will be assessed on an individual basis.
Those who have already completed the Online Certificate in Clinical Exercise and wish to progress to complete the Diploma in Clinical Exercise can do so by rescinding their Certificate and completing modules 5, 6 and 7 of the Diploma. This can be done over one academic year. If you are interested in this route please contact the course coordinator in advance of applying below.
Course Fees
Click here for a full list of postgraduate fees
Apply
To apply, click on the relevant Apply Link below
Get in Touch
Telephone Number
(01) 896 2128
Email
Website
https://www.tcd.ie/medicine/physiotherapy/postgraduate/online/
Register Your Interest
Register your interest in postgraduate study at Trinity College Dublin, the University of Dublin.
As Ireland's leading university, we offer a wide range of postgraduate programmes at masters, diploma and certificate level.
Trinity is an international university steeped in history, with a reputation for excellence in education, research and innovation.