Child Protection and Welfare (M.Sc. / P.Grad.Dip.)
Overview
For Diploma Applicants only -
https://www.tcd.ie/courses/postgraduate/az/course.php?id=DPDSW-CPWE-1P09 and
https://www.tcd.ie/courses/postgraduate/az/course.php?id=DPTSW-CPWE-1P09
This national, multi-disciplinary, in-service course and is aimed at experienced, professionally qualified personnel who carry regular responsibility for management/training/frontline delivery of child protection and welfare services under the Child Care Act 1991, the Children Act 2001 and related legislation. Course participants normally include service managers and supervisory/main grade professionals (social workers, public health nurses, psychologists, doctors, Gardai, child care workers, speech and language therapists, teachers, lawyers, youth and project workers, etc.). Applicants may seek full or partial funding from their employers but self-funding applicants will also be considered.
The course runs for nine separate weeks spread over the academic year. This involves students attending classes Monday-Thursday, 9.30 am - 4.00 pm for weeks 1 and 9, and Monday to Wednesday for weeks 2-8. Full attendance at all classes is expected. Candidates who successfully complete the Diploma course and meet the eligibility criteria for the M.Sc. in Child Protection and Welfare may proceed to a second year to complete the Masters course.

Students interested in registering for the M.Sc.programme must initially register for the Postgraduate Diploma (see here for separate entry under Postgraduate Diplomas). Admission to the M.Sc. programme is confined to candidates who achieve an upper second-class grade in the Postgraduate Diploma and whose research proposal for their M.Sc. dissertation is accepted. The M.Sc. comprises a series of Online lectures on research methodology and related issues, attendance and participation in a weekly online tutorial, attendance at College (either online or in person) approximately one day per term over the academic year. There is also regular contact with the student's assigned academic supervisor. To apply to the M.Sc. applicants must submit a M.Sc. dissertation Research Proposal to Emma Quill at quill.emma@tcd.ie . For further information on this process please contact Emma Quill directly.

Career Opportunities
The postgraduate diploma is undertaken by practitioners already working in statutory and voluntary organisations providing child protection and welfare service. Feedback from former course participants indicates that successful completion of the course provides them with opportunities for change and promotion within their organisations. A number of students go on to complete further study up to doctoral level.
The multi-disciplinary nature of the course also provides linkage opportunities between different services, and each cohort of students represents a network of practitioners which endures long after the completion of the course and continues to promotes inter agency and inter professional collaboration.
Click Here for further information on modules/subject.
Course Details
Number of Places
16 Places
Next Intake
Diploma - September 2023
M.Sc. - September 2023
Course Director
Professor Trevor Spratt
Closing Date
Diploma - 31st July 2023
M.Sc. - 31st July 2023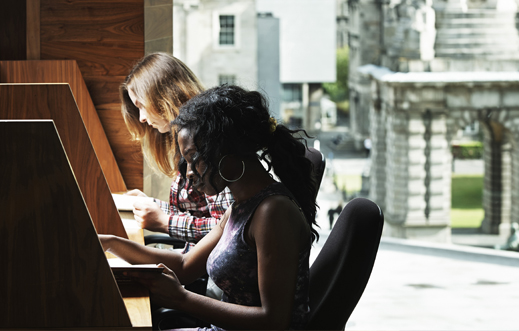 Admission Requirements
For Diploma applicants Only
Applicants must have a degree or equivalent professional qualification. In addition, a minimum of three years' professional experience working with some aspect of child protection and welfare is required. Applicants may be shortlisted for interview.
Course Fees
Click here for a full list of postgraduate fees.
Apply
To apply, click on the relevant Apply Link below
Get in Touch
Telephone Number
+353 1 896 4579
Email
Website
https://www.tcd.ie/swsp/postgraduate/child-protection/
Register Your Interest
Register your interest in postgraduate study at Trinity College Dublin, the University of Dublin.
As Ireland's leading university, we offer a wide range of postgraduate programmes at masters, diploma and certificate level.
Trinity is an international university steeped in history, with a reputation for excellence in education, research and innovation.