Biomedical Sciences (Intercalated) (M.Sc. / P.Grad.Dip.)
Overview
Students enter via the M.Sc. register. Students will take a core module in Clinical Research based in the Clinical Research Facility, St James's Hospital and concurrently follow one of five specialist tracks, which will be provided by the actual modules as offered by the currently running five Masters courses (i) the masters course in molecular medicine, (ii) the masters course in neuroscience, (iii) the masters course in immunology (iv) the masters course in translational oncology or (v) the masters course in healthcare infection management. Students will then conduct a three month research project and will submit a dissertation based on this project. Applicants will be notified when the course application is open.
Career Opportunities
Graduates from this programme have pursued medical and bio-medical research as well as careers in a range of areas including international research laboratories, government agencies and the private sector.
How to Apply - As this course has restricted access please email Henry Windle (hjwindle@tcd.ie) for the application link
Click Here for further information on modules/subject.
Course Details
Next Intake
September 2023
Course Coordinator
Dr. Henry Windle
Closing Date
31st July 2023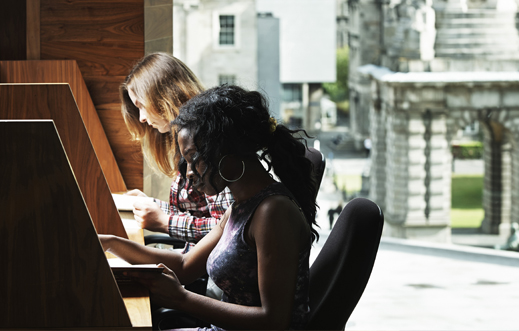 Admission Requirements
Admission to this course is restricted to undergraduate students on year 3 (and occasionally year 4) in the School of Medicine in Trinity College Dublin. At this point, students will have qualified for a B.A. which is normally awarded when the students are conferred with their final M.B. The intercalated Masters will also be conferred at this point. The course is coordinated through the Department of Clinical Medicine, TCD, St James Hospital Dublin. When completing the TCD online Application please ensure referees are TCD academics. Please note that an incomplete application cannot be processed.
Students will be required to undergo Garda Vetting, see https://www.tcd.ie/students/orientation/undergraduates/garda-vetting.php for further details.
Course Fees
Click here for a full list of postgraduate fees
Apply
To apply, click on the relevant Apply Link below
Get in Touch
Telephone Number
+353-1-896 2211
Email
gradapps.hs@tcd.ie, hjwindle@tcd.ie, llavoria@tcd.ie
Register Your Interest
Register your interest in postgraduate study at Trinity College Dublin, the University of Dublin.
As Ireland's leading university, we offer a wide range of postgraduate programmes at masters, diploma and certificate level.
Trinity is an international university steeped in history, with a reputation for excellence in education, research and innovation.
Testimonials
---
"My M.Sc. in Biomedical Sciences was an incredibly rewarding experience. My background is in clinical medicine and I had limited exposure to research projects and laboratory techniques. The Molecular Medicine track provided me with an excellent set of skills and competencies and gave me the support I required to identify my areas of strengths and areas for improvement. As the scope of the course is broad, I gained exposure to a huge range of learning material and honed my abilities in scientific writing, reviewing literature, presentation skills, laboratory techniques, ethical considerations and original research. The range of topics available for the literature reviews and dissertation projects cater to a wide variety of interests and the ability to make this choice was a highlight of my year; for my dissertation, I researched the role of a novel neurotrophin implicated in the response to electroconvulsive therapy in rat and human samples. During and after my M.Sc., the course co-ordinators have been exceptionally kind in helping me with my career path and have been an excellent source of support since the day I started. I would recommend the M.Sc. to anyone of any background or previous level of research experience."
Gavin Tucker
Graduate
"Studying for my MSc has benefitted me in many ways. I have become better equipped to examine and evaluate research papers. My academic writing was repeatedly tested and improved throughout the year, from written assignments to my literature review and thesis. We had many opportunities to develop our oral and poster presentation skills throughout the year. All of these experiences have better developed my confidence, both inside the clinic and out, and given me a taste of what I want my future career to be."
Stephen Flannery
Graduate
"I applied for the intercalated M.Sc. in Biomedical Sciences to follow the Neuroscience track as I have an interest in psychiatry. The course covered a fairly broad range of topics, from basic anatomy and physiology, to the process of drug development, to more clinically focused topics such as neuroimaging and neuropharmacology. In particular, I feel that the statistics, literature review and lab technique components were great because they equipped me with some general skills applicable to many fields. I finished my medical internship earlier this year and, even at this early stage, can already state that the M.Sc. has helped with my career. It was a major factor in securing a psychiatry registrar position above other candidates with more clinical experience. It provided a boost to the CV and lots of discussion points at the interview. In particular, I was able to highlight the relevance of my M.Sc. research project to clinical practice. Feedback from after the interview specifically mentioned that the interviewers were impressed with this. Finally, it was a great year socially. Trinity tends to attract a lot of international students for postgraduate study, and I now have friends from the M.Sc. all over Europe and North America."
Liam Kennedy
Graduate