Biomedical Sciences (Intercalated) (M.Sc. / P.Grad.Dip.)
Overview
Course Overview
Scientific knowledge and discovery are at the heart of medical advances. The Biomedical Sciences programme is designed to expose students to advanced fields of research in one of five specialist tracks: Molecular Medicine. Neuroscience. Translational Oncology. Healthcare Infection. Immunology.
Students are also exposed to original research that enhances their understanding of the molecular mechanisms of disease.
The course aims to provide the participants with an understanding of the basic biology and advanced molecular mechanisms of various disease states; knowledge of current treatment strategies for disease management and treatment; knowledge of core techniques used to answer research questions in biomedical sciences; practical laboratory skills, experience in troubleshooting, and expertise in selected methodologies to facilitate a research or research-related career.
Is This Course For Me?
For Trinity Medical students who wish to pursue a career in medical or bio-medical research, the School of Medicine offers an Intercalated M.Sc. in Biomedical Sciences. This one-year intercalated taught programme is designed for students with 180 ECTS from their undergraduate medicine degree programme and graduate entry medicine students with a primary degree in a science-based discipline.
Career Opportunities
Graduates for this programme have pursued medical and biomedical research as well as careers in a range of areas including international research laboratories, government agencies and the private sector.
Course Content
Molecular Medicine
Compulsory modules include: Research Skills (15 ECTS); Molecular Mechanisms of Human Diseases I (5 ECTS); and Project Work and Dissertation (30 ECTS).
Modules to the total value of 35 ECTS should be chosen from the following: Human Genetics (5 ECTS); Advanced Diagnostics and Therapeutics (5 ECTS); Precision and Translation Nanomedicine (5 ECTS); Infectious Agents Biological and Clinical Applications (5 ECTS); Introduction to Genetics and Development (5 ECTS); Cell Biology and Cell Signalling Mechanisms (5 ECTS); Molecular and Cellular Immunology (5 ECTS); Molecular Mechanisms of Human Disease II (5 ECTS); and Molecular Oncology (5 ECTS).
Translational Oncology
Students will be required to complete eleven taught modules (5 ECTS each) and a research project with dissertation worth (30 ECTS). All core modules are compulsory: Cellular and Molecular Basis of Cancer; Disease-Specific Cancers: Scientific and Clinical Perspectives; Tumour Immunology; Radiation, Chemotherapy and Molecular Targeted Therapies; Cancer Epigenetics, Gene Regulation and Stem Cells; Clinical Trials and Health Economics; Clinical Statistics and Medical Ethics; and Molecular Oncology Research Skills.
Students will choose two of the following six optional modules (5 ECTS each): Obesity, Metabolism and Physical Activity; Drug Development from Discovery To Commercialisation; Therapeutic Targeting of Cellular Instability in Childhood and Adult Cancers; Tumour Microenvironment; and Clinical Pharmacology and Therapeutic Toxicity.
Neuroscience
Students take the following modules: Form and Function of the Nervous System; Biochemical Basis of Neuropharmacology; Neuropharmacology; Drug Development; Neuroimmunology; Experimental Neuroscience; Cellular Neuroscience; Neural Engineering; Neuroimaging; Current Experimental Techniques; Experimental Research Skills; and a Research Project.
Healthcare Infection
Students take the following modules: Basic and Molecular Microbiology (15 ECTS); Antimicrobial Therapy and Resistance (15 ECTS); Epidemiology and Infection Control (15 ECTS); Multidisciplinary Management of Infection (10 ECTS); Research Project (30 ECTS).
Immunology
Students take the following modules: Basic Immunology (10 ECTS); Immunological Technologies (10 ECTS); Communicating Science and Critical Analysis (5 ECTS); Tumour Immunology (5 ECTS); Immunogenetics (5 ECTS); Microbe Detection and Evasion (5 ECTS); Clinical Immunology (5 ECTS); Parasite Immunology (5 ECTS); Global Infectious Diseases (5 ECTS); Immunotherapeutics and Product Development (5 ECTS); and Research Projects (30 ECTS).
Click here for further information on modules/subjects.
Course Details
Awards
NFQ Level 9
Next Intake
September 2024
Course Coordinator
Dr. Henry Windle
Closing Date
31st July 2024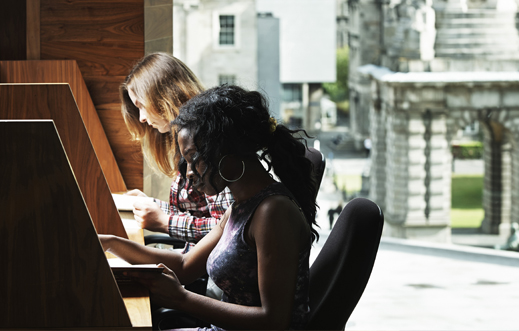 Admission Requirements
Admission is restricted to undergraduate students in Year 3 (and occasionally Year 4) in Trinity's School of Medicine. At this point, students will have qualified for a B.A. which is normally awarded when the students are conferred with their final M.B. The intercalated Master's will also be conferred then.
The course is coordinated through the Department of Clinical Medicine, Trinity, St James's Hospital Dublin. All references provided must be from Trinity academics.
Students will be required to undergo Garda Vetting, for more information please see: www.tcd.ie/students/orientation/undergraduates/garda-vetting.php
Course Fees
Click here for a full list of postgraduate fees
Apply
To apply, click on the relevant Apply Link below
Get in Touch
Telephone Number
+353 (0)1 8962211
Email
Website
Register Your Interest
Register your interest in postgraduate study at Trinity College Dublin, the University of Dublin.
As Ireland's leading university, we offer a wide range of postgraduate programmes at masters, diploma and certificate level.
Trinity is an international university steeped in history, with a reputation for excellence in education, research and innovation.
Testimonials
My Master's in Biomedical Sciences was an incredibly rewarding experience. My background is in clinical medicine, and I had limited exposure to research projects and laboratory techniques. The Molecular Medicine track provided me with an excellent set of skills and competencies and gave me the support I required to identify my areas of strengths and areas for improvement. During and after the programme, the course coordinators have been exceptionally kind in helping me with my career path and have been an excellent source of support since the day I started. I would recommend this course to anyone of any background or previous level of research experience.

Graduate
Testimonials
Studying for my Master's has benefitted me in many ways. I have become better equipped to examine and evaluate research papers. My academic writing was repeatedly tested and improved throughout the year, from written assignments to my literature review and thesis. We had many opportunities to develop our oral and poster presentation skills throughout the year. All of these experiences have better developed my confidence, both inside the clinic and out, and given me a taste of what I want my future career to be.

Graduate
Testimonials
I applied for the intercalated Master's in Biomedical Sciences to follow the Neuroscience track as I have an interest in psychiatry. I finished my medical internship earlier this year and, even at this early stage, can already state that this course has helped with my career. It was a major factor in securing a psychiatry registrar position above other candidates with more clinical experience. It provided a boost to the CV and lots of discussion points at the interview. In particular, I was able to highlight the relevance of research project to clinical practice. Feedback from after the interview specifically mentioned that the interviewers were impressed with this.

Graduate