Translational Oncology (M.Sc.)
Overview
This M.Sc. program in Translational Oncology will provide high-quality training for basic scientists and clinicians in the theoretical and practical aspects of the causes and treatment of cancer. A major focus of the programme is the cellular and molecular basis of cancer. The course also covers the scientific and clinical challenges pertinent to the management of site specific cancers, and all aspects of cancer treatment from standard therapies to 'individualised' molecular targeted and immune-based therapies. The focus of the course is research led teaching in aspects of translational cancer research.
This innovative M.Sc. program in Translational Oncology is aimed at scientists and doctors who wish to: develop their research skills, broaden their expertise in oncology, develop advanced knowledge in specific areas of scientific, translational and clinical oncology. This course will offer an opportunity for graduates from a variety of backgrounds to specifically train in translational oncology. Modules are taught using a variety of methods including lectures, tutorials, workshops and laboratory practicals. Lectures are provided by leaders in the field of translational oncology from both scientific and medical backgrounds. The modules include Cellular and Molecular Basis of Cancer, Disease-Specific Cancers: Scientific and Clinical Perspectives, Tumour Immunology, Radiation, Chemotherapy and Molecular Targeted Therapies,Cancer Epigenetics, Gene Regulation and Stem Cells,
Clinical Trials and Health Economics, Oncology Research Skills and Statistics,Obesity, Metabolism and Physical Activity, Drug Development from Discovery to Commercialization, Cellular and Genomic Instability and Clinical Pharmacology and Therapeutic Toxicity. Students will be required to submit a dissertation based on a research project conducted in one of the many oncology groups located within or affiliated with Trinity College Dublin and Trinity Translational Medicine Institute.
Career Opportunities
Recognised by many academic and industry partners as a source of high quality postgraduate students, this course has had an employment rate above 92% in its last 4 years. Careers our graduates pursued span further research (including PhDs) and employment in hospitals, university and medical centres. Additionally a significant number of students have secured positions in pharmaceutical and clinical trail companies both nationally and internationally.
Click Here for further information on modules/subject.
Study Translational Oncology (M.Sc.) at Trinity
Overview of Programme and Application requirements
Course Details
Number of Places
30 Places
Next Intake
September 2023
Course Coordinator
Professor Jacintha O'Sullivan
Dr. Stephen Maher
Dr. Graham Pidgeon
Course Director
Dr. Joanne Lysaght
Closing Date
31st July 2023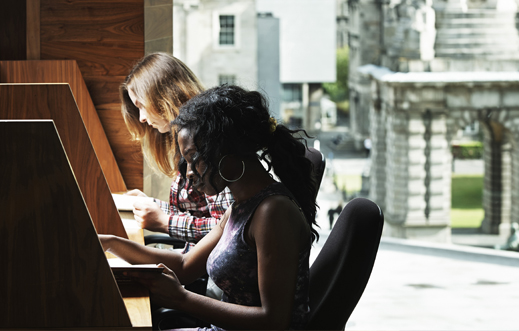 Admission Requirements
This M.Sc. in Translational Oncology is open to both scientific and clinical graduates. Scientific, dental or equivalent candidates must have a minimum of a 2.1 honours degree in any biologically-related discipline. Medical graduates must have a MB, BCh, BAO or equivalent from a recognised medical school. All applicants should provide two academic or clinical references confirming their eligibility and suitability for the course, before their application can be considered. Applicants should also include a 500 word personal statement addressing why they are interested in the course, their suitability for the programme and how it will impact on their future career development.
Applications for admission to the course should be made through the online system.
Course Fees
Click here for a full list of postgraduate fees
Apply
To apply, click on the relevant Apply Link below
Get in Touch
Telephone Number
00 353 1 8964259
Email
Website
http://www.tcd.ie/medicine/msconcol/
Register Your Interest
Register your interest in postgraduate study at Trinity College Dublin, the University of Dublin.
As Ireland's leading university, we offer a wide range of postgraduate programmes at masters, diploma and certificate level.
Trinity is an international university steeped in history, with a reputation for excellence in education, research and innovation.
Testimonials
---
"This Masters in Translational Oncology offers me the prospects to expand my knowledge and understanding of the clinical and scientific aspects of oncology. Lectures were delivered by expert researchers from a number of universities who are actively investigating novel anti-cancer agents. Frontline cancer diagnosis and treatment were conveyed by practicing oncologists including surgeons and radiobiologists. Practical and research skills are developed through an intense three month laboratory placement in an area of specific interest to me. I feel gratified to have been awarded a place on this course and I look forward to being involved in cutting edge translational oncology research in the future."
Aoife Kilgallon
"Being a clinician linking the clinic to basic sciences has become important in order to better understand and treat cancers. Through the M.Sc. in Translational Oncology I have learnt about the underlying mechanisms of cancers. The course has helped me nurture my thought process, research skills and amalgamate this knowledge with clinical medicine. Contemporary medicine is the era of "Evidence based Personalised Medicine". Every patient is different and may require tailor-made treatment. The M.Sc. in Translational oncology has helped me develop innovative and effective research skills, with a vision of revolutionising this field of medical science for developing novel, less toxic, more effective and less expensive drugs and treatment modalities."
Dr. Anand Simar Singh