Translational Oncology (M.Sc.)
Overview
Course Overview
Cancer research is a significant strength at Trinity College Dublin and a major focus at its associated teaching hospitals, including St. James's Hospital. Global cancer incidences are rising rapidly each year and research exploring the underlying causes, mechanisms of tumour progression and response to treatments are vitally important.
This M.Sc. programme in Translational Oncology focuses on the cellular and molecular basis of cancer. The course also covers the scientific and clinical challenges pertinent to the management of site-specific cancers, and all aspects of cancer treatment from standard therapies to 'individualised' molecular targeted and immune-based therapies.
Is This Course For Me?
This one-year programme is aimed at scientists, clinicians and other healthcare professionals and provides students with an in-depth understanding of the theoretical and practical aspects of the causes and treatment of cancer.
Career Opportunities
Recognised by many academic and industry partners as a source of high-quality students, this course has had an employment rate above 92% in its last four years. Careers our graduates pursued span further research (including Ph.Ds) through to employment in hospitals, university and medical centres. Additionally, a significant number of students have secured positions in pharmaceutical and clinical trial companies, both nationally and internationally.
Course Structure
An induction day will be held for students in September, where the course structure, timetables, assessments and content will be explained in detail to the students.
Semester 1: formal lectures will take place Monday to Thursday (normally 10am-12pm and 2pm-4pm). However, it may be necessary to schedule lectures outside this times to accommodate visiting lecturers. Students will be notified of all changes to the timetable. Students are also expected to attend tutorial sessions outside these normal lecturing hours.
Semester 2: Formal lectures take place Monday to Friday (10am-12pm and 2pm-4pm). However, it may be necessary to schedule lectures outside these times to accommodate visiting lecturers. Students will be notified of all changes to the timetable. Studnets are also expected to attend tutorial sessions outside the normal lecturing hours
Research Skills modules will run over three weeks prior to the research project
Research projects and dissertations will begin in April and continue for 12 weeks. Students are required to be in their designated labatorories at all times (9am-5pm Monday to Friday).
Course Content
The M.Sc. in Translational Oncology consists of eleven taught modules, which can include: Cellular and Molecular Basis of Cancer; Disease-Specific Cancers: Scientific and Clinical Perspectives; Tumour Immunology; Radiation, Chemotherapy and Molecular Targeted Therapies; Cancer Epigenetics, Gene Regulation and Stem Cells; Clinical Trials and Health Economics; Oncology Research Skills and Statistics; Obesity, Metabolism and Physical Activity; Drug Development from Discovery to Commercialization; Cellular and Genomic Instability; and Clinical Pharmacology and Therapeutic Toxicity.
Each student is also required to undertake a twelve-week research project and submit a dissertation based on the outputs from this research project. The twelve-week research project will begin in Semester 2 once all the taught modules have been completed.
Click here for further information on modules/subjects.
Study Translational Oncology (M.Sc.) at Trinity
An overview of programme and application requirements to study Translational Oncology (M.Sc.) at Trinity College Dublin.
Course Details
Awards
NFQ Level 9
Number of Places
30 Places
Next Intake
September 2024
Course Coordinator
Professor Jacintha O'Sullivan/Dr. Stephen Maher/Dr. Graham Pidgeon
Course Director
Dr. Joanne Lysaght
Closing Date
31st July 2024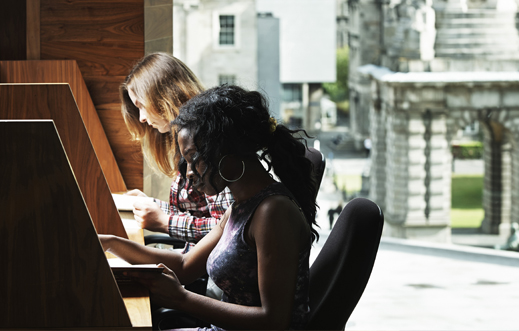 Admission Requirements
This programme is open to candidates with qualifications in science, medicine, or a related discipline. Scientific, dental or equivalent candidates must have a minimum upper second-class (2.1) degree. Medical graduates must have a M.B., B.Ch., B.A.O. or equivalent from a recognised medical school.
All applicants should provide two academic or clinical references. Applicants should also include a 500 word personal statement addressing why they are interested in the programme and their suitability.
Course Fees
Click here for a full list of postgraduate fees
Apply
To apply, click on the relevant Apply Link below
Get in Touch
Telephone Number
+353 (0)1 8964259
Email
Website
www.tcd.ie/medicine/surgery/postgraduate/msc-translational-oncology
Register Your Interest
Register your interest in postgraduate study at Trinity College Dublin, the University of Dublin.
As Ireland's leading university, we offer a wide range of postgraduate programmes at masters, diploma and certificate level.
Trinity is an international university steeped in history, with a reputation for excellence in education, research and innovation.
Testimonials
Being a clinician, linking the clinic to basic sciences has become important in order to better understand and treat cancers. Through the Master's in Translational Oncology, I have learnt about the underlying mechanisms of cancers. The course has helped me nurture my thought process, research skills and amalgamate this knowledge with clinical medicine.

Graduate
Testimonials
The Master's in Translational Oncology offers me the prospects to expand my knowledge and understanding of the clinical and scientific aspects of oncology. Lectures were delivered by expert researchers from a number of universities actively investigating novel anti-cancer agents. Front-line cancer diagnosis and treatment knowledge was conveyed by practicing oncologists including surgeons and radiobiologists. Practical and research skills are developed through intense three-month laboratory placements. I feel gratified to have been awarded a place on this course and I look forward to being involved in cutting-edge translational oncology research in the future.

Graduate