Statistics and Sustainability (M.Sc. / P.Grad.Dip.)
Overview
This full-time one-year conversion course is intended for students who wish to deepen their statistical skills and develop an in-depth and applied understanding of sustainability from a variety of perspectives. This is a flagship MSc of Trinity College Dublin's E3 'Engineering, Environment and Emerging Technology' initiative and the course embodies the E3 mission to create a more sustainable future for our world.
The course is designed to cater for students from diverse backgrounds through flexible learning options in the course modules. The course provides students with a wide range of modelling, computing, and statistical skills, and they will study a variety of sustainability topics that are key to developing solutions to environmental challenges from global to local levels.
Students will also gain experience on the application of statistical techniques and models, and Geographic Information Systems (GIS) and remote sensing technologies, and their application to sustainability problems. They will be equipped with the quantitative skills needed to promote data-based decision making and 'green' innovation. Communication skills will be developed via individual and team project work embedded in the curriculum, and there is an emphasis on developing student's skills to translate statistical outcomes to broad audiences in multiple contexts. Graduates from the MSc in Statistics and Sustainability will emerge highly numerate and statistically skilled, and with an in-depth understanding of the sustainability and environmental issues facing today's world.
Study Statistics and Sustainability (M.Sc. / P.Grad.Dip.) at Trinity
Introduction to the M.Sc. in Statistics and Sustainability by Caroline Brophy of the School of Computer Science and Statistics at Trinity College Dublin.
Course Details
Number of Places
9 EU and 16 NEU Places
Next Intake
September 2023
Course Coordinator
Professor Arthur White
Course Director
Professor Arthur White
Closing Date
31st July 2023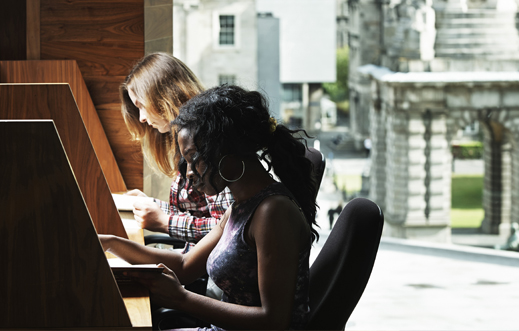 Admission Requirements
Applicants must have first class or upper second-class honours undergraduate degree that includes at least one year of university-level mathematics (including linear algebra and calculus topics).
Course Fees
Click here for a full list of postgraduate fees
Apply
To apply, click on the relevant Apply Link below
Get in Touch
Telephone Number
01 8961765
Email
arwhite@tcd.ie
Website
https://www.scss.tcd.ie/postgraduate/statistics-sustainability/
Register Your Interest
Register your interest in postgraduate study at Trinity College Dublin, the University of Dublin.
As Ireland's leading university, we offer a wide range of postgraduate programmes at masters, diploma and certificate level.
Trinity is an international university steeped in history, with a reputation for excellence in education, research and innovation.