Stage Design (M.F.A.)
1 year full-time / 2 years part-time
Overview
The Stage Design programme is purposely designed to allow students to either specialise on one area of stage design (set, costume OR lighting design) or to combine disciplines as desired (set AND costume design for example, or set AND lighting design).
Course Details
Full-time and part-time students will take three concurrent modules in the first two terms. The final module (Production Design) will be taught in the third term and subsequent summer months (for full-time students) or in the second year of the course (for part-time students) and will culminate with a professional production staged in one of The Lir's performance studios. Term Three will be supplemented by an ongoing series of master classes from professional directors and theatre makers. Students on the Master in Fine Art Stage Design will take two compulsory modules and choose two of four elective modules. Compulsory Module: Contemporary Theatre Practice, Production Design. Elective modules: Set Design Workshop, Costume Design Workshop, Lighting Design Workshop or Dramaturgy for Stage Design.
Career Opportunities
This programme allows students to specialise in or combine stage design disciplines (set, costume, lighting design) and is tailored to provide talented individuals with the necessary skills to pursue a career in the professional theatre and related industries.
Click Here for further information on modules/subject.

Postgraduate Degrees at The Lir Academy
Join The Lir's Director, Loughlin Deegan, to learn more about the three MFA programmes at The Lir Academy, available full-time and part-time. He outlines course content, finance, funding and more.
Course Details
Number of Places
7-10 Places
Next Intake
September 2023
Course Coordinator
Loughlin Deegan, Director of The Lir
Closing Date
31st July 2023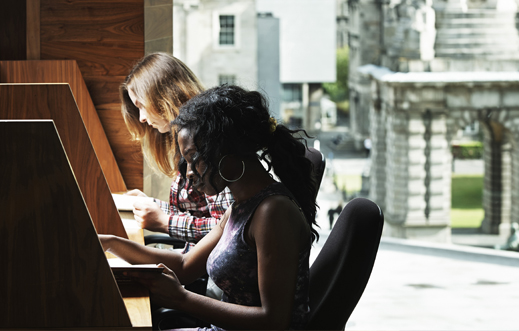 Admission Requirements
In addition to the information required on the online form, you are also required to upload a copy of each of the following:
a) A letter that outlines the applicant's theatre education and highlights the applicant's stage design experience to date.
b) A 'statement of purpose' that refers to the applicants ambitions in terms of stage design.
c) A résumé (CV)
d) A portfolio of your work
e) Two references/testimonials; one from those familiar with your work and one from third level education
Please label the documents accordingly with the name of the document uploaded and your name, e.g "CV_Name".
Click Here for further information on modules/subject.
Course Fees
Click here for a full list of postgraduate fees.
Apply
To apply, click on the relevant Apply Link below
Get in Touch
Telephone Number
+353 (0)1 8962559
Email
Website
Register Your Interest
Register your interest in postgraduate study at Trinity College Dublin, the University of Dublin.
As Ireland's leading university, we offer a wide range of postgraduate programmes at masters, diploma and certificate level.
Trinity is an international university steeped in history, with a reputation for excellence in education, research and innovation.