Overview
This course is intended to provide graduates in related disciplines with a solid grounding in Old Irish language and literature. The course lasts for the two semesters of one academic year beginning in October, and requires full-time study.
The course will consist of six contact hours per week, as follows:
Introduction to Old Irish (2 hours)
Tutorials in Old Irish (2 hours)
Old Irish literature, including readings in lyrical verse (1 hour)
Old Irish glosses and saga literature (1 hour)
Career Opportunities
Our graduates have pursued careers in text-based Arts & Humanities, including language, literature, history, teaching, and publishing.
Click Here for further information on modules/subject.
Study Old Irish (Diploma) at Trinity
An outline of the Diploma in Old Irish given by Dr Eoin Mac Cárthaigh at Trinity College Dublin by Dr Eoin Mac Cárthaigh
Course Details
Number of Places
8 Places
Next Intake
September 2023
Course Coordinator
Jürgen Uhlich
Course Director
Jürgen Uhlich
Closing Date
30th June 2023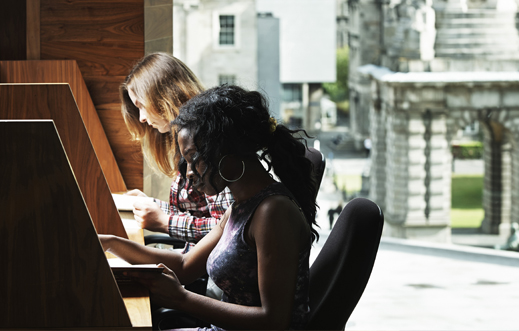 Admission Requirements
Applications are normally accepted only from persons with a good honors degree in a cognate subject such as Modern Irish or another Celtic language, medieval languages, literature or history, archaeology
Course Fees
Click here for a full list of postgraduate fees.
Get in Touch
Telephone Number
(01) 896 1450
Email
Website
https://www.tcd.ie/Irish/postgraduate/taught/index.php
Register Your Interest
Register your interest in postgraduate study at Trinity College Dublin, the University of Dublin.
As Ireland's leading university, we offer a wide range of postgraduate programmes at masters, diploma and certificate level.
Trinity is an international university steeped in history, with a reputation for excellence in education, research and innovation.