Overview
Course Overview
The M.Sc. in Neuroscience studies the functioning of the nervous system at all levels, from the molecules that make up individual nerve cells, to the complexities of animal and human behaviour. A major focus is on the molecular, biochemical and cellular basis of neurotransmission and synaptic function. The course also covers the physiology, pathophysiology and pharmacological treatment of psychiatric, neurodegenerative and neurological disorders.
The course provides students with a broad based appreciation of the neurosciences, and in-depth instruction in certain specialised areas of neuroscience from both a theoretical and practical standpoint. From a practical perspective the course involves in-depth instruction in novel methodologies used in neuroscience / biomedical research, including the fundamentals of molecular, biochemical, and cellular biology. In addition to neuroscience specific knowledge and skills, this M.Sc. programme also trains the student to become proficient in a range of transferable skills such as experimental design, data handling, research methods and written / oral communication skills. The course provides students with a well-balanced and integrated theoretical and practical knowledge of neuroscience, and to highlight the progress and intellectual challenges in this exciting and fast-developing discipline.
Is This Course For Me?
Since its foundation, the M.Sc. in Neuroscience has taught more than 300 students, who have come from academic backgrounds including neuroscience, physiology, psychology, pharmacology, chemistry, medicine and others. The course is ideal for students wishing to extend their specialised knowledge, and for those wishing to convert from their original degree discipline.
Career Opportunities
The course will equip participants with the skills necessary to progress into a career in biomedical, pharmaceutical or neuropsychological research. Graduates have pursued medical and health-related degrees, direct entry into research labs, as well as Ph.D. research across the world, from Ireland to Australia.
Course Structure
Term dates: The course runs for a full year, normally starting in September and running to the first week of July in the following year.
Instruction for the course consists of approximately 200 contact hours over two academic terms to include lectures, laboratory practical sessions, journal club workshops and student-based seminars. Modules are assessed by a mixture of in course assessment and written examinations.
Course Content
This one year programme aims to provide a multidisciplinary training in the neurosciences, in topics ranging from molecular to behavioural neuroscience.
Specialist modules include: Form and Function of the Nervous System; Biochemical Basis of Neuropharmacology; Neuropharmacology; Drug Development; Neuroimmunology; Experimental Neuroscience; Cellular Neuroscience; Literature review; Neural Engineering; Data Science in Neuroimaging; Current Experimental Techniques; Experimental Research Skills; Statistical Skills; Journal Club; and a Research Project.
The third term consists of a Research Project on some novel aspect of Neuroscience.
Click here for further information on modules/subjects.
Study Neuroscience (M.Sc.) at Trinity
This one-year Master's course provides multidisciplinary neurosciences training, in topics ranging from molecular to behavioural neuroscience. The course is ideal for students who want to extend their specialised knowledge and for those wishing to convert from their original degree discipline.
Course Details
Awards
NFQ Level 9
Number of Places
25 Places
Next Intake
September 2024
Course Director
Professor Kumlesh K. Dev
Closing Date
28th June 2024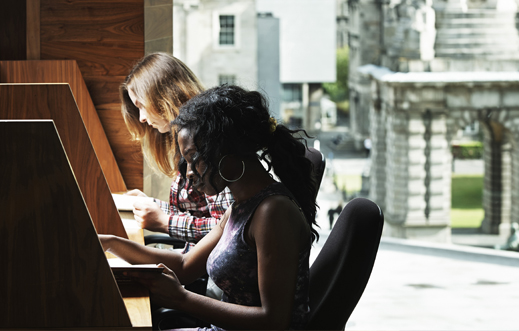 Admission Requirements
Candidates must hold a third level qualification, ideally in Biological Sciences, Neuroscience, Pharmacology, Physiology, Biochemistry, Allied Health Sciences, Medicine or a related discipline. Applicants should have achieved at least an upper second-class (2.1) Honours bachelor degree or its equivalent.
Course Fees
Click here for a full list of postgraduate fees
Get in Touch
Telephone Number
+353 (0)1 8961418
Email
Website
www.tcd.ie/medicine/physiology/postgraduate/msc-neuroscience
Register Your Interest
Register your interest in postgraduate study at Trinity College Dublin, the University of Dublin.
As Ireland's leading university, we offer a wide range of postgraduate programmes at masters, diploma and certificate level.
Trinity is an international university steeped in history, with a reputation for excellence in education, research and innovation.
Testimonials
Once I specialised in Neuroscience, I most enjoyed leading the research project which would later shape my final year dissertation. Having the independence and autonomy to manage a project, develop methodologies, conduct hands-on research, and discuss new advancements with leading neuroscientists in the Trinity Institute of Neuroscience was fascinating and rewarding.

Graduate