Mechanical Engineering (M.Sc./P.Grad.Dip)
1 year full-time, 2/3 years part-time
P.Grad.Cert. – 8P.Grad.Dip. – 12M.Sc. (PT/FT) – 30 Places
Overview
The M.Sc. in Mechanical Engineering addresses advanced topics over a wide range of Mechanical and Manufacturing Engineering subjects. Within the M.Sc., there is a wide range of module options and an excellent opportunity to engage in topical research with leading research groups within the School of Engineering. An important part of the MSc programme is a research dissertation, which directly builds on some of the content of the modules. Themed areas include advanced manufacturing, materials, fluid mechanics and automation design. Students may also follow the "Zero Carbon Technology" option with a focus on technology to achieve the transformation to low-carbon energy and transport. The Zero Carbon Technology strand will cover power, transport and resources with related business and planning options.
Course Organisation
The M.Sc. in Mechanical Engineering consists of taught modules and a research project totalling 90 ECTS. The taught component comprises modules (60 ECTS), while the research project and dissertation contribute 30 ECTS. This M.Sc. course can be taken as either a full-time one year or a part-time two or three year postgraduate course. Alternatively, candidates may choose to study for a Postgraduate Diploma (60 ECTS) or a Postgraduate Certificate (30 ECTS) by selecting from various taught module options. The Postgraduate Diploma and Postgraduate Certificate awards do not include a research project. Part-time students may follow the staged award path over 3 years of study with a possible gap of up to one year in between.
Click Here for further information on modules/subject.
Study Mechanical Engineering (M.Sc./P.Grad.Dip) at Trinity
Professor David Taylor gives an overview on the MSc and P.Grad.Dip in Mechanical Engineering programmes at Trinity College Dublin.
Course Details
Number of Places
P.Grad.Cert. – 8P.Grad.Dip. – 12M.Sc. (PT/FT) – 30 Places
Next Intake
September 2022
Course Coordinator
Stephen Spence - Strand Co-ordinator for Zero Carbon Technology
Course Director
Kevin O'Kelly
Closing Date
31st July 2022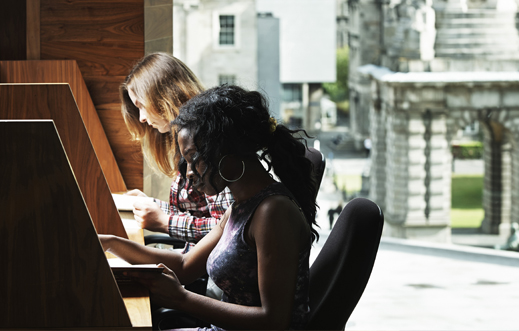 Admission Requirements
Admission is normally restricted to graduates who have achieved an upper second class honours degree (2.1), or better, in engineering, science, computing, statistics, mathematics or a related discipline. Well-qualified candidates or industry professionals from other numerate disciplines who have sufficient knowledge of engineering and science, may also be considered.
Course Fees
Click here for a full list of postgraduate fees
Apply
To apply, click on the relevant Apply Link below
Get in Touch
Telephone Number
+353 1 896 1383
Email
julee@tcd.ie
Website
https://www.tcd.ie/mecheng/postgraduate/mscbymodule/
Register Your Interest
Register your interest in postgraduate study at Trinity College Dublin, the University of Dublin.
As Ireland's leading university, we offer a wide range of postgraduate programmes at masters, diploma and certificate level.
Trinity is an international university steeped in history, with a reputation for excellence in education, research and innovation.