Interactive Digital Media (M.Sc.)
Overview
The course is designed to help students learn how to design, develop and understand digital media applications and content on existing and emerging platforms. The course covers the programming languages and applications used in digital media, a range of design techniques (graphic design, interactive design, UI/UX design, game design) as well as approaches to content creation in a range of modalities (moving image, audio, sensor technologies). In addition to practical skills, the course also covers critical thinking around digital media, giving the students the ability to situate works and ideas in relevant cultural contexts.
The M.Sc. in Interactive Digital Media enables graduates to work and stay current in the digital media sector. Graduates work in many roles across the digital sector, including design, development, content, analysis, research, entrepreneurship and leadership.
Career Opportunities
This course has been running since 1996 and has over 400 graduates working in digital media and related sectors, both nationally and internationally.
Click Here for further information on modules/subject.
Study Interactive Digital Media (M.Sc.) at Trinity
A brief introduction to the MSc in Interactive Digital Media at Trinity College Dublin.
Course Details
Number of Places
30 Places
Next Intake
September 2023
Course Director
Associate Professor Mads Haahr
Closing Date
31 July 2023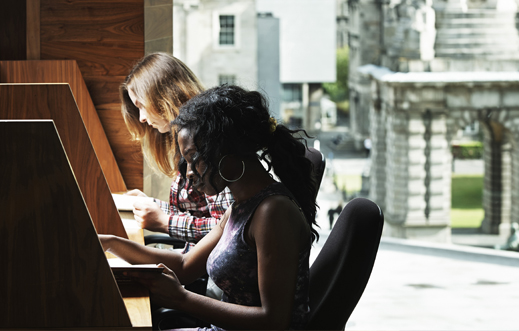 Admission Requirements
A 2.1 (60-69%) grade or higher from a reputable university is required, although exceptions can be made on the basis of considerable professional and/or creative experience. Students are accepted from a wide range of disciplines, ranging from computer science and engineering to the arts, humanities and design. A standard of English language competence that will allow full participation in coursework, classwork and other activities is required, i.e., an IELTS level of 6.5 overall with no single component below 6.0.
Course Fees
Click here for a full list of postgraduate fees
Apply
To apply, click on the relevant Apply Link below
Get in Touch
Telephone Number
+353-1-896 2418
Email
Website
www.scss.tcd.ie/postgraduate/mscidm
Register Your Interest
Register your interest in postgraduate study at Trinity College Dublin, the University of Dublin.
As Ireland's leading university, we offer a wide range of postgraduate programmes at masters, diploma and certificate level.
Trinity is an international university steeped in history, with a reputation for excellence in education, research and innovation.
Testimonials
"The IDM program gave me the flexibility and support to pursue my own path within the digital realm. I was able to refine my individual interests through the thesis component while also benefitting from a core suite of classes."

Graduate. Senior Security Policy Advisor for the Government of Ontario's Cyber Security Division.
Testimonials
"When I came across an ad for the IDM course in Trinity, I was in the middle of graduating a BSc in Computer Science at a university that provided only very technical Bachelor and Master courses for students. Therefore, it never occurred to me that CS can be combined with the creativity and diversity of topics in digital media. Mind-blown, it clicked in my head, I wanted to learn about the inter-disciplinary topics IDM covered. I knew I had a lot to catch up within the lectures bordering on the arts and humanities, such as Interactive Narrative, Cultural and Critical Studies and of course Graphic Design. They introduced me to methodologies and a way of thinking that I was unfamiliar with, while the technical lectures taught me about web, audio and video technologies I had little knowledge of. Every group and solo assignment made me more resourceful and opened my eyes to the possibilities in the field of digital media. The course taught me to think outside of the box when it comes to computer science and it made me confident to use my knowledge about technology to recreate it and reshape it in new ways. Since I graduated the course, I found my place in User Experience design, a field that I certainly would have only looked at from a distance, if I wouldn't have strayed away from classical computer scientist path."

Graduate. Designer at FieldAware.