Film Studies (M.Phil.)
1 year full-time / 2 years part-time
Overview
The M.Phil. in Film Studies: Screenwriting at Trinity offers the opportunity to focus on writing for different screens in a critically informed and creative context.
At every step of the way your progress will be informed by an emphasis on critical thinking and creative practice. In addition, the course aims to develop the key transferable skills required for postgraduate study. These include research preparation, time management and oral and written presentation skills.
The M.Phil. in Film Studies: Screenwriting allows students to develop the skills required to write successfully for a range of different screens in a critically informed and creative context. It comprises 60 ECTS of taught modules and a 30-ECTS research component. The objective of the programme is to prepare screenwriters who can adapt to an industry that recreates itself regularly around technological advances. Students will select their chosen platform(s) when preparing their portfolio, bring their writing to industry standard and complete their studies with a research project screenplay in their chosen area of interest: feature film, television, on-demand broadcast, documentary, or adaptation. In addition to the one-year full-time programme, the Screenwriting programme is offered part-time over two years.
Course Structure
All students take six taught modules and complete a Research Project
M.Phil. in Film Studies: Screenwriting (full-time pathway)
Screenwriting
3 Core Modules x 10 ECTS
3 Elective Modules x 10 ECTS
Research Project 30 ECTS

FS7020 Screenwriting

FS7040 Writing for Small Screens

FS7041 Writing for the Big Screen

FS7015 Creative Documentary

FS7014 Editing

FS7031 Digital Storyworlds

FS7042 Writing for Computer Games 1

FS7044 Writing for Computer Games 2

FS7046 Transnational Cinemas

FS7047 Cinema Now: Current Trends in Contemporary Film 2
*These module titles are for illustration purposes only; the School reserves the right to change modules
The full-time programme consists of two elements:
6 taught modules (10 ECTS each) delivered equally across two semesters (60 ECTS)
Research Project (30 ECTS)
The part-time programme consists of two elements:
1. Year 1 (40 ECTS) = 3 core modules (30 ECTS) + 1 elective module (10 ECTS)
2. Year 2 (50 ECTS) = 2 elective modules (20 ECTS) + Research Project (30 ECTS)
Research Projects
1. A research project screenplay
AND
2. A critical reflection of 3,500-4,000 words.
The exact nature and length of the research project screenplay will be agreed between the student and the course coordinator and can include a feature film, a series of short films, an adaptation, television screenplay, or on-demand series
Career Opportunities
This course prepares students for a variety of careers in Screenwriting . Our graduates have also pursued careers in the film and television industry, digital media, advertising, marketing, arts administration, as well as further research.
Course Details
Number of Places
24 Places
Next Intake
September 2023
Course Director
Dr. Justin Mac Gregor
Closing Date
1st July 2023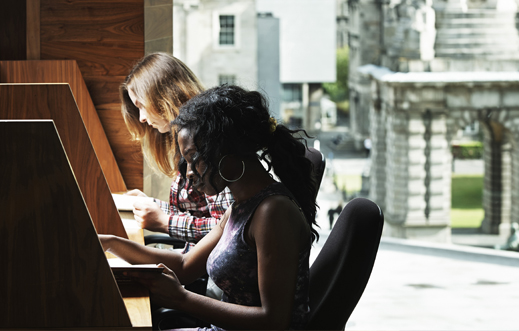 Admission Requirements
Candidates should have a good honours 1st class or 2.1 B.A. degree (minimum "B", average 3.2 or above for North American students) or equivalent qualification with a minimum IELTS score of 6.5 with no individual band below 6. Applicants must include a 5-10 page sample of their creative writing as part of their application
Course Fees
Click here for a full list of postgraduate fees.
Apply
To apply, click on the relevant Apply Link below
Get in Touch
Email
M.Phil. in Film Studies: Screenwriting
Justin Mac Gregor macgregj@tcd.ie
Website
www.tcd.ie/creative-arts/courses/
Register Your Interest
Register your interest in postgraduate study at Trinity College Dublin, the University of Dublin.
As Ireland's leading university, we offer a wide range of postgraduate programmes at masters, diploma and certificate level.
Trinity is an international university steeped in history, with a reputation for excellence in education, research and innovation.