Overview
This programme is specifically designed for those with an entrepreneurial mindset, providing students with the specialist knowledge and practical ability to start a new venture, finance start-ups, support new enterprise or scale and grow existing businesses. You will have access to Trinity's entrepreneurship programmes including LaunchBox, Blackstone Launchpad and the Trinity Entrepreneurial Society. Learn how to launch a company, scale SME's and lead growth. There is also a unique focus on ethical behaviour and the well-being of the entrepreneur amidst the stressful nature of new enterprise development.
Trinity is 1st in Europe for producing entrepreneurs for the 6th year in a row. (PitchBook Universities Report 2020)
Course Structure
This MSc. course is 90 credits delivered over one academic year. The taught component comprises modules totalling 60 credits. Students also complete a substantial research project, or business plan which accounts for a further 30 credits, to be eligible for consideration for the award of the degree.
MODULES *
• Strategic Entrepreneurship
• Technological Entrepreneurship
• Entrepreneurial Finance
• Business Model Innovation
• International Entrepreneurship
• Entrepreneurship in Practice
• Brand Management
• Entrepreneurial Well-being
• Social Entrepreneurship
• Digital Business Models
• Digital Tools for Growth (optional)
• Research Methods for Entrepreneurship Studies (optional)
• English for academic purposes (optional)
* Modules subject to change
Click Here for further information on modules/subject.
Business Plan/Company Project Your research project is the culmination of your degree, allowing you to demonstrate and apply the techniques and knowledge acquired from the taught modules to a business plan or problem of managerial concern.
Trinity Business School - More than a degree
In 2019, we opened our new state-of-the-art home, a near zero energy, six storey building that includes an innovation and entrepreneurial hub, a 600 seat auditorium, smart classrooms and the latest digital technology; and it remains in the heart of Trinity's campus. We bring in class learning to life with our strong emphasis on experiential learning through the use of case studies, teamwork and professional development modules. The competencies developed here are what employers continually endorse as a much-valued feature of our graduates.
Our dedicated career development team will help you identify your ideal career path and provide tailored advice on how best to achieve your goals. They offer a range of services including:
Advertise graduate vacancies and host job fairs for business students.
Career classes on topics such as CVs, interviews & work permits
Career guidance tools to help you identify your career interests
Individual career meetings to discuss your personal career needs
Study Entrepreneurship (M.Sc.) at Trinity
Introduction to the programme MSc in Entrepreneurship by Dr. Giulio Buciuni of the Business School at Trinity College Dublin
Course Details
Next Intake
September 2022
Course Director
Professor Giulio Buciuni
Closing Date
31st July 2022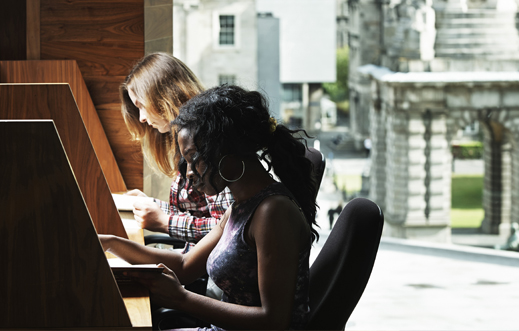 Apply
To apply, click on the relevant Apply Link below
Get in Touch
Telephone Number
+353-1-896 4299
Email
Website
https://www.tcd.ie/business/msc/entrepreneurship/
Register Your Interest
Register your interest in postgraduate study at Trinity College Dublin, the University of Dublin.
As Ireland's leading university, we offer a wide range of postgraduate programmes at masters, diploma and certificate level.
Trinity is an international university steeped in history, with a reputation for excellence in education, research and innovation.
Testimonials
---
Aimée Louise Carton, Graduate MSc in Entrepreneurship. Founder of KeepAppy, Dublin
"A year and a half ago, I sat in my kitchen writing an application for the MSc in Entrepreneurship at Trinity Business School. Little did I know that within that time I would meet incredible friends, professionals and thought leaders, I would find my co-founder, start a business and get the opportunity represent Ireland by pitching our start-up, KeepAppy, on a global stage in Silicon Valley in September 2019. The MSc in Entrepreneurship was so different to either of my previous two degrees, as it emphasised practical learning and a real-world approach to entrepreneurship. For example, instead of learning the theory around setting up a business, we were given one week to do just that during the Business Model Innovation course. From day one, myself and my peers were challenged by successful entrepreneurs and investors who pushed us to be the best that we could be. Additionally, the Trinity community allowed us to work with Enactus Ireland through the TCD Enactus Society, which gave us incredible access to Enactus' amazing partners, like KPMG, Unilever, Aer Lingus and Bank of Ireland to name but a few. While the year was tough, at every stage we could count on the staff in Trinity Business School for help when we needed it, such as my incredible thesis supervisor, Dr. Sheila Cannon, who has been a pillar of guidance and advice! This help meant that although there were lows, at no point where we ever alone or at a loss for what to do."