Overview
The MPhil in Early Irish is an opportunity to develop a wide range of specialist skills, as well as a deep technical knowledge of the Irish language as it was used during the Middle Ages. The programme explores the language through four key prisms:
• Old Irish prose
• Old Irish poetry
• Primitive and Archaic Irish
• Early Irish law and Middle Irish
These core components are supplemented by a series of guest lectures on the subject, organised by the Department of Irish and Celtic Studies. Our graduates are ideally placed to go on to pursue specialist research in the field of Early Irish at the doctoral level.
The MPhil in Early Irish equips you with practical skills in using and understanding the language of medieval Ireland, and the academic skills to navigate research related to this language and its culture. You will hone these skills on the degree by completing your own research dissertation on a subject related to Early Irish, under the supervision of a subject specialist.
On this demanding course, you will be provided with a wealth of opportunities to develop your understanding of Early Irish, expand your practical skills, and prepare to develop your own advanced research in the field.
Many of our students have previously taken our Postgraduate Diploma in Early Irish, which serves as an excellent introduction to the subject. However, we also welcome applications from candidates with an equivalent level of competence in Early Irish.
Click Here for further information on modules/subject.
Course Details
Next Intake
September 2022
Course Coordinator
Professor Damian McManus
Closing Date
30th June 2022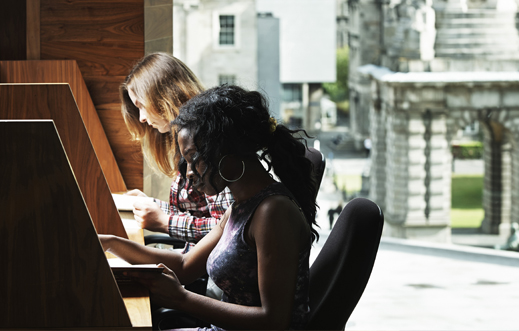 Get in Touch
Telephone Number
+353-1-896 1105
Email
Website
https://www.tcd.ie/langs-lits-cultures/postgraduate/postgraduate-taught-courses/
Register Your Interest
Register your interest in postgraduate study at Trinity College Dublin, the University of Dublin.
As Ireland's leading university, we offer a wide range of postgraduate programmes at masters, diploma and certificate level.
Trinity is an international university steeped in history, with a reputation for excellence in education, research and innovation.