Christian Theology (M.Phil)
1 year Full time/2 years Part Time
Overview
This Masters in Christian Theology provides students with the opportunity to gain an in-depth knowledge of core issues in Christian theology and to develop skills of critical thinking in relation to them. Students are introduced to historical scholarship and to rigorous contemporary theological investigation.
The focus on theological studies of the highest academic standing prepares students to contribute to public debates on theological issues in contemporary societies.
The M.Phil. is currently taught by Loyola staff in the School of Religion.
The M.Phil. is delivered full-time over one year (12 months) or part-time over two years. Lectures will normally be held on Monday and Thursday evenings. Some elective modules may be held during the day.
There are a number of scholarships available. See www.tcd.ie/loyola-institute for details.
Structure
The course incorporates both taught and research components. Students must take six taught modules (10 ECTS each) comprising three core and three optional modules and write a 15,000 – 20,000 word dissertation (30 ECTS). Students are assessed via written contributions for each module.
Core Modules
• Violence and Grace in the Human Narrative
• The First Words: Theology/ies of the Bible
• Readings in Classical Theological Text
Optional modules
• Jesus of Nazareth: Son, Christ, Word
• Theology and the Arts
• Christianity of the Celtic World (600-1,000 AD)
• Political Theology
• The Role of Church in a Pluralist Society
• Ministry and Church in a Challenging Era
• *Nature, Grace and the Triune God
• *Authority, Tradition and Experience: Ecumenics as Intercultural Theology
*Module shared with the M.Phil. in Intercultural Theology and Interreligious Studies
Note: Not all modules are offered each year.
Dissertation: A research dissertation (15,000 – 20,000 words) to be supervised by an appropriate member of staff and to be submitted in August. Students who complete the taught element of the programme but not the dissertation may be eligible for the postgraduate diploma.
Click Here for further information on modules/subject.
Postgraduate Study in the School of Religion at Trinity
This video contains an introduction to the Postgraduate Taught Programmes in the disciplines of Religion and Peace Studies offered in the School of Religion, Trinity College Dublin, University of Dublin.
Course Details
Next Intake
September 2022
Course Coordinator
Prof. Michael Kirwan
Course Director
Prof. Michael Kirwan
Closing Date
31st July 2022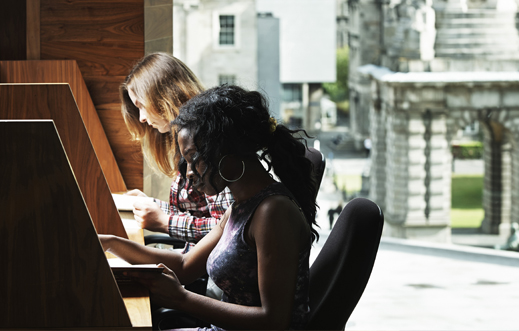 Admission Requirements
Admission to this course is at graduate level. Applicants will normally hold a good honors degree (minimum 2.1) in theology from a recognized university. Applicants whose degree is in a differ-ent but relevant discipline, such as philosophy, history or religious education, will be considered on a case by case basis. Exceptional cases where applicants do not fully meet the above criteria but make a reasonable case for admissions otherwise will be considered by the Dean of Gradu-ate Studies.
The School offers three levels of postgraduate education in Christian Theology. Students can take any of these as stand-alone qualifications or build from Certificate (30ECTS) to Diploma (60ECTS) to Masters (90 ECTS).
Course Fees
Click here for a full list of postgraduate fees.
Apply
To apply, click on the relevant Apply Link below
Get in Touch
Telephone Number
+353 1 896 4772
Email
srpostgrad@tcd.ie
Website
https://www.tcd.ie/religion/
Register Your Interest
Register your interest in postgraduate study at Trinity College Dublin, the University of Dublin.
As Ireland's leading university, we offer a wide range of postgraduate programmes at masters, diploma and certificate level.
Trinity is an international university steeped in history, with a reputation for excellence in education, research and innovation.
Testimonials
---
Studying at Trinity, with its world renowned reputation for scholarship, intellectual rigour, and the opportunity to tap into the rich spiritual and theological traditions of the Ignatian family, has provided me with possibilities to grow intellectually as a reflective thinker, en-gaging with questions of faith in a critical, reasoned way. Shannon Campbell, 2020-21.
The diversity in the presented approaches to the questions that echo throughout history al-lows for accessible entry into dense discourse. The course has encouraged resonant en-gagement and cultivated fertile conversation with material that considers both theory and practice and their relation in theology. Robert Black, 2020-21.