Applied Social Data Science (M.Sc.) (P.Grad.Dip)
Overview
This programme is for students with a strong interest in the social world and who wish to learn how to effectively apply cutting-edge quantitative methods to solve real-world political, economic, and social problems.
What is the Postgraduate Diploma in Applied Social Data Science?
The Postgraduate Diploma in Applied Social Data Science is a one-year, full-time programme which introduces students to fundamentals in quantitative social science research methods and state-of-the-art analytic approaches from the fields of statistics and machine learning. Graduates of the course will acquire a rich repertoire of social scientific research design skills---grounded in the scientific method---and data analytic methods that are widely sought after in the private, public, and non-profit sectors.
Why this programme?
The programme is based in Ireland's highest ranked Department of Political Science. Our department enjoys a strong reputation internationally for its staff who rely on quantitative research methods, and who are well published in leading peer-reviewed academic journals. Staff research agendas include core skills offered in the Applied Social Data Science programme, including computer programming, statistical modeling, machine learning, quantitative text analysis and forecasting.
You will acquire fluency in widely used programming languages and gain the skills to collect and manage big data-sets.
You will learn how to apply and critically assess computational and statistical models to solve real-world social problems.
Seminars and class discussions will provide you the opportunities to enhance your critical thinking skills and acquire an in-depth understanding of quantitative social scientific research.
Course Structure
The one year programme covers a wide range of core modules which will help you expand your quantitative research methods toolkit.
First Semester: To start the course, you will take modules in computer programming, applied statistical analysis and research design.
Second Semester:Next, you will dig deeper by taking modules in machine learning, forecasting methods, and quantitative text analysis.
Please visit the section for more details - https://www.tcd.ie/Political_Science/programmes/postgraduate/pg-dip-applied-social-data-science/course-content/ All modules are taught around a weekly seminar with tutorial sessions and assessed with a mix of homework, exams, and research papers. Students are expected to bring their own laptop (Mac/Windows/Linux) for use in seminars and tutorials throughout the course; note - tablets are not suitable. For minimum laptop specs, please see this helpful guide.
Career Opportunities
The Applied Social Data Science postgraduate diploma award from Trinity is expected to provide you with a competitive edge in the rapidly expanding job market for data scientists:
You will acquire valuable skills which are sought after in the high productivity sectors, including information technology, consulting, financial services, risk-assessment, logistics, as well as positions in government, NGOs and academia.
You will become fluent in two very popular (and demanded) programming languages, R and Python.
You will gain working knowledge and application experience in advanced statistical analysis, machine learning and important applications such as social forecasting and quantitative text analysis.
You will gain significant experience with methods and approaches to researching social behavioural phenomena within the context of the digital revolution and big data.
A data analytics degree is proving to be an invaluable asset for today's labour market. Figures from Indeed, an online job site, suggest that the number of job postings for holders of a data science (or equivalent) degree has increased over 344% since January 2013, with a 29% growth rate year over year. Dice, another online job site, claims a 35% year over year growth rate and has labeled data science as a "high-demand skill". There is general agreement that there is high demand for data scientists, and crucially, demand outstrips supply. For example, in August 2018, LinkedIn reported that there's a shortage of 151,717 people with data science skills in the U.S. The average salary for a data scientist in the US has been estimated at 106,000 USD by Dice.
A unique trait of the Postgraduate Diploma in Applied Social Data Science programme is that it combines rigorous training in methods from computer science and statistics with social science research skills. There is high demand for social scientists who can apply machine learning and statistical methods for data-driven solutions to challenges faced by governments, political groups, and civil society organizations. For instance, political organizations seek employees who can use computational approaches to analyze large-scale digitized collections of political communication, including social media feeds of elected officials, transcripts of parliamentary debates, and government agency press releases. Government agencies seek employees with experience in applying statistical forecasting methods to predict international conflict, terrorism, and disease outbreaks. Non-profit organizations are keen to hire people who are able to apply machine learning and natural language processing methods to help create data-driven solutions for disabled people. These are just a few examples of the jobs our graduates can pursue with the knowledge that they will have gained from the programme.
For non-EU students, it is possible to stay and work in Ireland following course completion using a Stamp 1G visa; see the Trinity Careers Service and the Department of Justice and Equality site for details.
Fees
Please note that there are two ways of applying for the Postgraduate Diploma in Applied Social Data Science.
You may be able to make an application through the Springboard website, managed by Ireland's Higher Education Authority. The Springboard website will offer subsidized places for a limited number of eligible applicants. Eligibility is determined by the Springboard criteria which include nationality and residency criteria – please see current information available here and here. For details regarding fees for applicants applying through the Springboard+ Application process, please visit the Springboard+ website.
Where an applicant is ineligible to make a Springboard+ application and/or where all Springboard places have been filled, the applicant should make a Trinity Direct Application. For details regarding fees for applicants applying through the Trinity Direct Application process, please visit the Academic Registry website.
Applicants are requested to apply through one system or the other, applications cannot be considered through both systems.
The Department is not in a position to offer scholarships/fee waivers to incoming students; we recommend investigating funding/scholarship options before making an application e.g:
Trinity College Postgraduate scholarships
funding supports offered in home countries (in the case of international students).
It may also be possible to claim tax relief on tuition fees, see the Revenue site for details.
Further Information
Enquiries can be made to the HCI and Postgraduate Programmes Coordinator or the Course Director of the Postgraduate Diploma in Applied Social Data Science, Dr Constantine Boussalis. Please make sure to read the frequently asked questions before emailing - https://www.tcd.ie/Political_Science/programmes/postgraduate/pg-dip-applied-social-data-science/faqs/
How to Apply
TCD Direct applications for 2022-23 will open on 1st November 2021 and will remain open until 30th June 2022. You are advised to apply as early as possible. For Springboard applications, please visit the Springboard+ website.
Please visit the Admissions Requirements section for full details of the application documentation and access to the online application portals- https://www.tcd.ie/Political_Science/programmes/postgraduate/pg-dip-applied-social-data-science/admission/
Please access for further information on modules/subject - https://www.tcd.ie/Political_Science/programmes/postgraduate/pg-dip-applied-social-data-science/course-content/
Postgraduate Diploma in Applied Social Data Science
Course Details
Next Intake
September 2023
Course Coordinator
Dr Constantine Boussalis
Closing Date
31st July 2023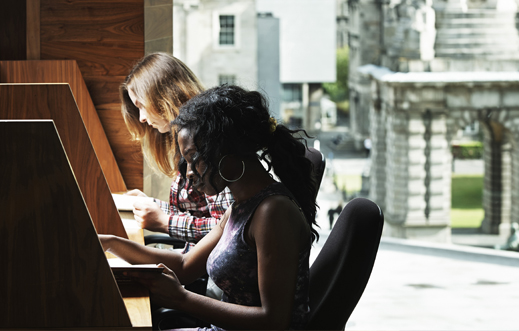 Admission Requirements
• Admission to the course is competitive. Applicants will be expected to hold an upper second class honours (2:1) degree or higher from an established university. A background in a social science discipline or computer science, statistics, or other related discipline will be an advantage but is not required. Applications are expected from candidates who wish to acquire practical knowledge in using cutting-edge statistical methods to answer social scientific questions.
• GPA scores of at least 3.3 out of 4, or equivalent, will be expected from international applicants.

VISIT THE ADMISSIONS REQUIREMENTS SECTION FOR FULL DETAILS
Course Fees
Click here for a full list of postgraduate fees
Apply
To apply, click on the relevant Apply Link below
Get in Touch
Telephone Number
Email
Website
https://www.tcd.ie/Political_Science/programmes/postgraduate/pg-dip-applied-social-data-science/
Register Your Interest
Register your interest in postgraduate study at Trinity College Dublin, the University of Dublin.
As Ireland's leading university, we offer a wide range of postgraduate programmes at masters, diploma and certificate level.
Trinity is an international university steeped in history, with a reputation for excellence in education, research and innovation.