Applied Social Data Science (M.Sc.) (P.Grad.Dip)
Overview
Course Overview
The Postgraduate Diploma in Applied Social Data Science is a one-year, full-time programme which introduces students to fundamentals in quantitative social science research methods and state-of-the-art analytic approaches from the fields of statistics and machine learning. Graduates of the course will acquire a rich repertoire of social scientific research design skills grounded in the scientific method and data analytic methods that are widely sought after in the private, public, and non-profit sectors.
Is This Course For Me?
This programme is for students with a strong interest in the social world and who wish to learn how to effectively apply cutting-edge quantitative methods to solve real-world political, economic, and social problems.
Career Opportunities
The Applied Social Data Science postgraduate diploma award from Trinity is expected to provide you with a competitive edge in the rapidly expanding job market for data scientists. You will acquire valuable skills which are sought after in the high productivity sectors, including information technology, consulting, financial services, risk-assessment, logistics, as well as positions in government, NGOs and academia.
There is high demand for social scientists who can apply machine learning and statistical methods for data-driven solutions to challenges faced by governments, political groups, and civil society organisations. For instance, political organisations seek employees who can use computational approaches to analyse large-scale digitised collections of political communication, including social media feeds of elected officials, transcripts of parliamentary debates, and government agency press releases. Government agencies seek employees with experience in applying statistical forecasting methods to predict international conflict, terrorism, and disease outbreaks. Non-profit organisations are keen to hire people who can apply machine learning and natural language processing methods to help create data-driven solutions for disabled people.
These are just a few examples of the jobs our graduates can pursue with the knowledge that they will have.
Course Structure
The Applied Social Data Science programme at Trinity College Dublin offers both an M.Sc. and a Postgraduate Diploma, as well as an M.Sc. top-up option for graduates of the Postgraduate Diploma programme. This one-year, full-time programme is designed to equip students with the skills and knowledge necessary to apply data science techniques to real-world social problems, such as poverty, inequality, and social exclusion.
Course Content
The one-year programme covers a wide range of core modules which will help you expand your quantitative research methods toolkit.
In their first semester, students will take modules in computer programming, applied statistical analysis and research design. In their second semester, students will dig deeper by taking modules in machine learning, forecasting methods, and quantitative text analysis.
All modules are taught around a weekly seminar with tutorial sessions and assessed with a mix of homework, exams, and research papers. Students are expected to bring their own laptop (Mac/Windows/Linux) for use in seminars and tutorials throughout the course. Tablets are not suitable for this course.
Click here for further information on modules/subjects.
Study a Postgraduate Diploma in Applied Social Data Science
An introduction to the Postgraduate Diploma in Applied Social Data Science programme by Dr. Constantine Boussalis at Trinity College Dublin.
Course Details
Awards
NFQ Level 9
Next Intake
September 2024
Course Coordinator
Dr. Jeffrey Ziegler
Closing Date
31st July 2024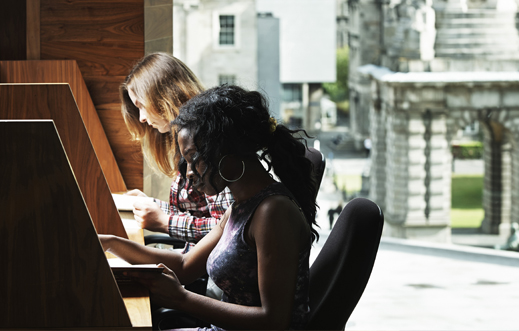 Admission Requirements
Applicants will be expected to hold an upper second-class Honours (2.1) degree or higher from an established university. GPA scores of at least 3.3, or equivalent, are expected from international applicants. A background in a social science discipline or computer science, statistics, or other related discipline will be an advantage but is not required.
Course Fees
Click here for a full list of postgraduate fees
Apply
To apply, click on the relevant Apply Link below
Get in Touch
Telephone Number
+353 (0)1 8964687
Email
Website
https://www.tcd.ie/Political_Science/programmes/postgraduate/pg-dip-applied-social-data-science/
Register Your Interest
Register your interest in postgraduate study at Trinity College Dublin, the University of Dublin.
As Ireland's leading university, we offer a wide range of postgraduate programmes at masters, diploma and certificate level.
Trinity is an international university steeped in history, with a reputation for excellence in education, research and innovation.