21st Century Teaching and Learning (P. Grad. Cert.)
Overview
Is this course for me?
The course modules aim to enhance the expertise of participant teachers in new models of teaching and learning with particular emphasis on Science Technology Engineering Maths/Computer Science. They also aim to address complex challenges related to developing an inclusive educational environment and preparing all school students for higher academic aspiration and progression, through a focus on whole school culture, leadership and change. It is intended that participant teachers will learn how to develop and lead a 'cultural change process' within the classroom and the wider school community. This course is aimed at secondary school teachers.
Career Opportunities
Using the the Bridge21 pedagogical model, this course equips in-service teachers with the requisite knowledge, skills and competence to support the development of an innovative learning culture within schools, that is team-based, technology mediated, project-focused and cross curricular.
Click Here for further information on modules/subject.
Study 21st Century Teaching and Learning (P. Grad. Cert.) at Trinity
Introduction to the Postgraduate Certificate in 21st Century Teaching and Learning by Dr. Brendan Tangney of School of Education at Trinity College Dublin.
Course Details
Number of Places
100 Places
Next Intake
September 2023
Course Coordinator
Dr Jake Byrne
Closing Date
1st September 2023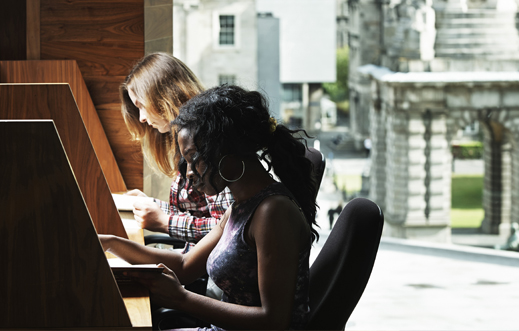 Admission Requirements
Admission Requirements: Each applicant must meet the following academic and professional criteria
Academic: Possess qualifications and competencies recognised at Level 8 of the National Framework of Qualifications (for example, a higher diploma or an honours degree).
Supporting documentation, such as academic transcripts and parchments, references and CVs, must be received by 31st July 2022.
Professional: Be registered with the Teaching Council of Ireland and/or have a minimum of one year's experience working in educational or related contexts. Be in employment as an educator during the academic year for which the applicant is applying to the programme.
Course Fees
Click here for a full list of postgraduate fees.
Apply
To apply, click on the relevant Apply Link below
Get in Touch
Telephone Number
+353 (0)1896 3812
Email
Website
www.tcd.ie/Education/programmes/certificate-21Century-Teaching-Learning/
Register Your Interest
Register your interest in postgraduate study at Trinity College Dublin, the University of Dublin.
As Ireland's leading university, we offer a wide range of postgraduate programmes at masters, diploma and certificate level.
Trinity is an international university steeped in history, with a reputation for excellence in education, research and innovation.
Testimonials
---
"Participating in the Postgraduate Certificate has helped our school introduce and embrace 21st century skills in our classrooms. We have developed a team of teachers and students that are engaged in project-based learning in the Arts, Sciences and Technology using the Bridge21 model of teaching and learning. Personally, I am enjoying a more facilitatory, creative role in my classroom, and my students have become more active learners."
Deirdre Brennan
Firhouse Educate Together Secondary School
"As a Science teacher the course has made me think differently about my approach to methods of investigation and in particular inquiry based learning. The practical nature of the assignments has given me more confidence to allow students to solve problems on their own and take more control of their learning."
Stephen Burns
Drimnagh Castle Secondary School