Engineering for Climate Action (P.Grad.Dip.)
NFQ Level 9
1 year full-time / 2 years part-time
Overview
Course Overview
The Diploma in Engineering for Climate Action is aimed at individuals who have recently taken up, or wish to transition into, positions of responsibility for sustainability and climate action, within an existing organisation or as part of a newly formed company delivering support in this area.
Academic and industry experts from engineering, business and psychology deliver the programme and provide students with the knowledge and experience to effectively respond to the climate and biodiversity emergency and make a sustainable impact at an individual, organisational and national level. The course empowers graduates to define balanced solutions to support a low-carbon and resilient future, whilst maximising the value in the life cycle of finite global resources from efficient consumption through to environmental management.
The primary goal of the programme is to develop graduates with technical and non-technical skills achieved through experts from engineering, business and psychology providing unique contributions towards climate action. A core focus of the programme is to support climate action measures in key areas of energy and resource pathways in transport, the built environment and industry through informed and innovative climate action.
Is This Course For Me?
The Engineering for Climate Action Postgraduate Diploma is designed for postgraduate students who hold a Bachelor's degree in Engineering or a related field interested in pursuing a career in climate action and sustainable engineering.
The programme is suitable for those who want to expand their knowledge and skills in sustainable engineering practices, climate change mitigation and adaptation, renewable energy technologies, and green infrastructure planning. This course is also suitable for professionals who are already working in the engineering or environmental sector and are seeking to upskill or change their career path towards climate action and sustainability.
Career Opportunities
Graduates will have the high levels of specialisation necessary to analyse and design solutions to pressing global issues such as global warming, transportation and ensuring sustainable food and water supplies. They will be capable of advancing their career in a range of fields, including energy engineering, environmental engineering, and waste recycling. Graduates can also progress into areas such as research and innovation in the field of sustainability and environmental engineering.
Course Structure
This course is delivered over an eight-month (September-April) period across two-semesters, in 1 year (full-time) or 2 years (part-time). Students take taught modules totaling 60 ECTS for the full-time P.Grad.Dip., which consist of 30 ECTS taught modules for the part-time P.Grad.Cert. pathway and 30 ECTS of taught modules for the part-time P.Grad.Dip. add-on.
The course schedule and blended-learning format of this course will provide flexibility for students to participate in the course outside of standard working hours (a combination of week-day evenings and Saturday mornings) and through an in-person or virtual learning environment.
Course Content
This course is comprised of seven modules. Full-time students take all modules in one year. Part-time Postgraduate Certificate students take the following five modules in Year 1: The Sustainable Green Organisation; Entrepreneurship for Climate Action; Introduction to Engineering for Climate Action; Life Cycle Assessment for Engineering Practice; and Engineering for the Environment.
If taking the part-time Postgraduate Diploma add-on pathway, students will take the remaining two modules in Year 2: Engineering for Climate Action: Mitigation & Adaptation; Energy Management and Efficiency
Click here for further information on modules/subjects.
Study Engineering for Climate Action (P.Grad.Dip.) at Trinity
Dr. Julie Clarke and Dr. John Gallagher give an overview of the Postgraduate Diploma in Engineering for Climate Action at Trinity College Dublin.
Course Details
Awards
NFQ Level 9
Number of Places
50 Places
Next Intake
September 2024
Course Coordinator
Assistant Professor Julie Clarke
Course Director
Assistant Professor John Gallagher
Closing Date
31st July 2024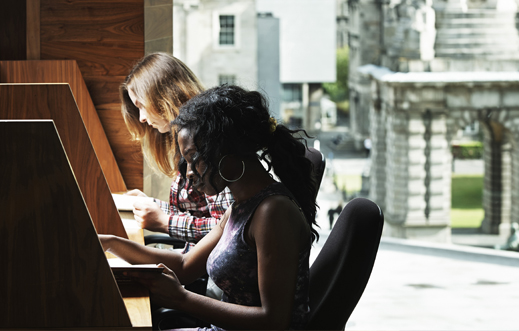 Admission Requirements
Admission to the course is competitive. Applicants will be expected to have an Honours Bachelor's degree at 2.1 or above, in a STEM subject (such as science, technology, engineering or mathematics), architecture, or a related cognate discipline.
Course Fees
Click here for a full list of postgraduate fees
Apply
To apply, click on the relevant Apply Link below
Get in Touch
Telephone Number
+353 (0)1 8961637
+353 (0)1 8961007
Email
Assistant Professor John Gallagher (course director): j.gallagher@tcd.ie
Assistant Professor Julie Clarke (course coordinator): julie.clarke@tcd.ie
Website
www.tcd.ie/civileng/programmes/postgraduate/diploma-programmes/engineering-for-climate-action
Register Your Interest
Register your interest in postgraduate study at Trinity College Dublin, the University of Dublin.
As Ireland's leading university, we offer a wide range of postgraduate programmes at masters, diploma and certificate level.
Trinity is an international university steeped in history, with a reputation for excellence in education, research and innovation.