Circular Economy and Recycling Technologies (P.Grad.Dip)
Overview
Waste management, scarcity of resources, minimizing emissions and energy use while maximizing selective reuse and recycling processes are some of the issues that need to be considered to allow for future economic growth, reduction of negative environmental impacts and to tackle climate disruption.
The Circular Economy concept offers strong alternative solutions to these problems. The main goal of this approach is to keep products, components, and materials at their highest levels of use and value by closing the loop of product life cycles. This approach requires allowing economic activity to grow while minimizing the use of finite resources and waste generation.
The circular model is based on three principles:
•    Designing out waste and pollution
•    Keeping products and materials in use
•    Regenerating natural systems
This course will provide students with core knowledge of the Circular Economy concept as well as the relevant technologies used in the recycling area. Through a blended delivery of modules, this programme will explore topics such as life cycle assessment (LCA), waste management, waste rock reclamation, waters, and sludge treatment as well as recycling, reprocessing, and remanufacturing. It will allow students to develop a unique perspective of the design process to enable the recovery and reuse of materials.
Course Modules
Introduction to Circular Economy and Materials Science
Introduction to Energy Economics
Plastics, Composites and Plastics Recycling Fundamentals of plastics
Waste Management and Energy Recovery
Sustainable Materials and Environmental Management
Raw Materials Management and Recycling
Engineering for the Environment
Life cycle assessment (LCA)
Supervised Research Project
Teaching will be provided by a multidisciplinary team of experts across the Schools of Chemistry, Physics, Engineering and Natural Sciences, all of whom are active researchers in this cutting-edge area.  This course also includes a research project that will be supervised by one of our academic experts across the Schools of Chemistry, Engineering, Physics and Natural Sciences.
This is one of the first programmes of its kind internationally and is distinctive in its structure, offering students a unique opportunity to combine knowledge and research expertise in the area.
Click Here for further information on modules/subject.
Programme Details
The next intake for this course is in September 2022 and will finish in August 2023.
Assessment
The taught modules on this course are examined through a combination of continuous assessment and final examinations.
Career Opportunities
Graduates of this programme will be uniquely placed to work in a wide range of sectors such as manufacturing, environmental and recycling industries. Graduates will provide significant expertise and added value to companies, and support growth and competitiveness across relevant Irish and European industries.
For those interested in pursuing academic research, the School hosts many internationally recognised academics in research. Graduates will also be eligible to pursue further study in other universities where research in this and related fields is carried out.
Trinity provides a distinctive education based on academic excellence and a transformative student experience that encourages students to be active participants in their learning. Through this programme, students will develop a unique range of knowledge, skills and attributes that will enhance their employability and prepare them for their future career journey.
Working in Ireland
Under the Third Level Graduate Scheme, the Irish Government allows non-EU/EEA students to seek employment in Ireland for 24 months after completing their postgraduate study.
Course Details
Number of Places
20 Places
Next Intake
September 2023
Course Coordinator
Professor Iouri Gounko
Course Director
Professor Iouri Gounko
Closing Date
31st July 2023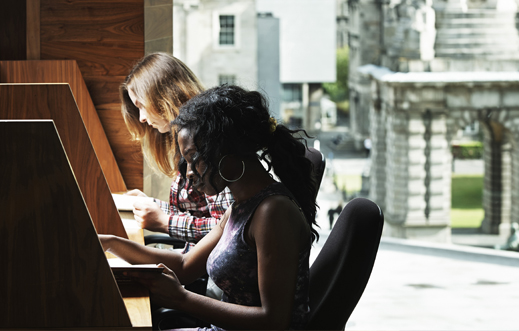 Admission Requirements
This programme is suitable for graduates who have achieved an upper second-class honours degree (at 2.1 or above) or the international equivalent in either science or engineering. Those with an equivalent professional qualification are also encouraged to apply. Exceptions for those with relevant industrial or other experience may be considered and will require the approval of the Dean of Graduate Studies. Applicants whose first language is not English or who have not completed their undergraduate degree through the medium of English are welcome but may be required to demonstrate a competent level of English through an assessment or interview with the Course Director prior to a final decision on admission.
A minimum GPA of 3.0/4.0, or equivalent, is required for entry
Apply
To apply, click on the relevant Apply Link below
Get in Touch
Telephone Number
+353 1 896 3543
Email
Website
Register Your Interest
Register your interest in postgraduate study at Trinity College Dublin, the University of Dublin.
As Ireland's leading university, we offer a wide range of postgraduate programmes at masters, diploma and certificate level.
Trinity is an international university steeped in history, with a reputation for excellence in education, research and innovation.