Launch of the Student Economic Review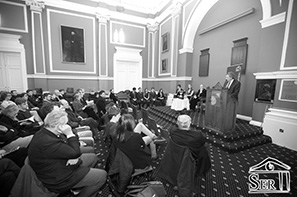 As the world's only undergraduate economics journal, the launch of the Student Economic Review (SER) is always a highlight of Trinity's academic calendar. Under the supervision of the Trinity College Department of Economics and SER President Prof. John O'Hagan, the review is run by a committee of Junior Sophisters and comprises a selection of the best undergraduate papers from the last year.
This year saw the 27th edition of the journal launched on 22nd March, with Alan Gray (Managing Director of Indecon and Board member of IFRSA) delivering the keynote address. Mr. Gray gave an inspired speech concerning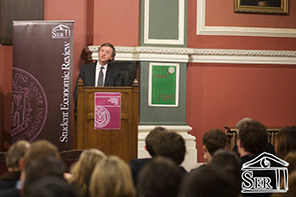 the practical application of economics. In highlighting the tangible benefit an understanding of economics can contribute to society he discussed how the elimination of inequality and poverty can be attained through economic means.
Following addresses by the Review Editor, Brian Higgins, and General Manager, Marielle Grisby-Rocca, the review was officially launched, and a generous reception followed.
The committee wish to once again extend their gratitude towards the Economics Department, Prof. O'Hagan, and all those who submitted to this year's journal.