About Us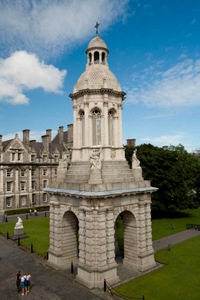 The economics department has a strong research record, with a particular emphasis on applied economics. Its main research strengths include international macroeconomics and various areas in applied microeconomics (including international development, energy economics, urban economics, cultural economics, industrial economics).  Economics was first taught in Trinity College in 1832 when Mountifort Longfield was appointed to the newly established Chair of Political Economy, a chair endowed by the then Church of Ireland Archbishop of Dublin, Dr. Richard Whately.
The Department takes great pride in its undergraduate teaching, provided through the BESS (Business, Economics and Social Studies) programme, the PPES (Politics, Philosophy, Economics and Sociology) programme and the TSM (Two-Subject Moderatorship) programme. The Department has exchange programmes with a range of international universities.
Equally important to the Department are its successful postgraduate programmes:  the MSc in Economics, designed to provide the skills required to undertake advanced research in Economics and the PhD in Economics.  The doctoral programme includes 30 credits of PhD-level coursework, plus the writing of a dissertation.  It is the largest doctoral programme in Ireland and its doctoral graduates have positions in high-profile academic institutions (Kiel, Lausanne, Ecole Polytechnique, University College Dublin, City University London, Hamburg), policy organisations (European Central Bank, European Commission, International Monetary Fund, OECD, Central Bank of Ireland, Irish Department of Finance) and the private sector. The Department provides generous financial support for research students through a programme of teaching assistantships, as well as providing a number of research awards.
The Department has been successful in attracting financial support from the Irish Research Council,  Irish Aid, Science Foundation Ireland, PRTLI, the EU Framework Programmes, NORFACE, the World Bank, Fondation Banque de France and the Institute for New Economic Thinking (INET).
Whately Professor of Political Economy Philip Lane has a high international profile in research on international macroeconomics – the macroeconomics group also includes Agustin Benetrix, Vahagn Galstyan, Paul Scanlon and Michael Wycherley. The international development group mass includes staff members Fadi Hassan, Michael King, Tara Mitchell, Gaia Narciso and Carol Newman.  The department is also strong in areas such as cultural economics (John O'Hagan), energy economics (Eleanor Denny) and urban economics (Ronan Lyons). For more detailed information on research activity, see the home pages of individual staff members.