Assistant Professor Michael King delivers public lecture in Nairobi, Kenya on Financial Inclusion in Sub-Saharan Africa.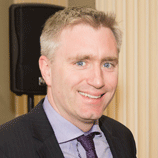 Assistant Professor Michael King delivers a public lecture on financial inclusion in Sub-Saharan Africa in Nairobi, Kenya to an audience drawn from research institutions, policymakers and the banking sector. The lecture took place in December 2012, and was the 10th edition of Kenya's Financial Sector Deepening Trust (FSD) research colloquium series. FSD Kenya was established in early 2005 to support the development of financial markets in Kenya as a means to stimulate wealth creation and reduce poverty. See http://www.fsdkenya.org/index.php for further details and a copy of the presentation.

Recent research of Michael's on financial inclusion has been included on the official blog of the World Bank's Financial and Private Sector Development Network (FPD).