Trinity Career Service in collaboration with Trinity Disability Service are delighted to offer the Trinity Disability Inclusion Pathway to students who want to develop the skills, experience, and confidence to enable them to pursue future personal and workplace opportunities.
This training scheme - or "Pathway" - is open to undergraduate students registered with the Trinity Disability Service. All eligible students who want to start or continue their personal development outside of the classroom are encouraged to apply, and activities on the Pathway are specifically tailored to prepare students with disabilities who have little or no experience (yet) of the workplace, societies, volunteering, Employability Awards, or similar challenging environments.
The Pathway includes facilitated workshops, group activities, and independent learning which can be completed around your College schedule, allowing you to grow your transferable skills, gain practical experience, learn how to identify what skills you already have, and be proactive in connecting with the resources available in Trinity.
The Pathway will run from October 2022 to February 2023 and there will be several key workshops taking place on specific dates throughout that period. The other Pathway activities can be completed at a time that works for you, with regular options for dates and in-person/online offered where possible. All students who participate will be able to benefit from the different skills development activities available, and students who complete a minimum number of activities will also receive a Pathway Certificate to demonstrate their achievement.
Interested in applying?
Applications to this Pathway are now closed for 2022/23.
Your application will be reviewed by the Careers Service and Disability Service and we will be in touch by 25th October to let you know if you have a place.
There is a summary of the activities involved and the Award timeline below, participants will be given full information on how to complete each activity through the MyCareer app once they start on the Pathway. All in-person activities will take place on the main Trinity campus.
Click here to watch a recording of our Information Session
What is in involved in the Pathway?
The Trinity Disability Inclusion Pathway runs from 25th October to 20th February 2023. Participating students will use the Pathway portal on the MyCareer app to track and complete activities.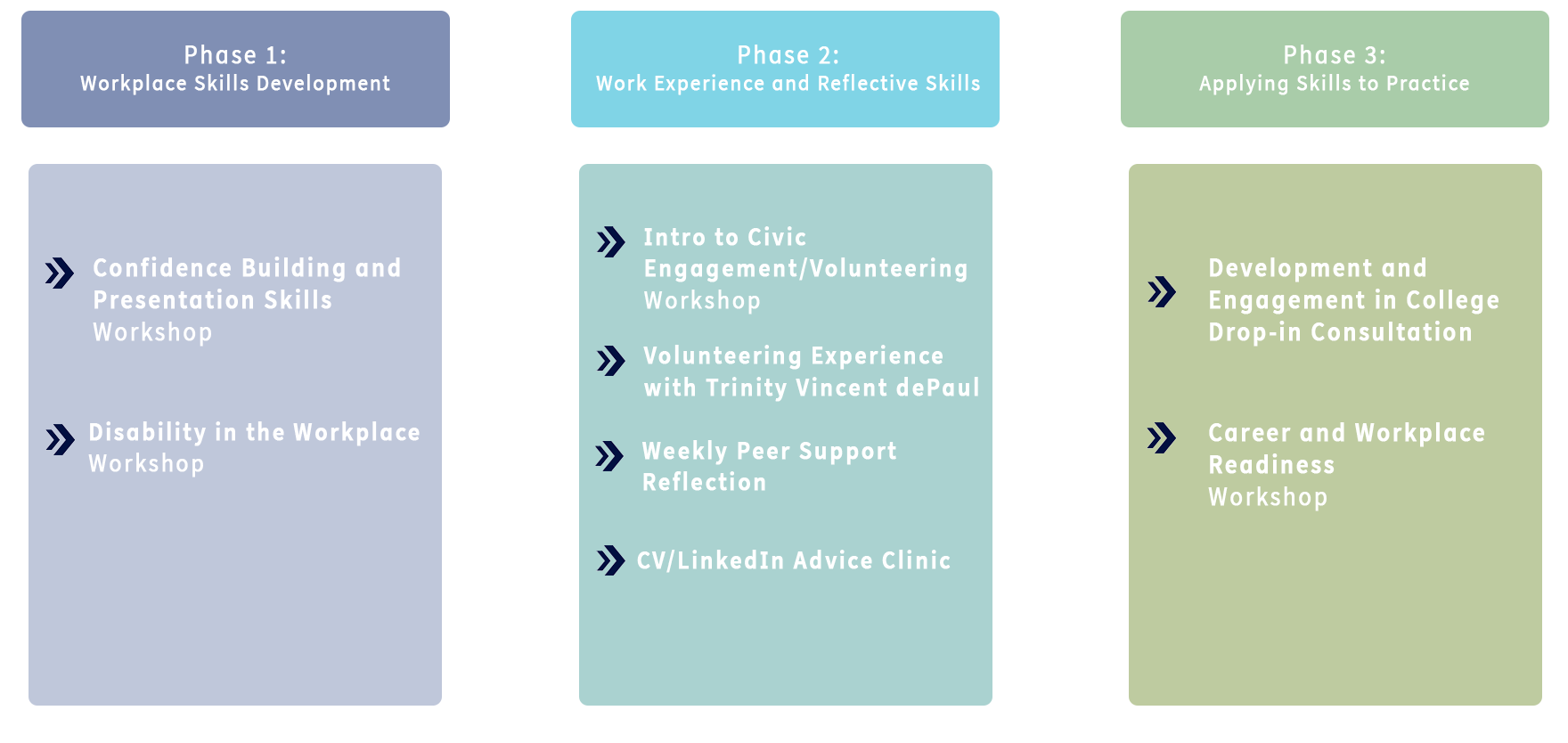 The Pathway is divided into three phases which is the recommended order to complete the activities, these phases are designed to build on earlier learning as you progress.You can choose what order you want to complete the Pathway in - some of the workshops will happen on specific dates and other activities you can complete at any time or by booking into a regular weekly appointment.
The main aim of the Pathway is for you to gain skills and experience from completing the activities themselves, so you are encouraged to take part in as many as possible during the Pathway timeline dependent on your availability. Each completed activity is worth a certain number of points on the pathway. Students who complete a minimum amount of activity points will be presented with a Trinity Disability Inclusion Pathway Certificate of Achievement at the end of the pathway - Bronze, Silver, or Gold. This certificate is endorsed by the Vice-Provost/Chief Academic Officer of the university and the Directors of the Careers Service and Disability Service. It can be added to your CV, LinkedIn profile, or portfolio for future employers. It can also be included in an application to the Trinity Employability Award which will put you on the shortlist for available places.
Find Out More - Read the Full Pathway Guide
Timeline of activities
The majority of activities can be completed in your own time or at regularly scheduled weekly options. The workshops take place normally at 6 PM on Mondays on specific dates noted below.
Monday 17th October
6:00 - 6:45 PM

Information Session (in-person)

Book your place on MyCareer

Wednesday 19th / Thursday 20th October

9:30 AM - 4:30 PM (closed 1 - 2 PM)

You can contact employability@tcd.ie at any time with any questions you have or advice you need about the Pathway.

You can also drop-in to the Careers Service office on 2nd Floor 7-9 South Leinster Street during opening hours on these dates to have a chat in-person with someone from the pathway team.


Ask any questions you have about the pathway!

By Sunday 23rd October (midnight)

Submit an application

By Tuesday 25th October

Feedback on your application

Tuesday 1st November
6:00 - 7:00 PM

Welcome Session for participants

Monday 7th November
6:00 - 7:00 PM

Workshop 1: Confidence and Presentation Skills

Monday 14th November
6:00 - 7:00 PM

Workshop 2: Disability in the Workplace

Monday 28th November
6:00 - 7:00 PM

Workshop 3: Intro to Civic Engagement and Volunteering Workshop

Weekly from November 2022 - February 2023

Opportunity for volunteer experience with Trinity Vincent dePaul Society

Weekly from November 2022 - February 2023 (Mondays at 6 - 7PM)

Opportunity for peer support reflective sessions on your volunteer experience

Book into a regularly available slot to complete between November 2022 - February 2023

Attend a CV/LinkedIn Profile Advice Clinic
Book an available CV clinic on MyCareer (Appointments section) anytime during your participation in the Pathway

Attend a Disability Service Development and Engagement drop-in session

February 2023
Workshop 4: Career and Workplace Readiness - Next Steps After the Pathway (Workshop)
Previous students who have participated in the Trinity Disability Inclusion Pathway have said:
Further information
You can learn more about the team delivering the Pathway here:
If you have any questions or would like support to help you participate in the the Disability Inclusion Pathway please contact the Trinity Careers Service at employability@tcd.ie.
You should also engage with Trinity Careers Service and Trinity Disability Service on social media for updates on this Pathway and other activities: