Trinity Employability Award - Pharma Pathway
Applications for the Trinity Employability Award - Pharma Pathway are now closed.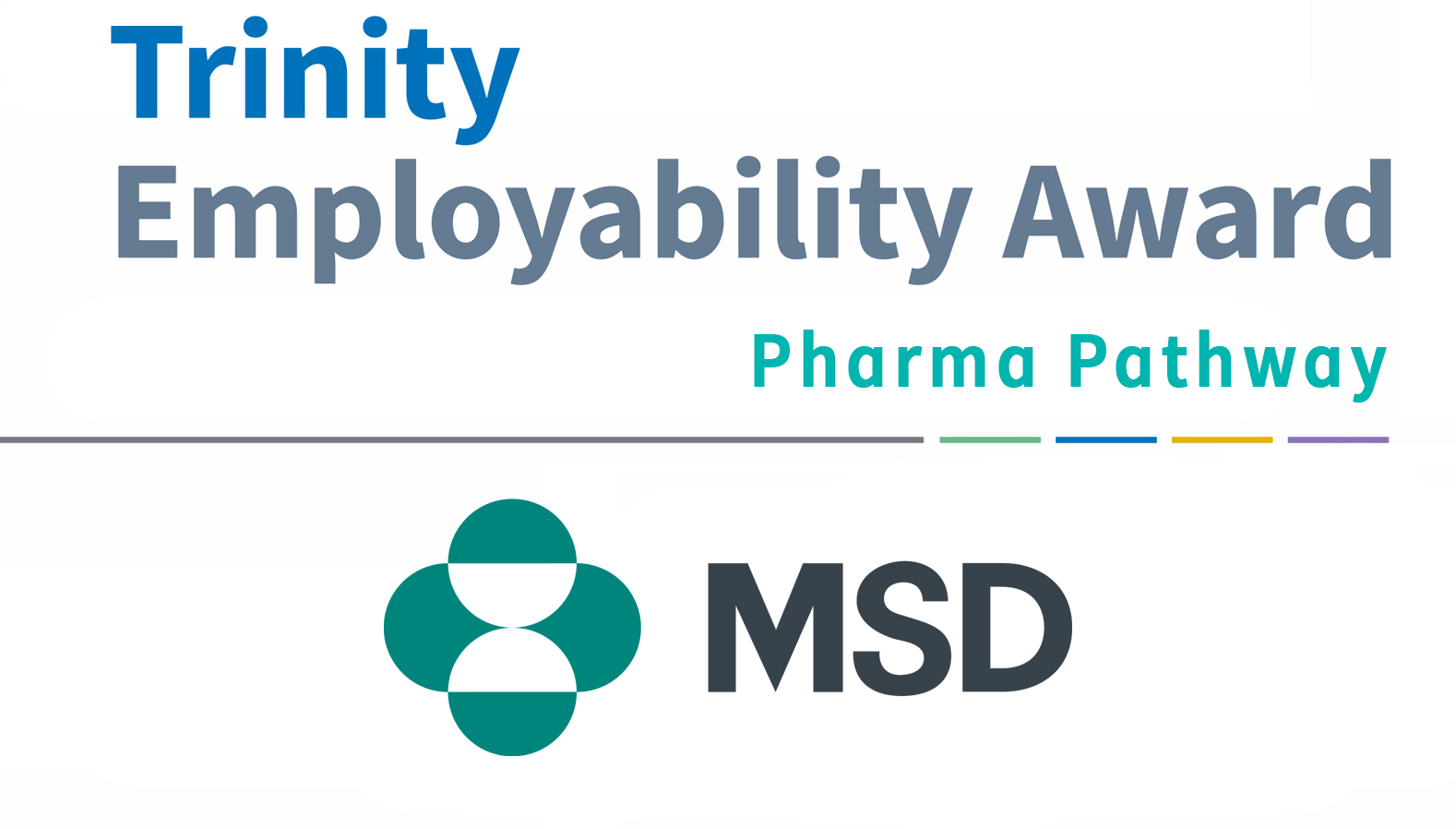 This Award pathway is run in collaboration with MSD, an innovative biologics manufacturing facility and one of Ireland's leading healthcare companies. MSD will host an interactive workshop in Level 1 which will be an opportunity to get a first hand insight into the ethos, workplace culture, and creativity of their company. In Level 3 MSD will host a challenge which will give Award participants the opportunity to present to MSD staff and possibly win an internship and overall cash prize.
In addition to this Pathway specific information, there are additional requirements for all participating students outlined on the main Employability Award page.
Eligibility requirements
The Trinity Employability Award - Pharma Pathway is open to students in JS and SS years of their programme in the eligible disciplines listed below.
Faculty of Science, Technology, Engineering and Mathematics
Biochemistry
Bioengineering
Immunology
Medicinal Chemistry
Microbiology
Molecular Medicine
Faculty of Health Sciences
Human Health and Disease
Pharmacy
Level 1: MSD workshop
'Where Digital Transformation Begins' Digital 4.0: Remote Assist implementation in Industry, GATE & TBS

Wednesday, 27th October 2021, 10.30AM - 12.00PM (online)
Students will be introduced to our site by a member of the senior leadership team. The workshop will commence with our Dunboyne ways of working which are based around our agile team design. At MSD Dunboyne we live our values through our COMMIT culture and our enterprise approach are central to our ways of working. Agile teams and digital program are key strategic objectives for us as a site.
This will be followed by an interactive session detailing our Digital 4.0 strategy, where the students will get the opportunity to learn about our Remote Assist plan, the use of GATE (Guided Augmented Task Execution) on site and TBS (Task Breakdown Sheets). Remote Assist is an industrial collaboration tool that allows you to virtually connect and support your workforce. It combines chat with live video, audio, file sharing, and annotations to give technicians and workers more effective remote and virtual collaboration with subject matter experts. Guided Augmented Reality (GATE) is a technology solution that can digitise and augment current SOPs (standard operating procedures) and training. The digital platform has the potential to provide an enhanced operator experience where instructions are provided 'just in time' and 'in context' while executing activities.
By the end of this workshop students will be able to:
Differentiate between agile ways of working and the more traditional working environments and the Digital 4.0 vision for Dunboyne
Understand the important part Remote Assist can play at the Dunboyne site and why it is vital for business performance going forward in this digital age
Identify the tools available within the Remote Assist programme
Understand what GATE is and how it can be implemented in a business organisation to improve overall business performance
Level 3: MSD employer challenge

MSD's Level 3 challenge will take part in two stages, outlined below. Please read the Level 3 Assessment Description for more detailed information on required content, submission guidelines and submission deadlines.
Stage One: Participating students will submit a written report based on the topic covered in the MSD Level 1 workshop. MSD will select a few of the submissions which they judge to be the best and these students can proceed to the next stage. To understand more on how you will be assessed at this stage, please read Stage One - Learning Outcomes and Assessment Rubric


Stage Two: Students who have been selected from Stage One, will be required to make a live (in-person or online) presentation based on their written report to MSD staff. To understand more on how you will be assessed at this stage, please read Stage Two - Learning Outcomes and Assessment Rubric
The overall winner will be offered an internship with MSD as well as a cash prize of €500. The job description will be defined with the candidate by MSD after selection.
Further information
If you have any questions about the Award after reading the above material, you can send them to the Student Employability team at employability@tcd.ie.
You should also engage with Trinity Careers Service on social media for updates on this award and other activities: