Trinity Employability Award in partnership with Intel
The Trinity Employability Award will launch in a new redesigned format in the academic year 2023/24.

Information on previous Trinity Employability Award activities is available on these pages.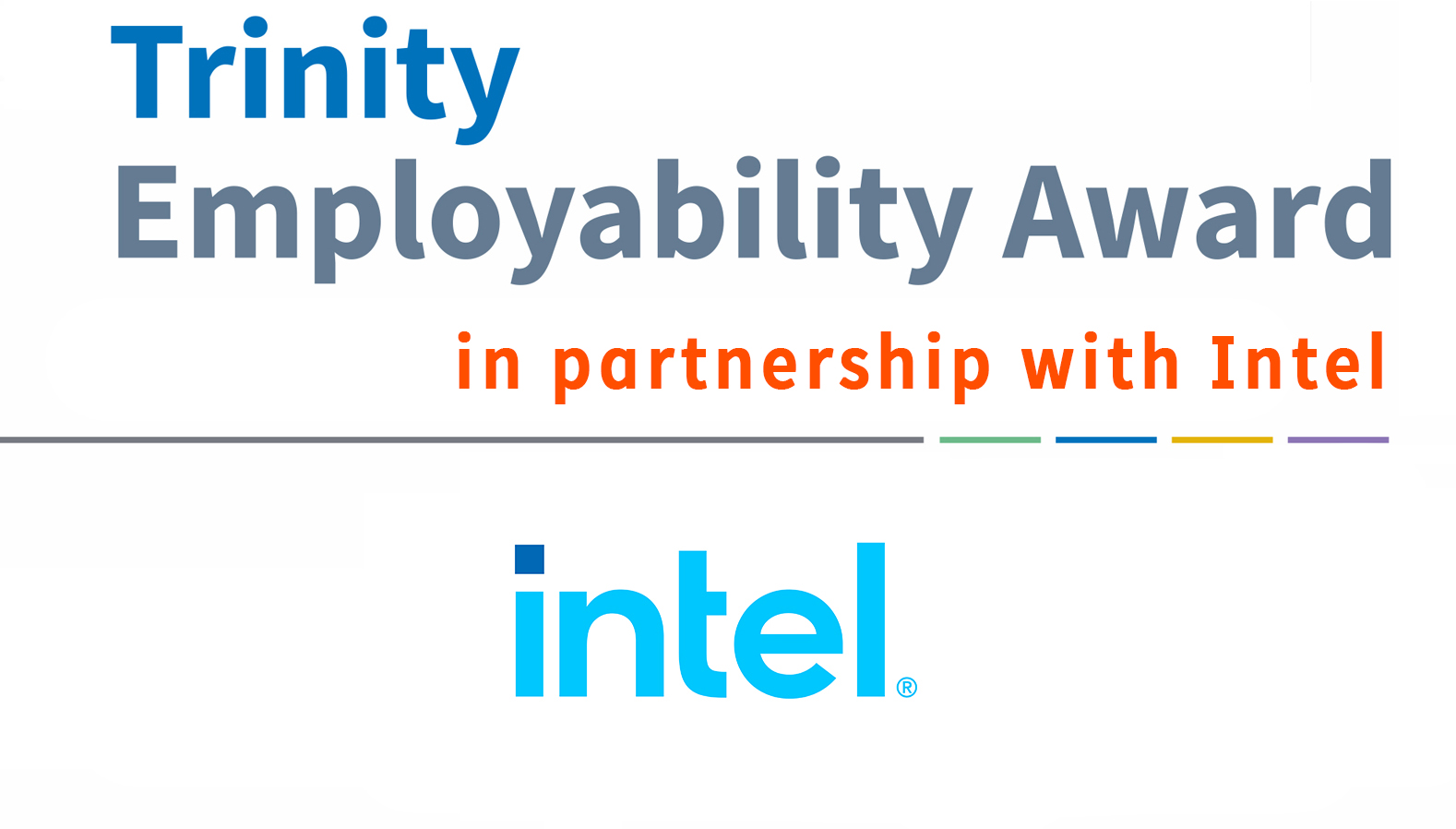 This Award pathway is run in collaboration with Intel, one of the world's leading technology companies. Intel will host an interactive workshop in Level 1 which will be an opportunity to get a first hand insight into the ethos, workplace culture, and creativity of their company. In Level 3 Intel will host a challenge which will give Award participants the opportunity to practice their skills and engage with industry experts.
In addition to this Pathway specific information, there are additional requirements for all participating students outlined on the main Employability Award page.
Eligibility requirements
The Trinity Employability Award in partnership with Intel is open to undergraduate students in the 3rd year of their programme in the eligible disciplines listed below.
Arts, Humanities and Social Sciences
BESS (Business, Economics, and Social Studies)
Music
Political Science
Psychology
Sociology and Social Policy
School of Engineering
Bioengineering
Civil, Structural and Environmental Engineering
Computer Engineering
Electronic Engineering
Electronic and Computer Engineering
Engineering with Management
Mechanical and Manufacturing Engineering
School of Physics
All strands of Physics and NPCAM
School of Chemistry
School of Mathematics
School of Computer Science
Computer Science
Computer Science and Business
Computer Science and a Language
Level 1: Intel workshop
Critical Thinking/Model-Based Problem Solving (MBPS)

The workshops led by Intel will benefit students from all participating disciplines in developing their skills in problem solving, effective methods of working, and data-driven approaches to complex situations. By participating in this workshop, you will:
Critical Thinking
Gain an understanding of what critical thinking is and have a new perspective on how you critically assess situations and problems
Become aware of why we don't critically think
Learn some simple techniques that may improve your critical thinking ability
Model-Based Problem Solving (MBPS)
Learn to understand the business need for problem solvers because as technology becomes more complex, companies need increasingly skilled problem solvers
Learn Problem Solving Tools and Problem Solving Processes
Learn how to segment problems, ask the right questions, interpret the data and identify solutions using the Model Based Problem Solving Process
Learn to practice problem statement writing, segmentation and model building on a live example
Level 3: Intel employer challenge
Students will be assessed by a panel of Intel experts on their development of employability skills and the Trinity Graduate Attributes throughout the Trinity Employability Award in partnership with Intel.
This may take the form of a video submission, panel interview, or presentation. More information on this is forthcoming.
Overall winners of this challenge will receive a €1,500 cash prize.
Further information
If you have any questions about the Award after reading the above material, you can send them to the Student Employability team at employability@tcd.ie.
You should also engage with Trinity Careers Service on social media for updates on this award and other activities: