CLU44507 Kings and Cities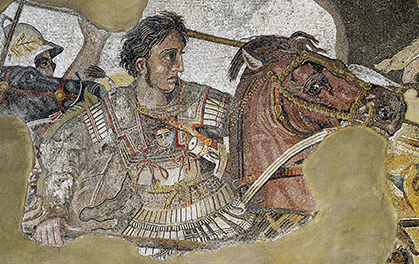 This module will examine the nature of the relationship between kings and cities in the early Hellenistic period, c.334-229BC. Fundamentally, this is about empires and power relations. Epigraphic evidence – royal letters and civic decrees – will be most important, but we will also examine literary, numismatic, and archaeological material. Rather than seeing the Hellenistic period as one of decline, this module will explore the development of what was a unique, vibrant, yet sometimes tense relationship between the old Greek cities and the new Macedonian kings.
Module Organiser:
Duration:
Contact Hours:

44 hours, 1 x 2 hr seminar p.w.

Weighting:
Assessment:

Continuous assessment and exam.
Learning Outcomes
On successful conclusion of this module, students should be able to demonstrate:
Knowledge of the sources, literary and non-literary, for the early Hellenistic period.
Ability to examine, engage with, and integrate different types of source material.
Critical judgement on the strength and weaknesses of our sources and ability to analyse them in their context.
Awareness of the nature of, and debates surrounding, Macedonian and Hellenistic kingship.
Sophisticated awareness of the nature of power in the Hellenistic world and the relationship between cities and kings.
Understanding of the inter-cultural dynamics of the period.
Ability to develop the skills necessary for studying ancient history.
Prescribed Texts
Austin, M., The Hellenistic World from Alexander to the Roman Conquest. A Selection of Ancient Sources in Translation, 2nd ed. (Cambridge, 2006)
Erskine, A. (ed.), A Companion to the Hellenistic World (Malden/Oxford, 2003)
Shipley, G., The Greek World after Alexander (London, 2000)
Source Collections
Bagnall, R.S. & Derow, P., Historical Sources in Translation: The Hellenistic Period (Malden, 2004)
Burstein, S.M., The Hellenistic Age from the Battle of Ipsus to the Death of Kleopatra VII. Translated Documents of Greece and Rome 3 (Cambridge, 1985)
Harding, P., From the End of the Peloponnesian War to the Battle of Ipsus. Translated Documents of Greece and Rome 2 (Cambridge, 1985)
Sherk,  R.K., Rome and the Greek East to the Death of Augustus. Translated Documents of Greece and Rome 4 (Cambridge, 1984)
Introductory Reading:
Dmitriev, S., City Government in Hellenistic and Roman Asia Minor (Oxford, 2005)
Habicht, C., Athens from Alexander to Anthony (Harvard, 1997)
Ma, J., Antiochos III and the Cities of Western Asia Minor, 2nd edition(Oxford, 2002)
Shipley, G., The Greek World after Alexander (London, 2000)
Walbank, F., The Hellenistic World (Cambridge, 1993)